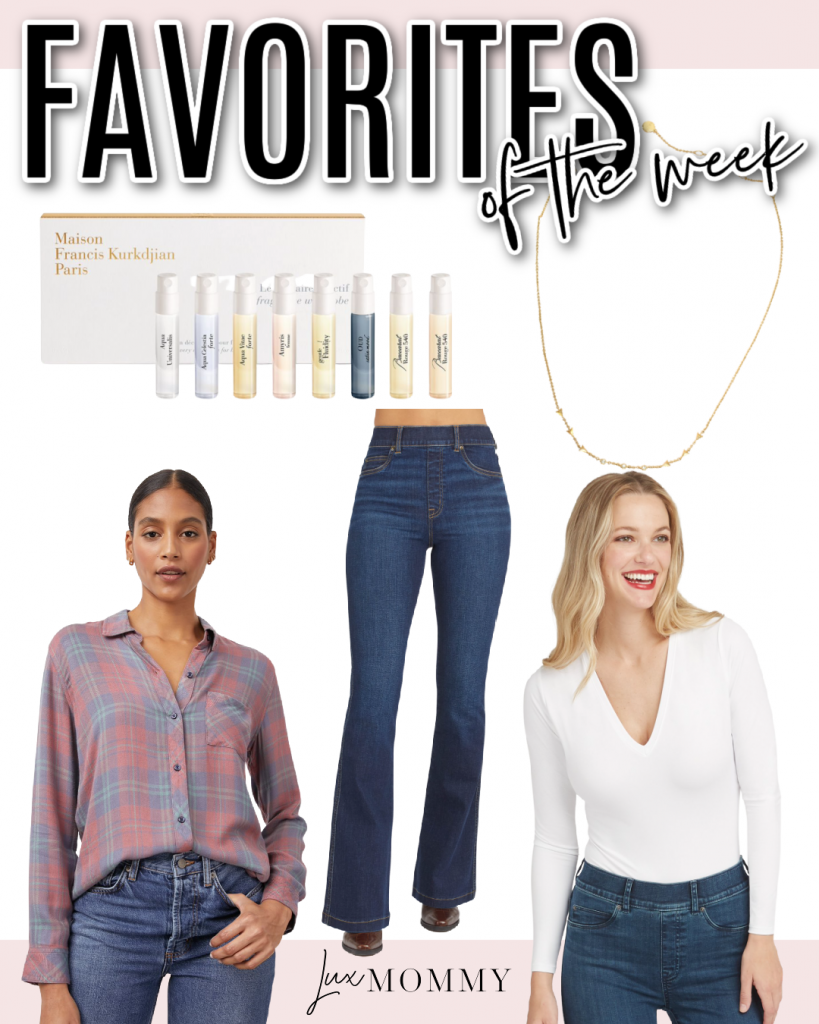 Favorites of the Week – November Week 1
PINK PLAID TOP – I can't get enough of the plaid this season. I love it year round but fall is my favorite season to incorporate plaid into my wardrobe and this pink plaid is perfection! Fit tip…go up a size or two for a loose fit!
V-NECK BODYSUIT – I have been looking for a flattering bodysuit that I didn't feel self conscious in and I found it. This V-Neck bodysuit is AMAZING and so flattering! I went with a small but I think a medium would work too! Use LUXMOMMY to save 10%!
PERFUME WARDROBE – I've been dying to try the Rouge 540 perfume per your suggestion. This perfume wardrobe travel size is PERFECT for testing out this brand. It has 8 of the best selling scents and yes I am in love! I will be getting at least 2, so far!
FLARE JEANS – When it comes to jeans they can be a struggle for me so when I find a new pair that I love I get so excited to share! These super stretchy flare jeans are so much fun and super flattering. I went with a small petite and they fit so well! Use LUXMOMMY to save 10% off!
GOLD CHOKER – I love layering necklaces and this is one of my favorite gold chokers to add to my necklace stack. It's dainty but has some detail.