Hello Y'all! I get asked all the time about my luxury handbag collection, so I wanted to create this page. I will update this as my collection changes, as well as update if my initial thoughts change on each handbag. Make sure to follow me on Instagram to see how to see how I style these handbags and subscribe to my channel on YouTube for reviews, what's in my bags and more!
Luxury Handbag Collection: Mini and Crossbody Handbags
Chanel Mini Square –  I bought this handbag pre-loved. It is from 2008(I believe) and it is in amazing condition. I get asked all the time if I recommend this bag and hands down, yes. It is such an amazing bag and I highly recommend it. My only con is…the strap is a little on the short side and is borderline too short when worn crossbody. I still wear it that way sometimes, but it isn't the most flattering fit that way. With that said, I still recommend it. I am 5'2″ btw! SHOP THIS HANDBAG HERE!
YSL Kate – Are you looking of the perfect special occasion bag? This is it! It's classic, chic and elegant. It's also the perfect size for all those special occasions without distracting from the perfect dress. I love it in black too, but I went with this nude! SHOP THIS HANDBAG HERE! 
Louis Vuitton Favorite MM – As you can see, mine does look a little different, because I wear mine with the felicie chain. I just love it this way. It dresses it up a little. So, I will admit, I don't wear this one as often, but it was a major favorite for a long time. I still love it and am glad that I have it. I happen to love the magnetic closure. It is so easy to get in and out and fits all the quick essentials and a little more. It's definitely a down size bag, but it fits more than it looks and it's adorable at the same time. SHOP THIS HANDBAG HERE!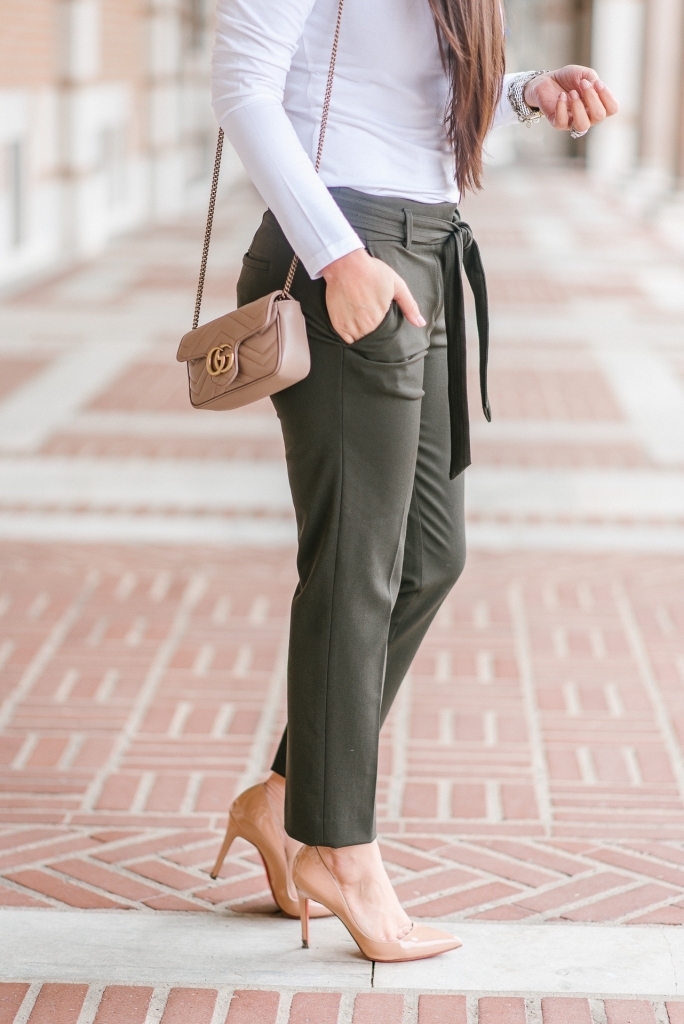 Gucci Marmont Super Mini – The obsession with this one is real. I mean serious, look at it. It is so cute and fun and fits a lot for its size. I also love that this one comes in UNDER $1000! That is unheard of these days when talking about luxury. Granted, it is small, I mean super small, hence the name super mini. However, it still does its job and looks cute while doing it! SHOP THIS HANDBAG HERE!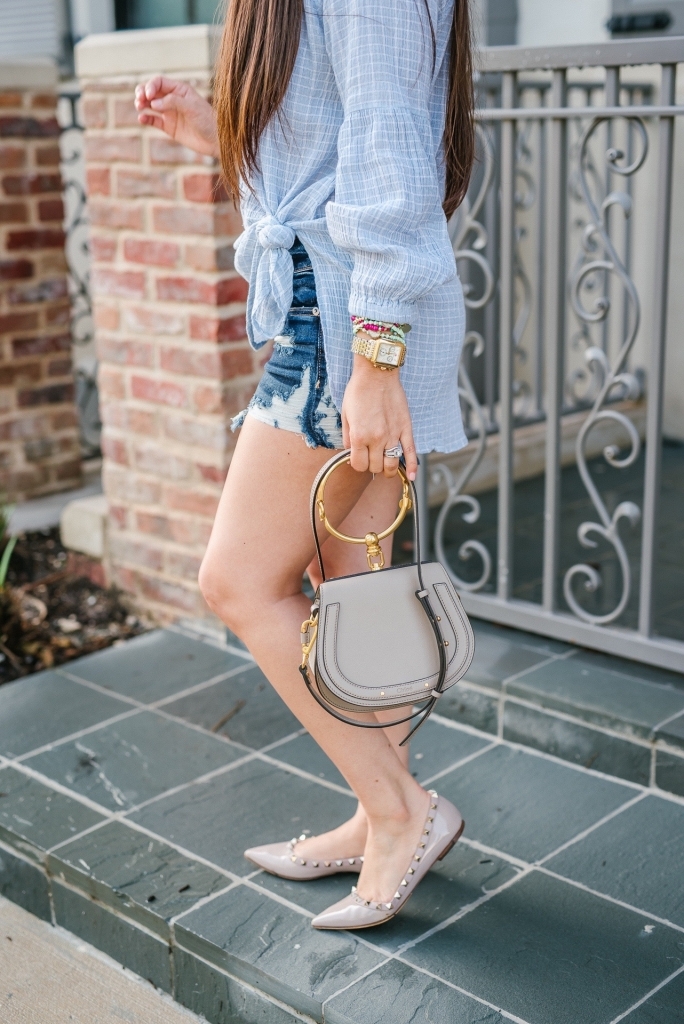 Chloe Nile – So, I figured I was allowed a little something fun and trendy in my collection and I had to add this one. It's the perfection addition to a simple outfit just to give it a little style. I wear this both with and without the strap, depending on the look I am going for and love it either way. I feel like my collection needed a little trendy fun addition and this one was perfect. SHOP THIS HANDBAG HERE!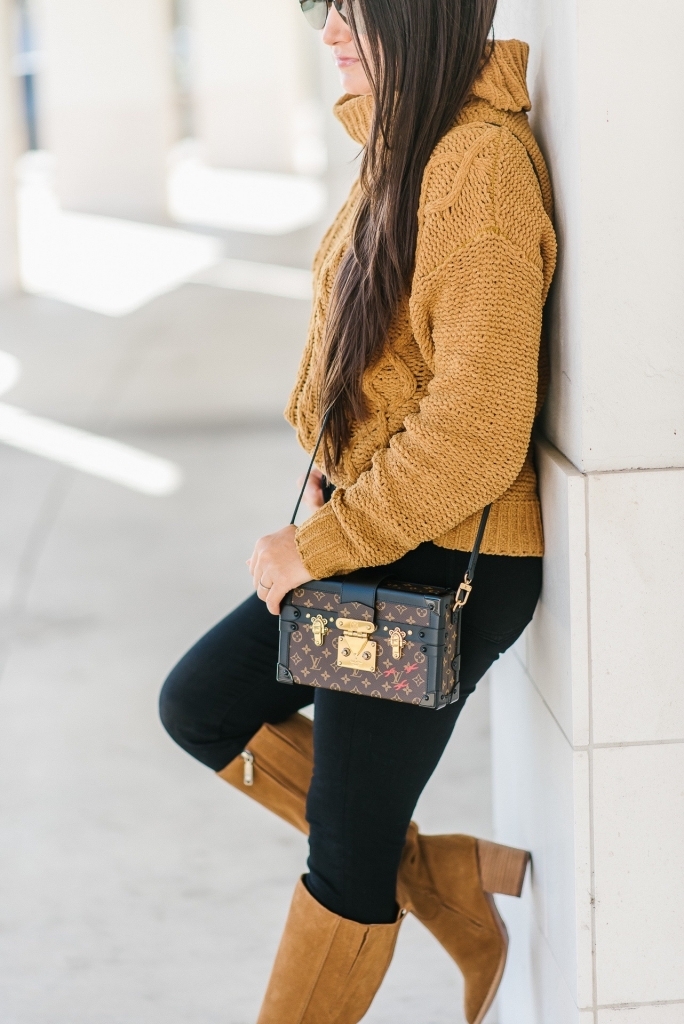 Louis Vuitton Petite Malle – This was a major dream bag for me. I honestly never thought I'd actually own it. I haven't worn it a ton, but it surprisingly fits more than it looks and it's so unique, classic and chic. Shop this handbag here.
Louis Vuitton Pochette Metis- This is definitely a go-to bag for me. It's perfect for year round, grab and go or just a daily handbag. It fits a lot for it's size and it's adjustable which makes it perfect for any height or body type. This bag has been known to have issues with the glazing, mine was no exception. I did have it repaired over a year ago and haven't had any issues since. With that said, I still love it and think it is a great bag to have if you can get your hands on it. SHOP THIS HANDBAG HERE!! 
YSL College – Y'all I am in love with this bag. The color, the hardware…it's so good. It's a little smaller than the pochette metis but still wearable. This bag is so lightweight. I don't know how they did it, but the chain is so light. It's a joy to wear and no matter what color you get, this bag is such a great bag to have. SHOP THIS HANDBAG HERE!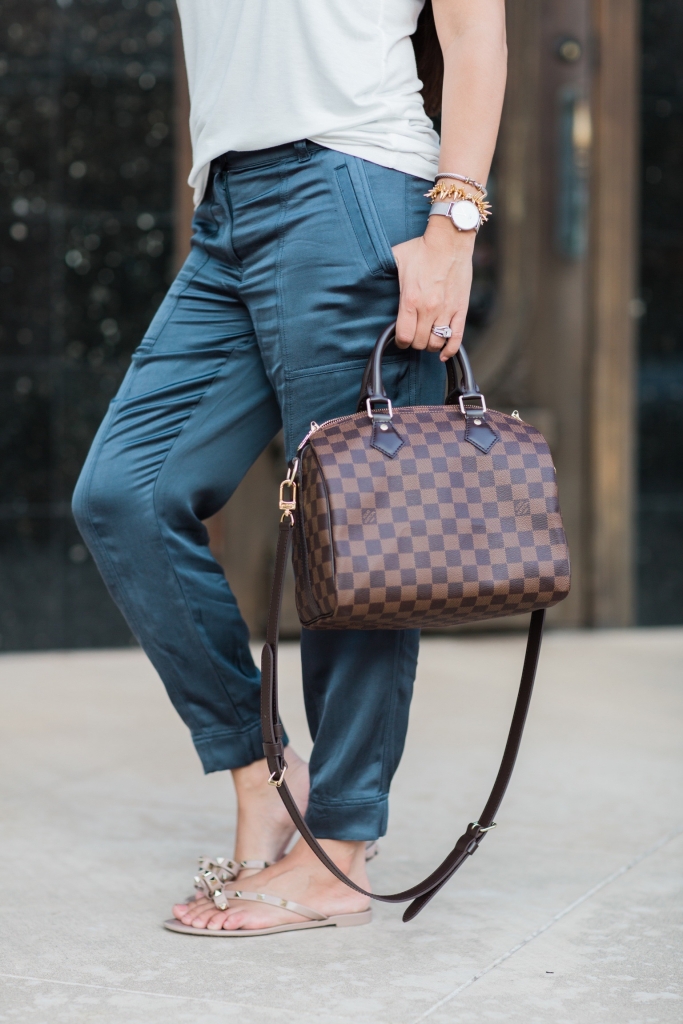 Louis Vuitton Speedy B 25 – Want practical, this one is it! I have always considered myself a classic speedy girl, but this version really has made me reconsider that. It's classic, effortless and casual, which is sometimes what you need in a day bag. I opted for the 25 size, which I prefer in this version, but the 30 size is perfect if you want to hold a little more. You can't go wrong with either size. This is the perfect starter bag for a luxury handbag collection. SHOP THIS HANDBAG HERE!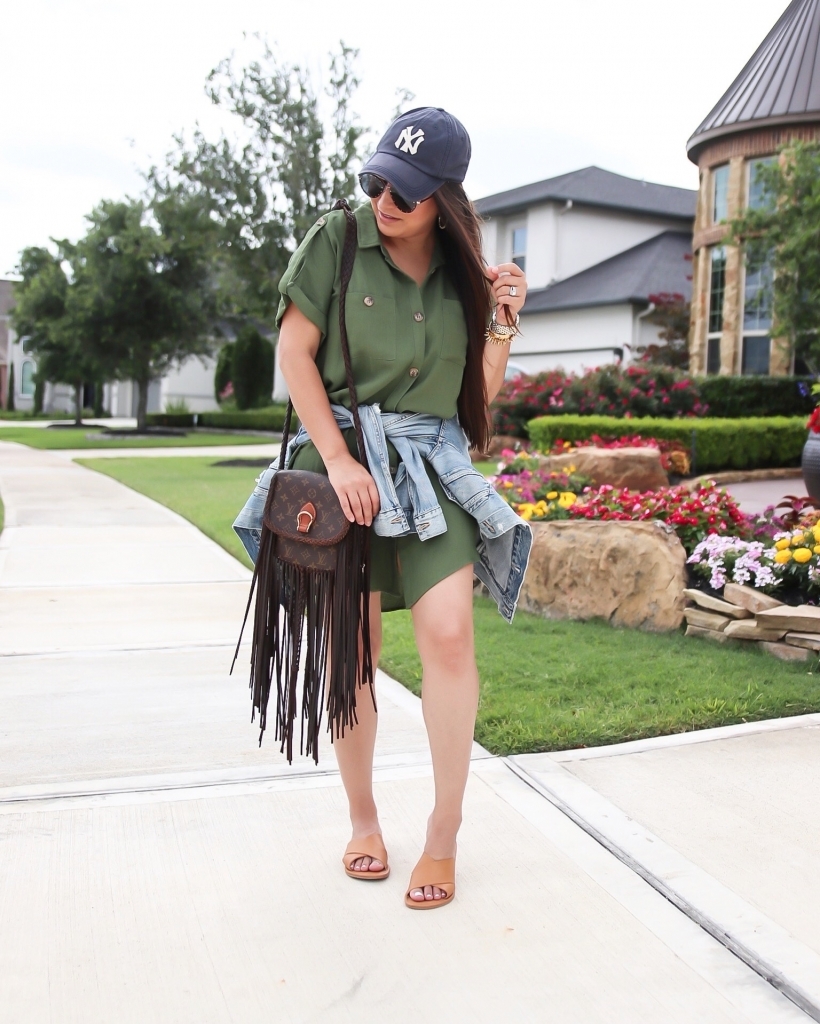 Louis Vuitton St. Cloud MM – As you can see this one has been as I like to say "pimped" out and I am obsessed. You guys know how much I love Louis Vuitton so I love that I have something so fun and unique from my favorite luxury brand. I will be honest, I don't love all LV bags with this style but this St. Cloud is seriously so good. The fringe and braids just work with this particular style bag. It's different but I am in love. Mine was custom made from Leather and Vodka, shop them here.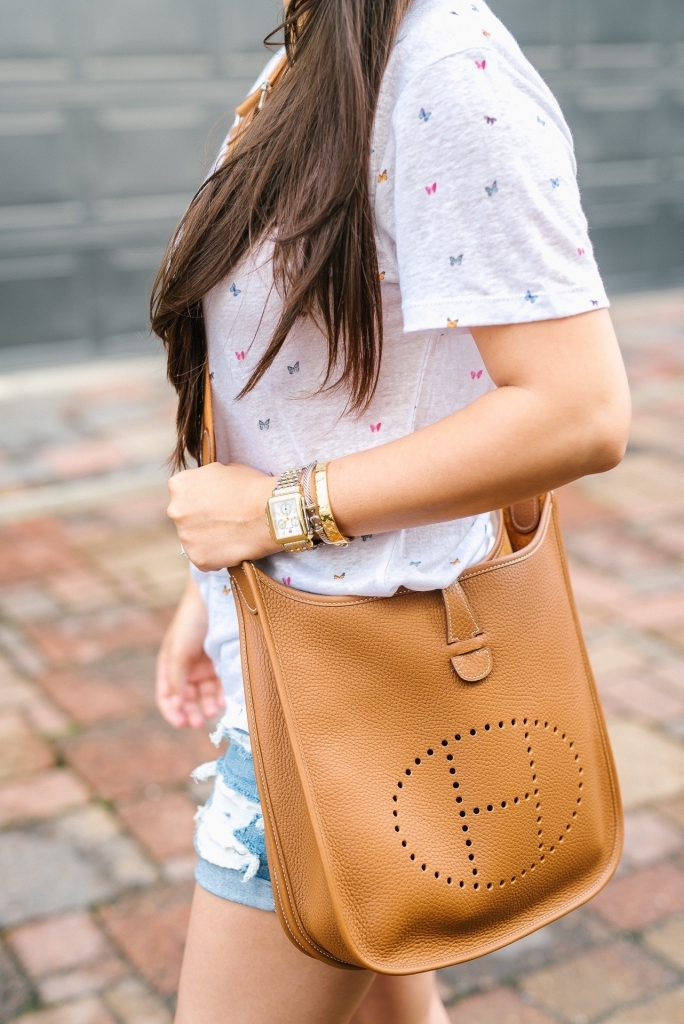 Hermes Evelyne PM – My first and only(current) Hermes handbag and I love it. I especially love it in this color and leather. It is so soft and squishy. The strap is adjustable so it is guaranteed to fit you perfectly. This size is also perfect. It fits all my handbag essentials and some and it's still comfortable to carry. Now, what Hermes do I want next…lol. SHOP THIS HANDBAG HERE!
Gucci Ophidia Pouch – Now, this technically isn't a handbag but that is how I wear it. I love it as a day or night clutch. It fits so much and I love the old school vintage vibes it gives an outfit. It feels like it was a hand me down from my grandma or something. If you're looking for a vintage clutch, this is the one. I also think the price point is great for what you get. SHOP THIS HANDBAG HERE! 
Luxury Handbag Collection: Tote Handbags
Goyard St. Louis GM – I really wanted to add something different and a new designer to my collection, so this is what I decided on. I've had it for almost a year, though I don't wear it often. I do like that it is rare to see, the size is great and it really is an easy effortless bag. It comes in a PM size, but I opted for the larger one and I don't think it looks bad on my petite frame. SHOP THIS HANDBAG HERE! 
Louis Vuitton Neverfull GM Azur – Talk about the perfect spring/summer catch all bag. Don't get me wrong, you can definitely wear azur year round, but I especially love it spring and summer. I also have both the mm and gm size in this bag but there is something so effortless and casual about the gm size, especially once it gets all saggy and soft. This one is still a little stiff, but in time it will start to sag just like my monogram one. SHOP THIS HANDBAG HERE! 
Louis Vuitton Neverfull GM Monogram – Now this one is worn in and slouchy and I love it. I've often refereed to it as my "cozy sweater" of my handbags. I love how the GM size gets so soft and cozy over time, especially with the vachetta. I get a lot of people that ask if they can get the GM size since they are short. Well, I am 5'2″ and the GM is perfect for me. Even though this bag is huge, I don't put any more in it. I just like the way the size looks, that is why I opted for the GM size in monogram and azur! SHOP THIS HANDBAG HERE!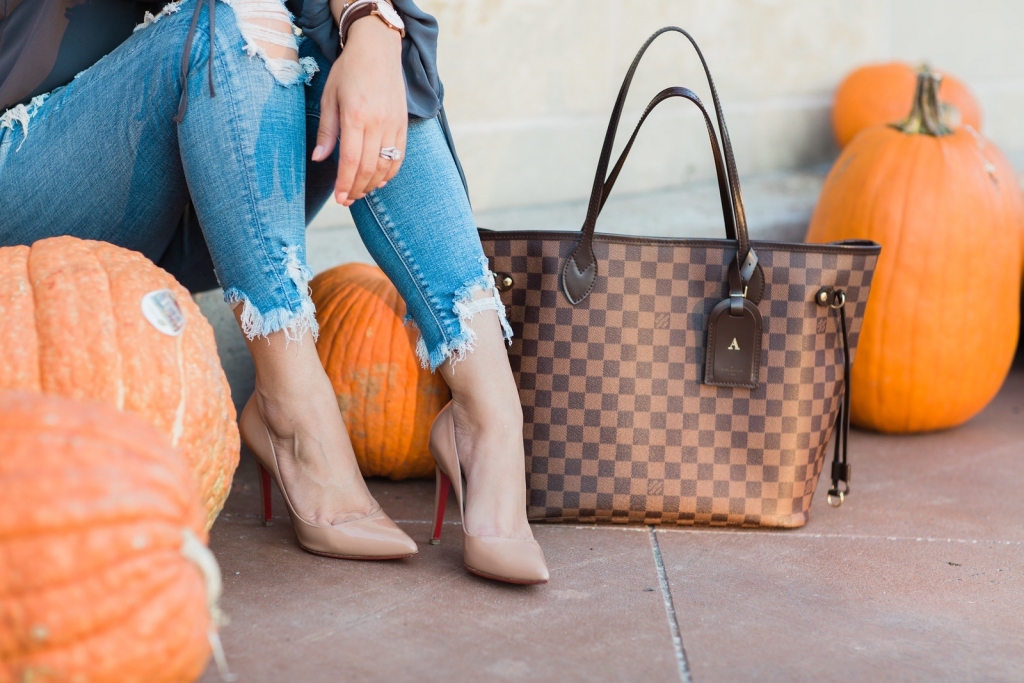 Louis Vuitton Neverfull MM Ebene – This was my first Neverfull and even though I love my two other GM's, I love having the ebene in the MM size. This is my go-to tote. I grab it often for days that I just want an easy casual bag. It fits everything you can possibly need and it's classic and chic. You can't go wrong with either size. IMO they just give two different looks. This one is more of a tradition tote while the GM is more relaxed. SHOP THIS HANDBAG HERE!
Christian Louboutin Cabata Tote – This is my newest handbag and I am IN LOVE!! I love a pop of red, it just does something to me and then in nude. I mean come on, it seriously is too good. The size is perfect too and I love the red bottom. Shop this handbag here.
Luxury Handbag Collection: Top Handle Handbags
Louis Vuitton Speedy 30 Ebene – I get asked often if I had to get rid of all of my bags and keep just one, what would I pick? This one hands down. To me it's the perfect mix of beauty, class and practicality. The size is perfect for everyday. Yes, it is a top handle bag and maybe not the perfect style for ALL occasions but if you can only pick one something has to give. IMO top handle is so lady like and chic and perfect for almost any occasion, so this is the one…hands down. Plus the ebene makes it worry free.  SHOP THIS HANDBAG HERE!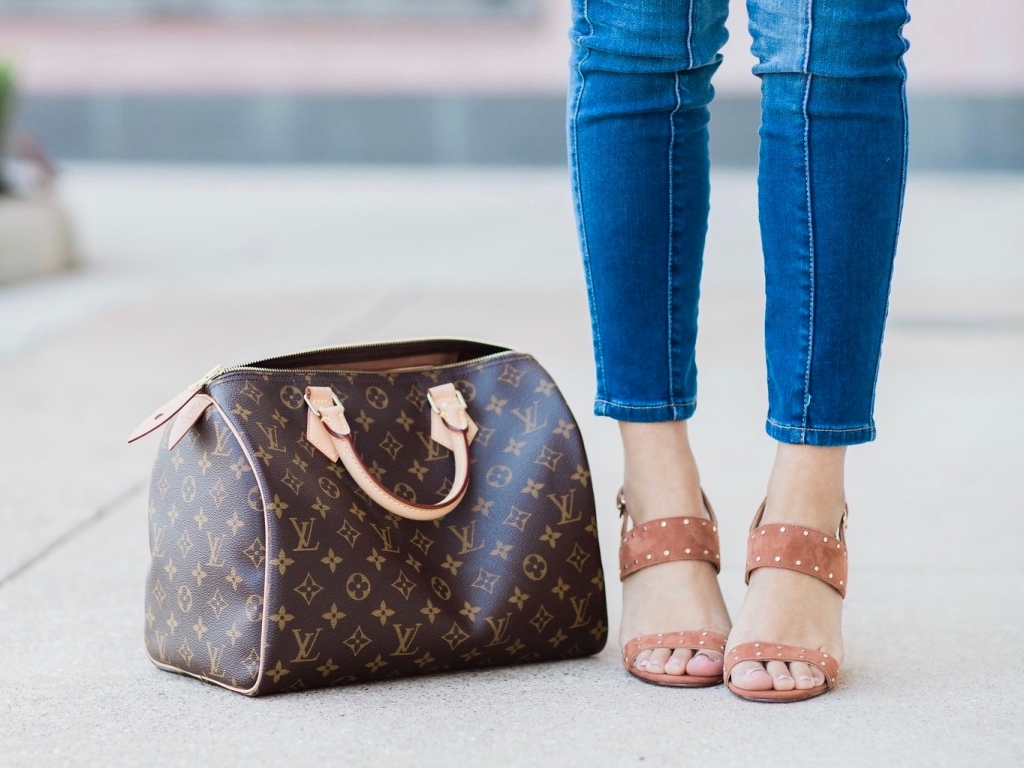 Louis Vuitton Speedy 30 Monogram – Looking for just straight classic, this is it. It doesn't get more classic than this classic speedy 30 in monogram. There is just something about the monogram classic with vachetta together. It's timeless and chic. I know monogram isn't for everyone, but I love it. SHOP THIS HANDBAG HERE! 
Louis Vuitton Alma MM – Now, if you were to ask me my favorite, just favorite handbag. I think I'd have to pick this one. It isn't the most practical every day bag, as it does get a little heavy, but…it doesn't get any more classic than an ALMA! Then you put it in ebene and it is perfection in my eyes. I seriously am in love with this handbag. I will be 80 years old taking this one to bingo filled with all my different colored stampers to match each of my bingo cards...lol. It's timeless and I love it that much!! SHOP THIS HANDBAG HERE! 
Saint Laurent Sac De Jour – I've wanted this bag for a while and I am so glad that I finally added it to my collection. I honestly didn't realize how much I really loved it until it was mine and I started wearing it. It really is a classic beauty. I love it so much that I could see adding another color. Not anytime soon, but the size, shape and style is so me! SHOP THIS HANDBAG HERE!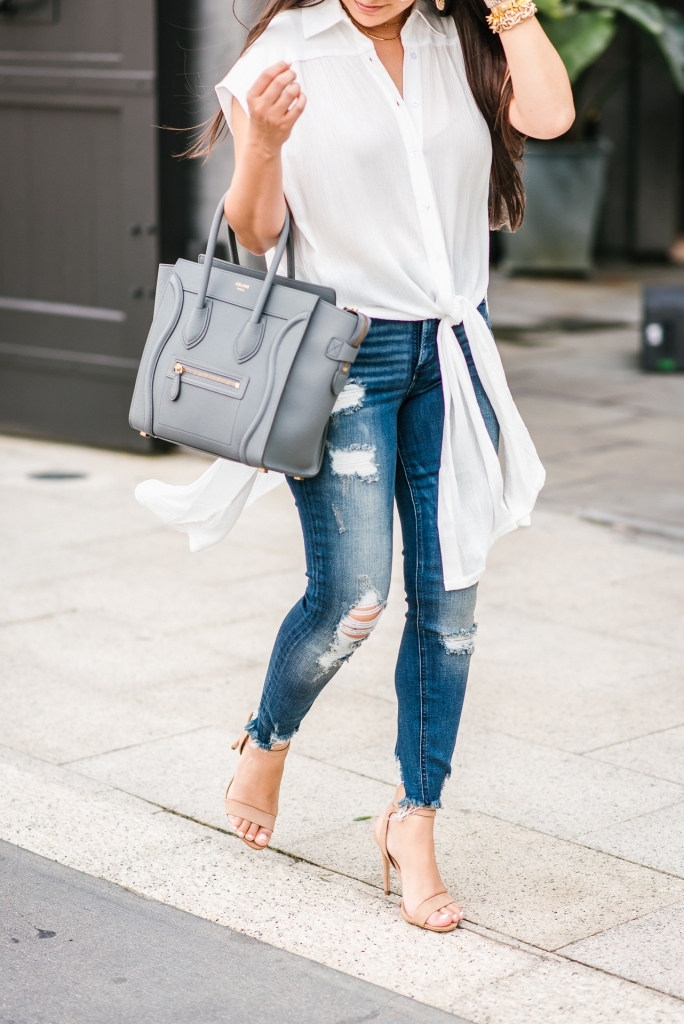 Celine Luggage Micro – I've been dying to add a luggage to my collection for a long time, but I was waiting for the perfect color. When I came across it in kohl and in the size I wanted I had to get it. I get asked about this color and size all the time. I went for the micro because it wasn't as heavy and the mini size but it still fit everything I needed. With that said, I want this bag in every color now, it's so good! SHOP THIS HANDBAG HERE! 
Dior Lady Dior – I will admit, I don't wear black much. I am not sure why, but I gravitate towards lighter neutrals. BUT, I had to get this classic bag in black and I am not mad at it. This is another one of those bags, that you just don't know until you see it in person. It is way more versatile than it might appear. I wear it casual and dressier and love it both ways. It's also very comfortable to carry and you know I love me a top handle bag. It fits all my daily essentials and even though it does get a little heavy with it filled I still love it. SHOP THIS HANDBAG HERE!
Louis Vuitton Speedy 30 Azur – I had to share this bag with a winter look, because so many people ask if this is only a spring/summer print. I will admit, I do reach for this one more during those seasons, but it definitely can be worn year round. It's no secret how much I love this style, I have it in all three canvases. It's the perfect size and I love having the azur option for the perfect outfits. SHOP THIS HANDBAG HERE! 
Prada Cuir Small -(preloved here) – I have fallen hard for this bag. The size, shape, everything is perfection and this color is to die for. I wear a lot of nude shoes and accessories, so this color was needed in my collection. I have a lot of people ask about the size, I got the small and it's perfect. It carries all the essentials and room for more. It also comes with an optional strap, but I prefer to carry this style top handle. SHOP THIS BAG PRELOVED HERE!
Luxury Handbag Collection: Backpack Handbags
Louis Vuitton Montsouris GM – Speaking of favorites, this one is hands down a bag I am obsessed with. I originally ordered the MM size, but decided I wan't a larger size. I was a little hesitant about the cloth straps, but I was WRONG, this bag is perfection in every way. The front pocket is very generous and the interior compartment fits everything you could possibly need. I also consider this more of a "worry free" bag. With that said I still don't set this down as the bottom is all vachetta. So, I just wear it, as a backpack…lol. If you're looking for an easy mom, school, errands, catch all bag, check this one out. SHOP THIS BACKPACK HERE! 
Chanel Gabrielle Backpack – I've been eyeing two tone Chanel for a while, it's my personal favorite color way when it comes to Chanel. I will admit I didn't have this specific bag on my wishlist, but I am so glad they had it in store and I was able to see it in person. It's so fun but still chic and practical. It's a great size, but still a little smaller but not TOO small. I love the way it opens and closes, it's just so easy. You will be seeing this bag a ton for sure. SHOP THIS HANDBAG PRE-LOVE HERE! Update: I got my own Chanel Gabrielle Backpack! Click here now for my review!