If you're looking for the best Louis Vuitton bag for moms and how I organize mine, you've made it to the right post. I like to consider myself a little bit of a Louis Vuitton connoisseur. I've been researching, buying, and reviewing Louis Vuitton bags for years now. Louis Vuitton is where LuxMommy started. My luxury handbag collection used to be comprised of only Louis Vuitton. I was obsessed, or should I say, I am obsessed. We aren't going to dive into my Louis Vuitton buying history today, we can save that for another post, but we are going to talk about the best Louis Vuitton handbag for moms and how to keep them organized.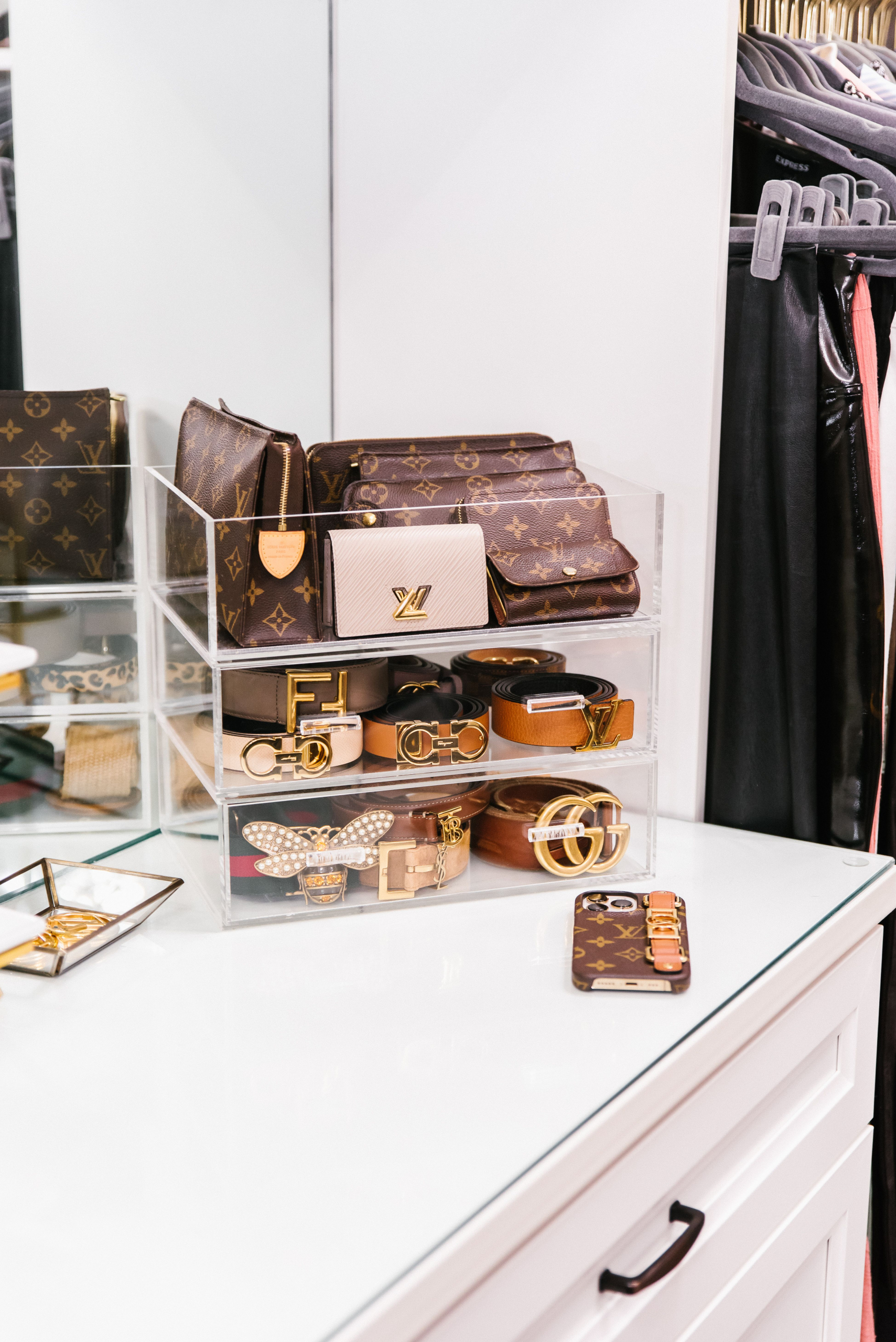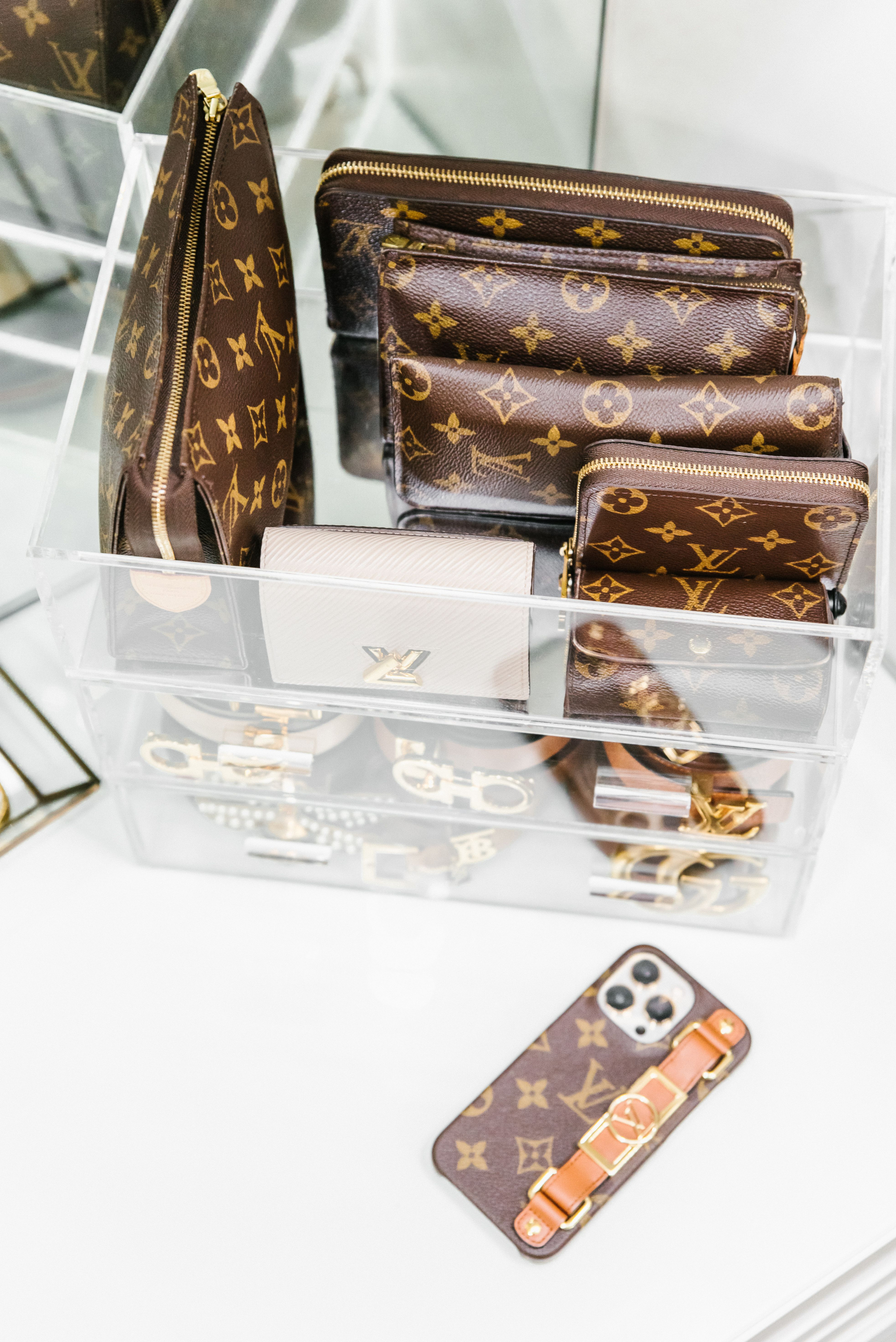 What is the most beautiful Louis Vuitton bag?
I get asked these questions all the time, what's the best of the best when it comes to Louis Vuitton handbags. Of course, as with most, if not all things, it really comes down to personal choice BUT I still have to share my top picks. If we are strictly talking classic, the best Louis Vuitton bag for moms is definitely the neverfull. It's a great option that can double as a diaper bag and feels like it never gets full. Later on, it can be a work bag or travel bag, since it's so practical for many reasons. I have it in both the MM and GM sizes and both are a go-to for me. I love the sag of the GM and the MM is just so easy to use.
Another mom bag option from Louis Vuitton is the Speedy in the bandouliere version. This is the best Louis Vuitton bag for moms if you want something hands-free. It comes in several sizes. Whether you are wanting something as an everyday handbag or want to toss your baby essentials in too, you can get the perfect size for you. I have both the 25 and 30 sizes. The 30 is HUGE, but not bulky and the 25 proportions are perfect crossbody!
Last on the classic list would be a Louis Vuitton alma. Now, this may not be the perfect mom bag but it definitely falls in the top 3 Louis Vuitton classics in my book. The BB size is the cutest date night bag and the PM is a chic day bag that gives a professional vibe. The Alma is the most beautiful Louis Vuitton bag IMO! It's not super practical, I will admit, but it's stunning. Maybe I need to add an updated alma review to the blog?! Let me know if you'd be interested.
Shop Pre-Loved Louis Vuitton Classics here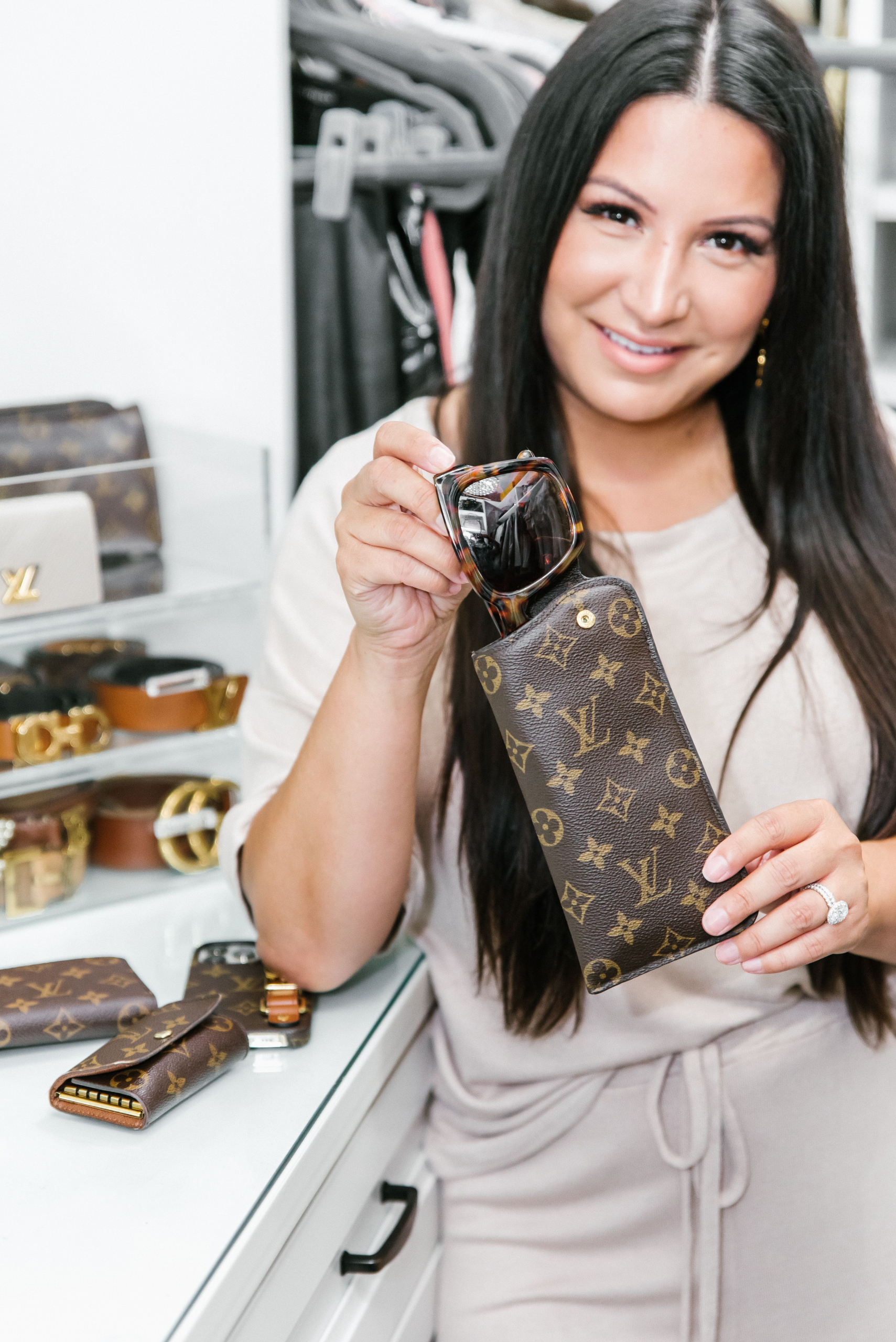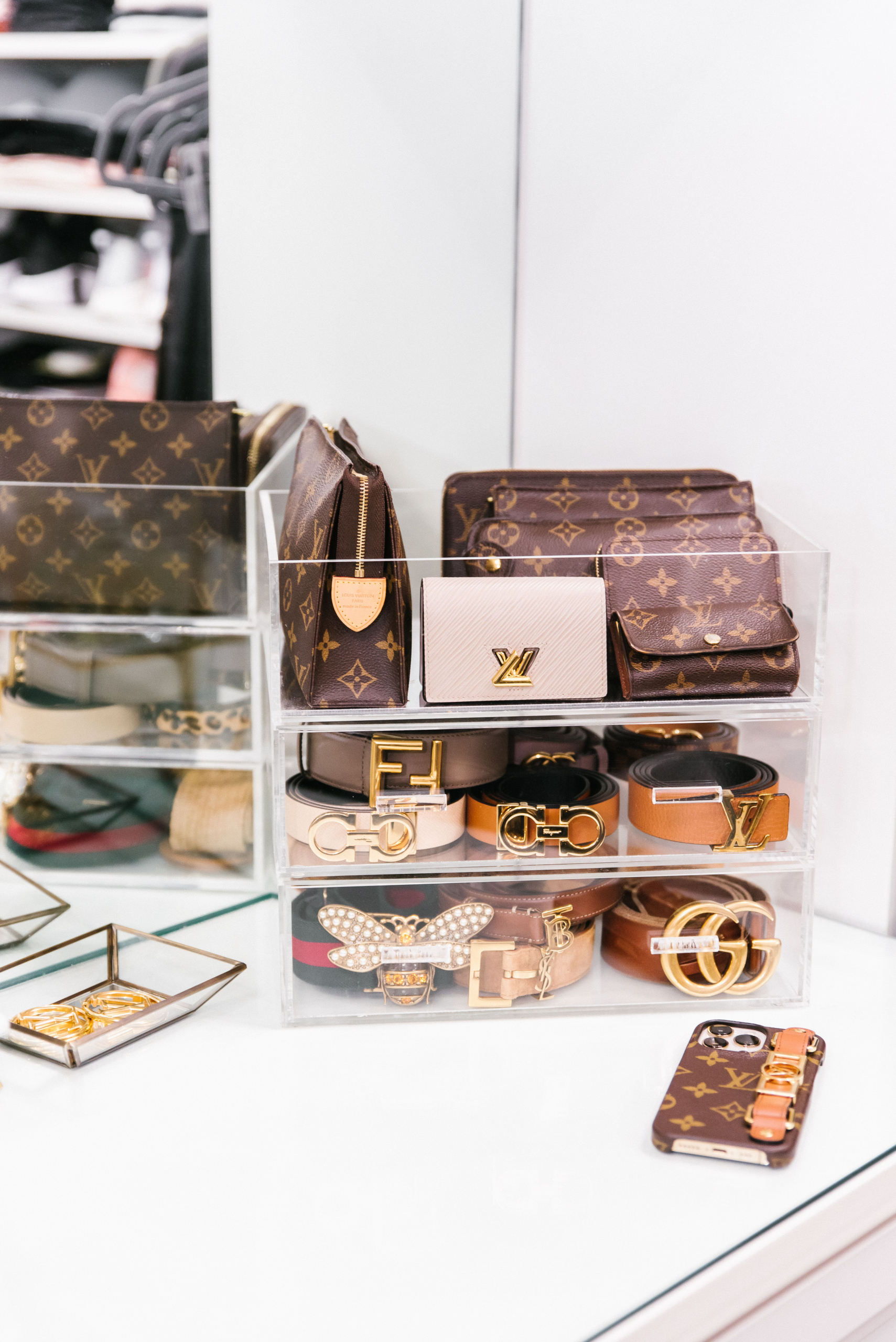 Is LV bag a good investment?
Whether you are shopping for the best Louis Vuitton bag for moms or talking about luxury handbags in general, the term investment is often thrown around. We aren't talking real estate here, we are talking luxury handbags, so keep that in mind. When I use the term investment bags, I think of three things. Cost per wear, wear and tear over time, and of course, resale value is on the top of my mind. Let's dive into each one.
Cost per wear – Is it a bag that I will actually reach for? Does it make sense for my lifestyle and how I dress? Make sure you will actually want or need to reach for the bag. Even if it's not as often, but it's important to you and your lifestyle, owning a bag for 10+ years a few times a year for a special occasion might make sense for you. Remember, we are all different, have different budgets and our lifestyles are different. Don't just buy a bag because someone on Instagram told you to. These handbags are pricey and you have to really make a decision based on your lifestyle.
Wear and tear over time – Watch reviews on the bag you are interested in. Does that bag look worn out after a year of use? Will it hold up over time? Is the style something that will look frumpy and saggy over time? Should you buy a base shaper to help it hold its shape? Every handbag is different. I don't love base shapers in all bags, but I do think they make sense in some and can definitely help some bags look newer for longer.
Resale Value – This is not a top priority for me if I really love a bag, but when talking about investments, it's always good to know. Look at the resale market, this is a good site to check for current resale values. Does it hold its value some, a little, or not at all? Some bags, even from the same brand hold their value better and some don't. That depends on so many things. Again, maybe for another blog post?! It's rare that handbags sell for more than retail. It happens but in the grand scheme of all the luxury handbags available and which ones sell for over retail, it's a small %, so keep that in mind.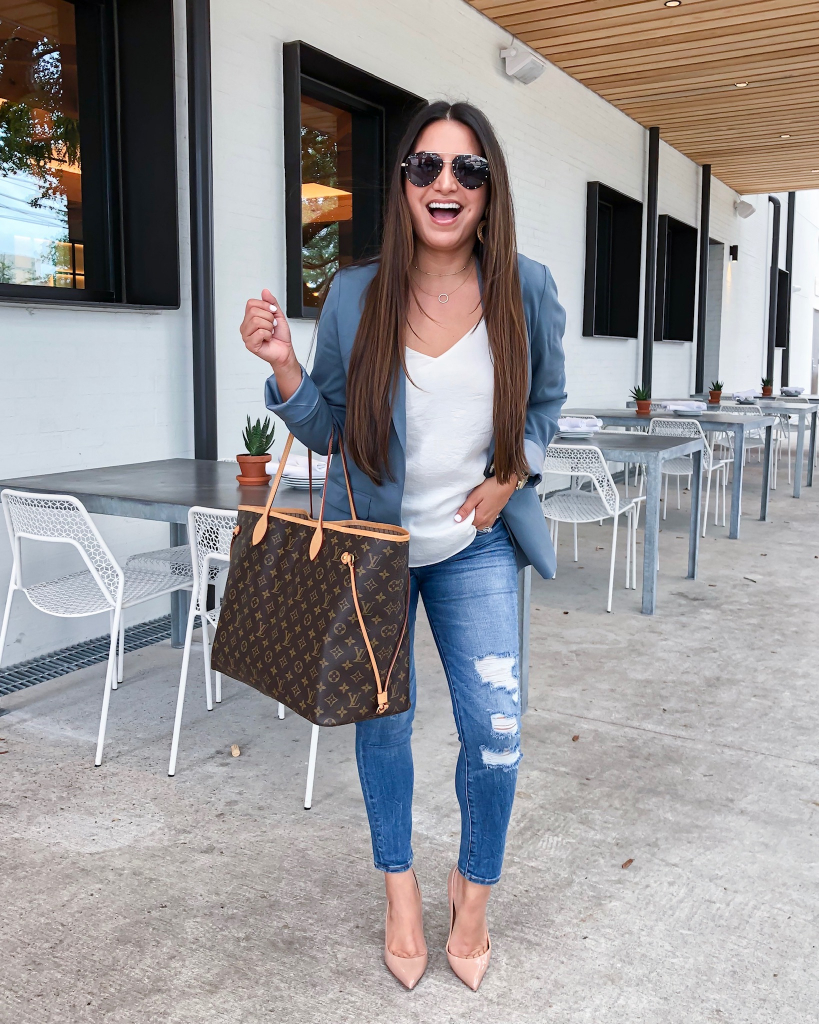 Which LV Neverfull is most popular?
You can't go wrong with a Louis Vuitton neverfull, it really is one of the most practical bags that Louis Vuitton has. It comes in 3 sizes(PM, MM, and GM). The MM and GM are the most popular. I like to say that the MM is the perfect best Louis Vuitton bag for moms. It's structured like a tote, fits a ton, and is the perfect everyday bag. The GM on the other hand is HUGE!! It's the perfect travel companion and gives off a relaxed tote vibe. The GM size allows it to have this natural sag, which I personally love. I like to say, it's my "cozy sweater" tote because it just wraps around you in such an effortless relaxed way. It's a different vibe. Big, oversized, and chill… again it has to be the best LV bag for moms!
How should I organize an LV bag as a mom?
Now, let's talk organization! Probably the number one question I get asked is, Should I use a bag organizer in my LV bag? I've been very vocal about the fact that I don't love bag organizers for most bags. For some bags, they make sense but not all. My favorite way to keep my bags organized is to use SLGs (small leather goods).  As you can see, I have a collection of Louis Vuitton SLG but you don't have to go luxury. The key here is to organize in batches. Also, have options that allow you to grow as your handbag essentials and what you carry changes. My boys are older now, so what I carry as a mom is vastly different than what I used to carry years ago. Let's dive into my handbag essentials!
Handbag Essential Must-Haves
Key Holder – This might be my #1 pick when it comes to my SLGs. I will admit, that I was skeptical at first. I thought having a key wallet would be a pain. It's the exact opposite. It's easy to use but more importantly, protects the inside of my luxury bags and other SLGs. I no longer have to worry about keys scratching the interior of my bags or my other SLGs. A key holder really is a must-have!

A Full-Size Wallet – This is where I hold cash, gift cards, least used cards, cash, coin, and other misc paperwork you may need at times. I prefer a zippy-style wallet. They are easy to get in and out of and keep everything contained. Check out some full-size wallet options below.

A Mini Wallet – A mini wallet is essential for smaller handbags. I keep my ID, go-to cards, and a little cash in mine. When I am carrying large handbags I carry both my wallets. When I am carrying smaller handbags this is my wallet for the day. I can move one or two items as needed into it but my main essentials stay it my mini wallet full time. I will link some perfect mini wallet options below.

A Full-Size Toiletry Bag – Thing of this as the purse junk drawer for your full-sized handbags. This is where the mom organization comes in. Bandaids, Neosporin, lotion, hand sanitizer, wipes, sunscreen stick, chapstick, and then of course all the mom things. I also keep a pen, mini perfume, lipstick, lipgloss, powder, and several other essentials in here. It's literally the purse junk drawer. Here are some great options to hold all your essentials in your full-sized handbags.

A Mini Toiletry Bag – Just like you need a mini wallet, you need a mini junk drawer option for your smaller bags. I keep hand sanitizer, lotion, lipgloss, a pen, and a few other essentials. In this case, it is one of the other when it comes to my purse junk drawer. I don't carry both. I keep them both full and ready for me to grab depending on what bag I carry that day. Here are some mini toiletry options that are perfect for mini bags.

Sunglasses Case – This isn't essential by any means but I love having this to protect my sunnies versus them being loose in my bag. I have very sensitive eyes, so sunnies are a must for me. This means, my sunglasses case goes with me everywhere. Check out some sunglass cases below.

Okay, now that was a long one. I think this will go down as my longest blog post yet. BUT, it was necessary. I love talking about luxury handbags, especially how to organize them. If you love luxury handbags you have got to subscribe to my YouTube channel and make sure to sign up for my newsletter here to get weekly updates!