When you're thinking about adding a designer backpack to your collection, there are two main things you should consider: size and overall style. Backpacks are the perfect comfortable option, even when compared to a crossbody bag. They are a must-have in any luxury handbag collection. In this post, we are going to be talking about designer backpacks, sharing my current collection and I'll let you know if they are worth it and which designer backpacks I recommend.
Longchamp Backpack
If you are a luxury lover, you should be familiar with Longchamp. I recently picked up their Le Pliage Backpack in the large size. They do offer other sizes as well, but this size is perfect for everyday. This designer backpack is in the mid-range, entry-level luxury category, being at the lower end of the price scale but it is not your run-of-the-mill bag. This bag is beautifully made and offers a classic silhouette in addition to being extremely practical. I love the logo free style when you don't necessarily want people to know  that you're carrying luxury. It's also the best price point we are talking about today. So if you want a luxury feel without the price today, this is the bag for you.
The Longchamp backpack is perfect if you're traveling and don't want to draw attention to yourself. It's free of any flashy logos or branding on the outside, but it is still very chic. With the easy wipe material on the outside and soft, adjustable straps, this backpack is definitely worry-free and comfortable. It's so easy to wipe anything off that gets on the outside of it without ruining the material. Although, I do like to keep my things very nice and I still don't usually set it down all over the place. Even at full price, this bag is totally affordable and is definitely a great option if you're looking to dip your toes into mid-range luxury.
On the inside, this backpack is basically a black hole with a couple of useful pockets. However, if you keep the rest of your things organized inside or if you don't have very much to carry, it shouldn't be an issue. There is one slip pocket in the back of the inside that I used for my phone and wallet. There is also another slip pocket on the front side of the inside of the bag that I was using for tickets and receipts and it worked out perfectly. I ended up using this as my bag-of-the-day on a trip to Dallas, and I think it's going to be my go-to travel bag from now on. It was so comfortable to carry and I was able to take advantage of the space when needed.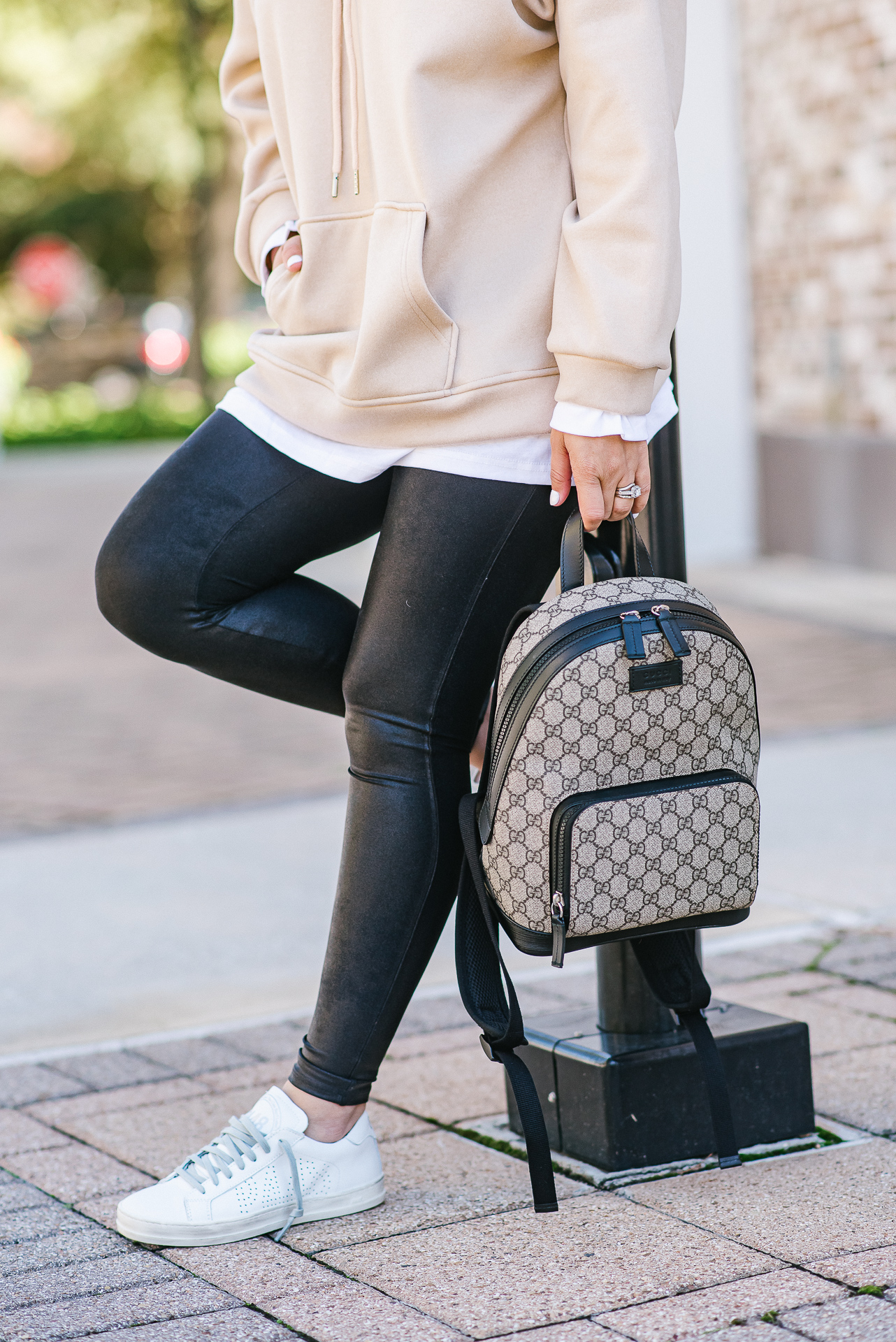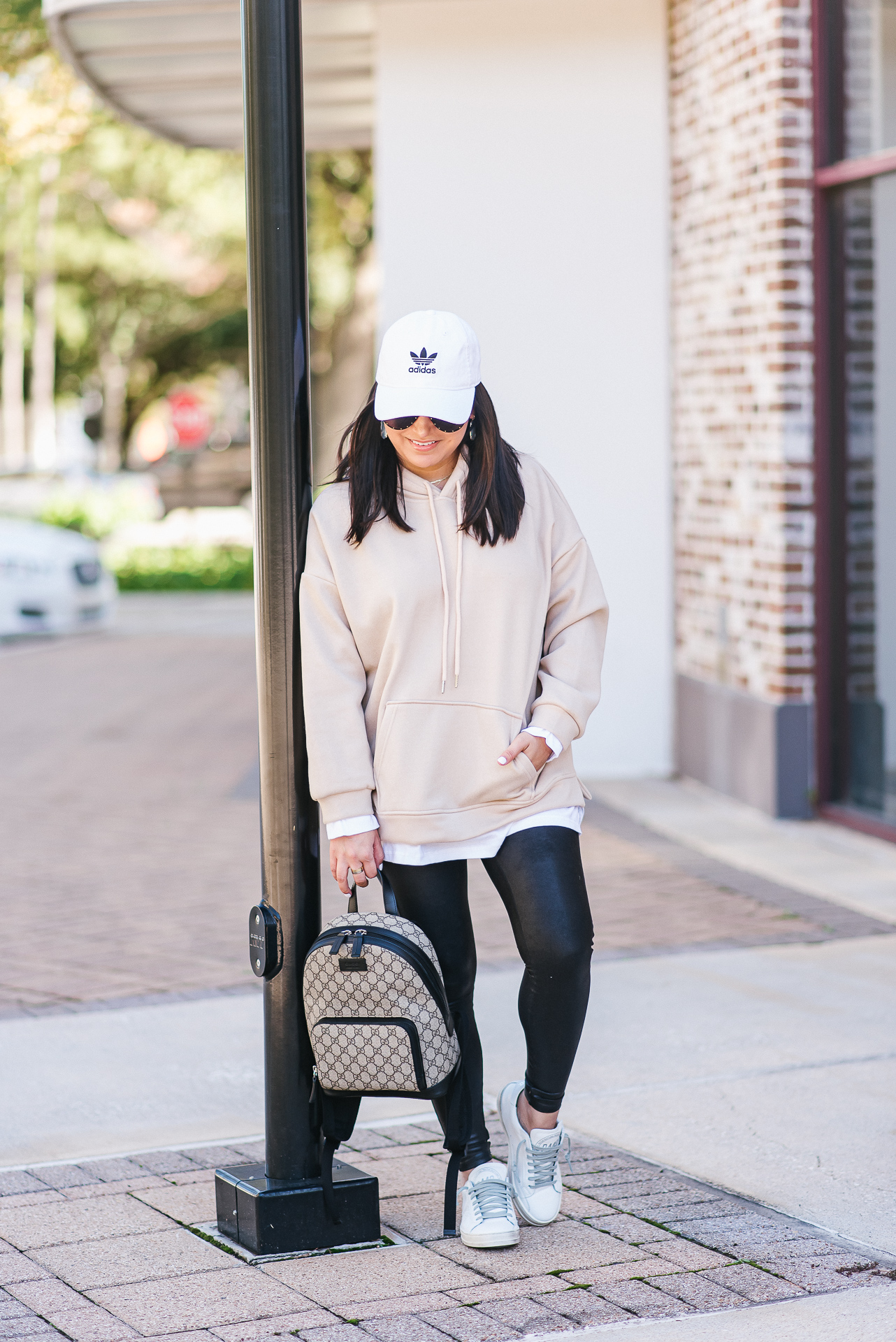 Gucci Backpack
This Gucci backpack is probably the one I reach for the most. It 's suer practical and very durable without sacrificing style. It definitely is a more casual athletic style, but in the best way. It's such a cute mini designer backpack and I love having it in my collection.
This designer backpack is completely worry-free because it's protected by a coated canvas which makes it extremely easy and practical. It is easily wipeable making it the perfect go to for family road trips and vacations. It's definitely one of  best designer backpack out there. It offers you that cute look of a smaller backpack, paired with the sleek style that only comes with designer brand quality.
Keep in mind that the version that I prefer is the small version, though there is a larger size available. The large is going to be a standard, full-backpack size. That is not really the size I need on a daily basis, so I went with the small and I absolutely love it. This size was perfect for me and it is deceivingly big and roomy on the inside. There is also a very nice pocket on the front that is big enough for a phone and a wallet which is so useful. Overall this designer backpack has the luxury style you are looking for, with the practicality I think a backpack should have.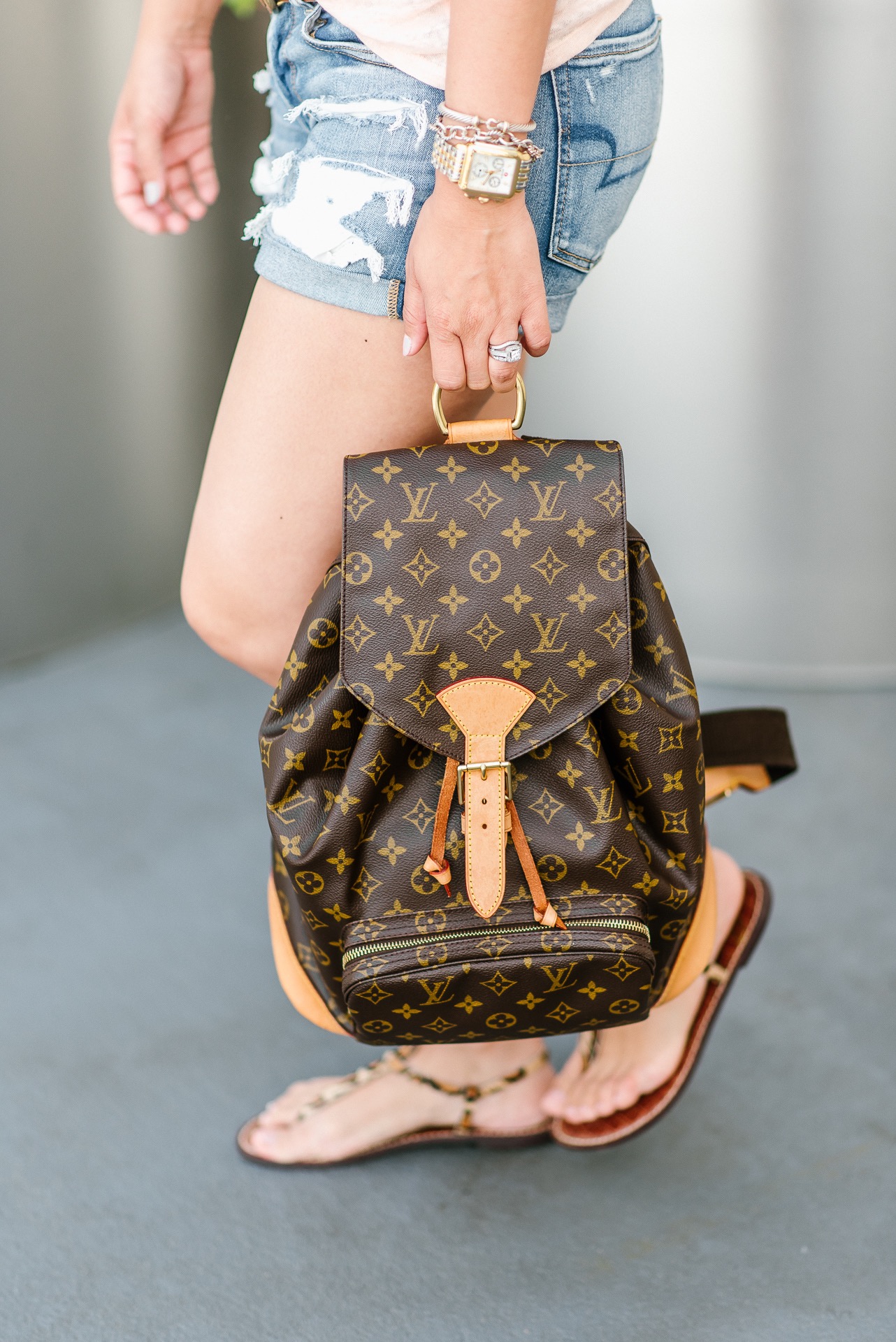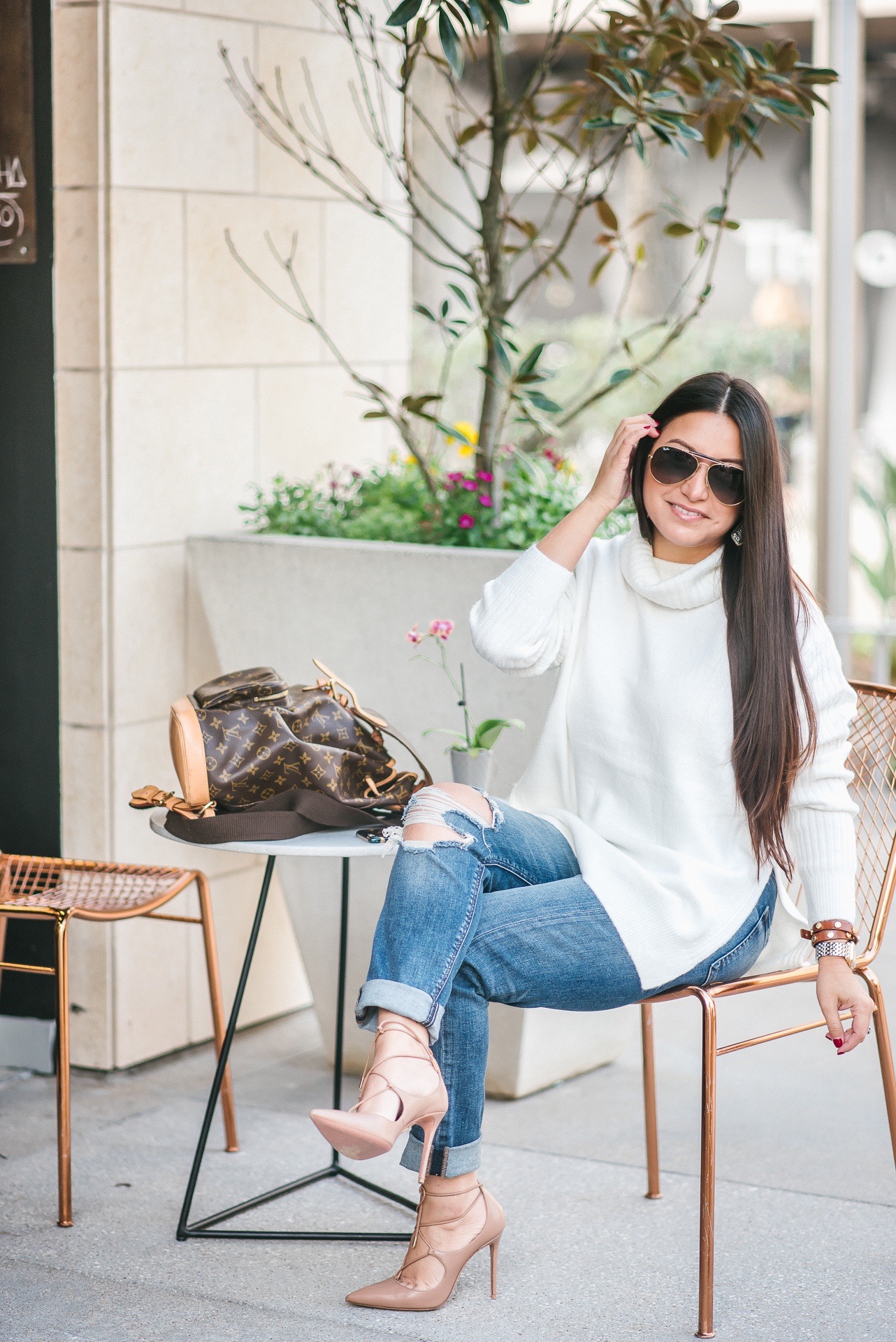 Louis Vuitton Backpack
The Louis Vuitton Montsouris backpack is definitely one of the more luxurious Louis Vuitton designer backpacks. I have the older model, so if you want my exact backpack, you would need to buy it pre-loved as this has been discontinued. The newer version is beautiful too! If I had to keep only one backpack in my collection, it would be this one. Even though it's my least used backpack, it's also my favorite!
This bag is so luxurious yet casual.  This backpack is all logo, making it not only a show stopper but the flashiest of the bunch. It's also the most high maintenance. I rarely take this off my shoulders since I am trying to keep it looking newer longer. The vachetta on the bottom will easily stain so it's not a worry free option. The overall look and style outweighs the lack of practicality. So, is it practical and worry free? No, but it sure is beautiful!
A huge plus is, the inside is huge! I have the GM size and it's perfect. I also love the pocket on the front. It is a great size for my phone and wallet. Even though the vachetta is a little high maintence, the size is perfect. It can fit all my handbag essentials and more.