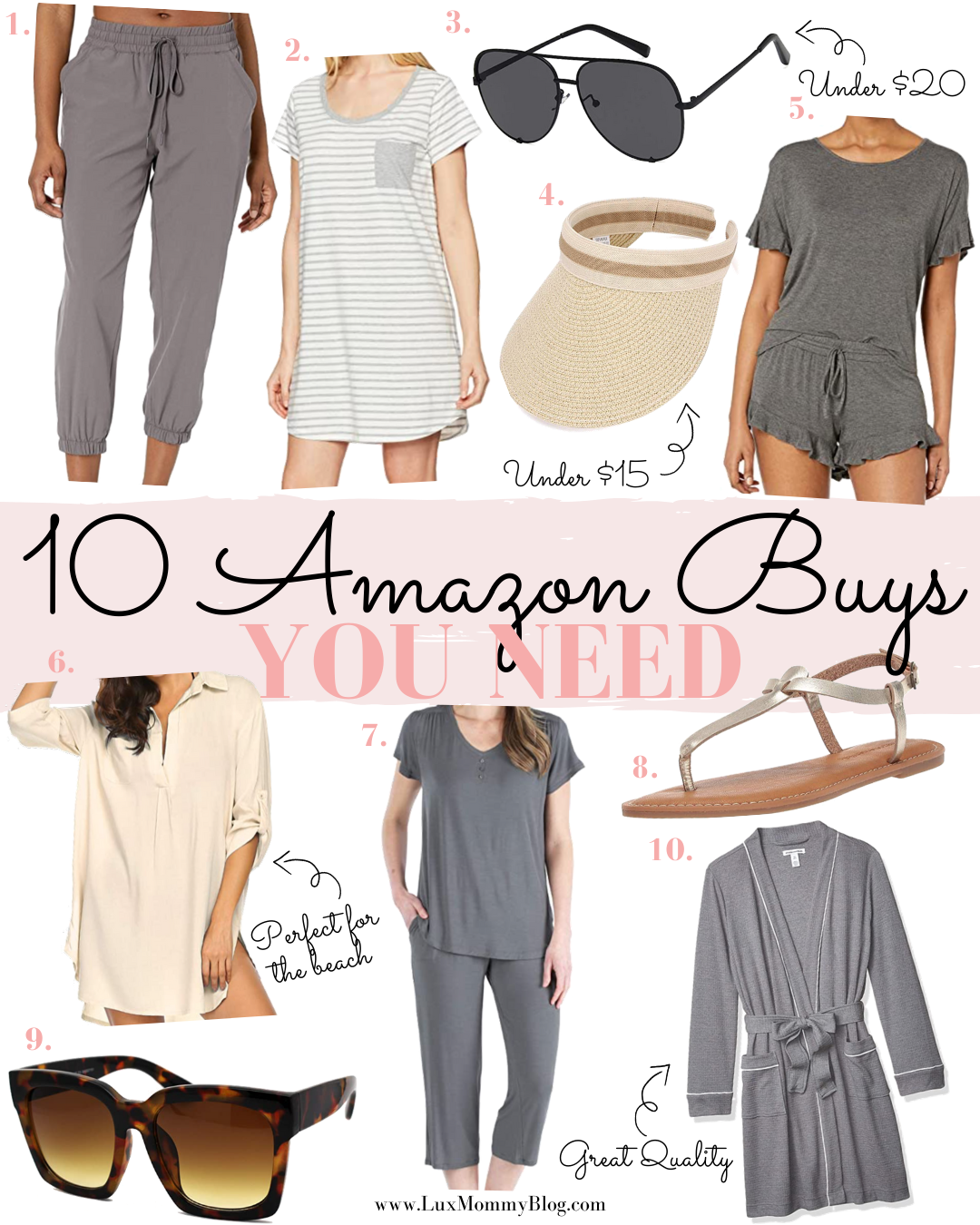 Who else has been loving all things Amazon lately!! I've been obsessed y'all, so I thought I'd share 10 Amazon buys you need now! These are all things I've personally ordered and just had to share with you all!
10 Amazon Buys You Need
CLICK PINK TEXT TO SHOP
1. Y'all know how much I love my joggers, I have a ton of them. So, when I saw these I HAD to order them. I love the elastic waist and elastic ankles. This material is perfect for the hotter months too!
2. Y'all have been asking for more affordable sleepwear, so I went on the hunt and bought this night tee. It's already arrived and I LOVE IT!! The weight is perfect and I love me some stripes. I went tts but I actually recommend going up 1 size if you prefer a loose fir for sleepwear.
3. I've been on the hunt for cute affordable sunnies to share too and I did good y'all! These are so cute and only $14.99 but look way more expensive than that. If you want a fun chic pair for the season but don't want to break the bank, get these.
4. I think visors are going to be my new summer obsession y'all. I recently bought one and fell in love, so naturally I ordered another. This one is so cute and would be great for a sporty vibe or poolside.
5. This jammie set is so cute y'all. I am loving the ruffle detail. For sure size up if you don't want super short shorts, they are on the mini side for sure, but I love them. The material is so soft and cooling too!
6. I am also gearing up for summer, who isn't and found this cover up. It comes in several colors and perfect to throw on and wear to lunch after the pool or beach. I ordered beige, but I think I want the white too!
7. Another affordable pajama find for y'all. This one is equally as soft and cooling. I actually really love this set for sure. It's the perfect weight for going into the hotter months.
8. I found the cutest most flattering affordable sandals. They come in 5 colors and are so flattering on the foot. I ordered the gold because they will go with everything!
9. Statement glasses…yes please! These are so cute and oversized which I love. I tend to gravitate towards aviators but when I saw these I had to order them. I am so glad that I did because they are so cute and so affordable.
10. Speaking of affordable sleepwear this robe is so good! I love the waffle texture and the length is perfect for everyday wear. I ordered the navy but it comes in 6 colors.
SCROLL + CLICK TO SHOP AMAZON BUYS YOU NEED