I've had so many requests to do a kitchen tour with all the kitchen details after the changes. First, I just have to say, this wasn't a full remodel. It was more of a little touch up. We made just a few changes and the difference made just enough of an impact. Second, yes I know, the kitchen would look way better if we changed out the granite but I didn't want to put that investment into this house.
This isn't our forever home. We thought it would be when we built it, but this was also our first home. Let's be honest, how many of you have lived in your first home forever. In our minds, when we built this home we thought it would be for the long haul. But, we didn't even have kids at the time. So many of our decisions were based on what we thought we would want, prefer and work for us when the family came one day. We didn't even know how many kids we would one day have, so we just went with what we wished for. Luckily the size works for us, but there are definitely some things we'd do differently next time.
With that said, I wanted to like my house again and I just didn't like it anymore. These changes were just enough to make me fall in love again. We don't know how much longer we will be here. It could be two more years or ten more years. We aren't actively looking, but we do skim the for sale pages from time to time. Like I said, the size works so we aren't in a hurry. Without further ado, let's get into the kitchen details.

CHANGE #1 – New Paint
The first big change that we did was have the entire house painted. It was a warm tan and I really wanted to switch it to something a little more modern. I decided to paint the main areas of the house Sherwin Williams Repose Grey. I am so happy with this paint color. It's a great mix of cool and warm, so the house feels homey but modern. It's also not too dark that it works in every space we put it in. I personally prefer flat on my walls, it looks more modern to me and I've had no issue with touchups and cleanups.

CHANGE #2 – Paint Cabinets
I really hesitated whether I wanted to have our cabinets painted or not. It was a large invested and remember, not our forever home. BUT, I knew if I wanted to enjoy living here(for how every much longer) I needed to make a change that had more of an impact. Our cabinets were very dark brown and it really wasn't working with the new wall color at all. I knew wanted white but not white white. I wanted white with a hint of warmth to work with both the new wall color and our floors. Our floors never come up accurate in photos, they always look orange and they aren't. They are the perfect classic walnut and have a lot of variation and texture since they are hand-scrapped. I ended up choosing Sherwin Williams Pure White, which turned out perfect.
We went with a gloss finish in an oil based paint, we were told that was best for cabinets over time. I have to admit, the white paint chips a lot. We've already have had to touch up the cabinets several times. Do I regret doing them? No. BUT, if you are building and you are thinking to go with one color with the plan to paint them white later, don't. Just get the actual white cabinetry. If you don't have the option, that's one thing but painted white cabinets are going to chip and need touchups, regularly.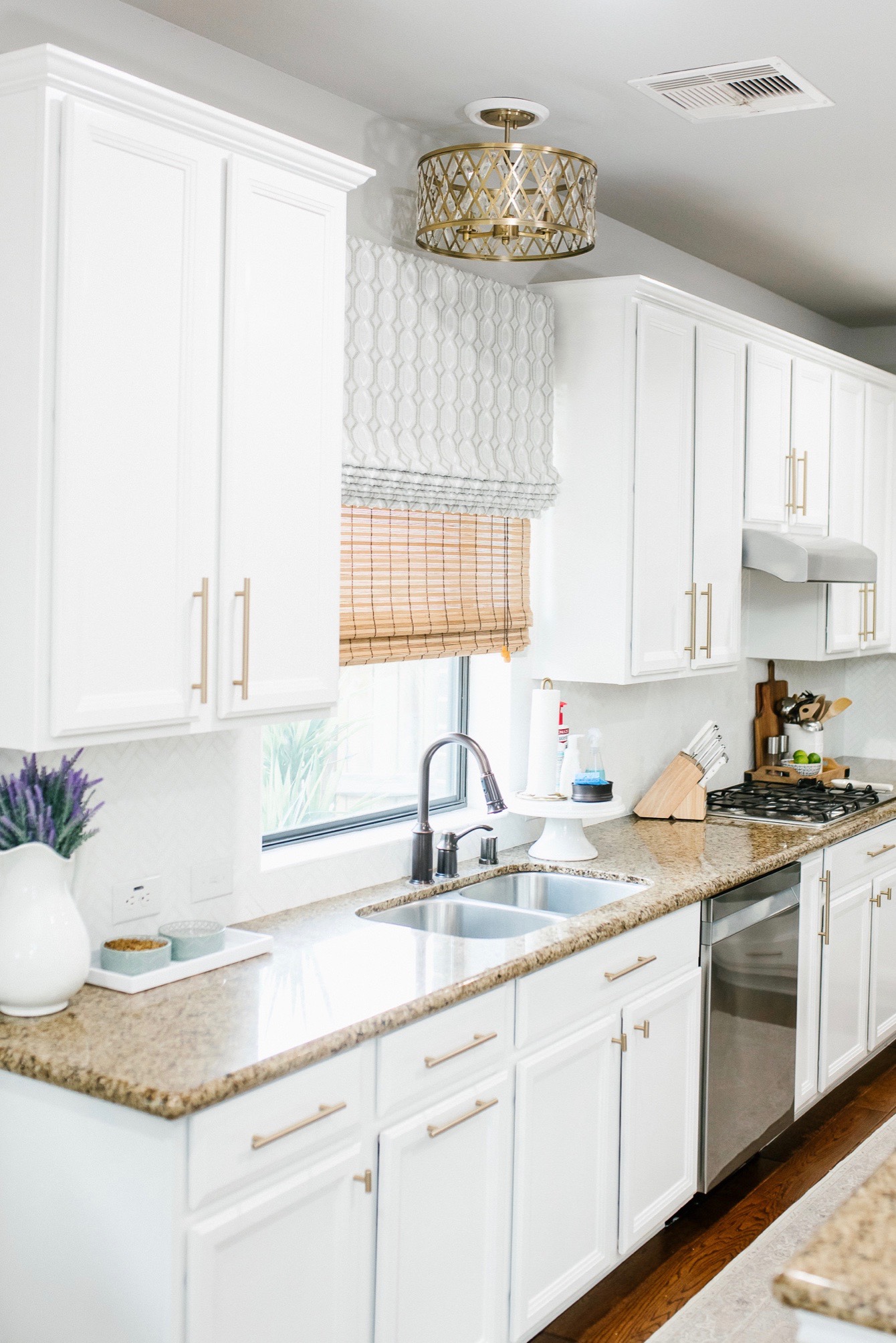 CHANGE #3 – New Backsplash
Our backsplash was pretty bad y'all. I am almost embarrassed I picked it. My only excuse is, it was our first home and I was overwhelmed picking every single detail out. I went safe with a lot of finishes and of course it felt boring after the excitement wore off. When I pictured the new backsplash I had something specific in mind. I had seen a few inspo ideas on Instagram but I wanted actual marble and I found it on the first trip to Floor & Decor. I ordered way more than the tile guys said he needed and he ended up using it all. Apparently herringbone yields a lot of waste because of the cuts and how the pieces puzzle together at the seams. This might be my favorite feature in the kitchen now. It's stunning and these photos do not do it justice.

CHANGE #4 – New Hardware
The finishing touch is this simple, classic and modern hardware(pulls and knobs). This color couldn't have been anymore perfect to tie in the granite with the new cabinets. It was like it was all meant to be. It's an antique gold, so it's not yellow. It almost has a bronze tone to it, it's like bronze and gold mixed. It really flatters the granite and almost makes it seem like it was all on purpose. The hardware really acts like the jewelry to finish off the space. I just love it.
I also get lots of questions about the window treatments. Both the bamboo shades and fabric roman shades are custom. Unfortunately, I can't link either for you. I really fell in love with this fabric and knew it would be perfect in this space and in the breakfast area. It was an accessory that I decided to splurge on, even though I can't take them with me when we do move one day. Even though we really tried to be smart about all the changes we made in the house I also didn't want it to look like we skimped in any area. The added touch of the custom roman shades really elevated the space.
KITCHEN DETAILS:
Washable Rug Runner – click here
Cabinet Hardware – Bar Pulls here and Bar Knobs here
Cabinet Paint Color – Sherwin Williams Pure White
Wall + Ceiling Paint Color – Sherwin Williams Repose Grey Flat
Granite – Tropical Brown
CLICK TO SHOP KITCHEN DETAILS