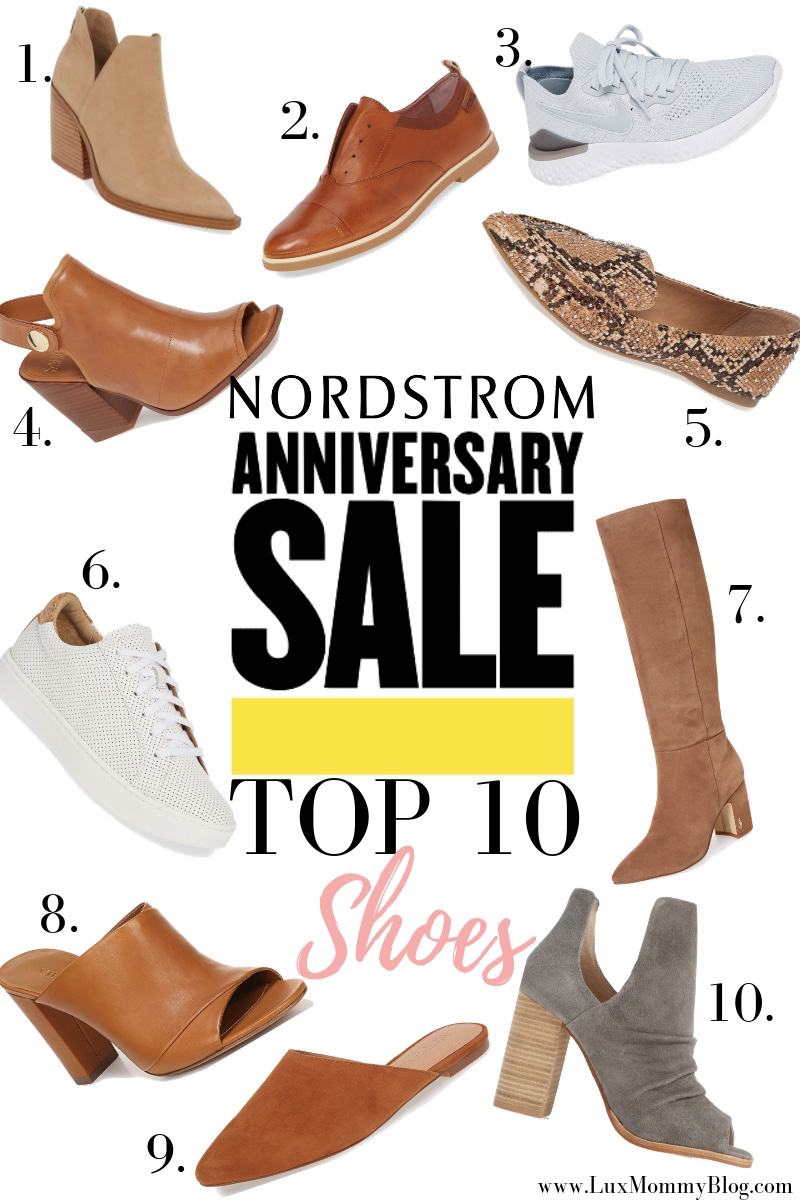 Nordstrom Anniversary Sale Top 10 Shoes
1 – The silhouette of these booties is very flattering.
I can be picky when it comes to booties and these were do good, I ended up getting TWO pairs. I did go up 1/2 a size and they are almost all out the door. If they have your size in a color you want, grab them asap!
2 – One of my favorite pairs are these oxfords.
I know you guys were a little unsure, but trust me…they are so cute, especially for Fall. Make sure to follow on me IG for outfit ideas with these. They comes in whole sizes only, so if you are a half size go up to the next size. I got a 37 and they are so comfy.
 3 – I knew I wanted to grab a pair of sneakers. I was due for a new running shoe and I fell in love with this color.
I went up 1/2 a size to a 7 so I can wear to the gym and for running. They are so comfortable and lightweight.
4 – This open toe bootie is a must have in your closet.
It's a great almost year round shoe. Can be easily styled with jeans, dresses, shorts and rompers. The heel height is so wearable and they run true to size.
5 – If you can only get ONE PAIR of shoes, these are it. Trust me.
They are cute, comfy and still on trend. I ended up with two pairs and I love them. Grab you one or two, you won't be disappointed.
6 – These sneakers are so cute and more importantly so comfy.
I'd suggest going down 1/2 a size, they run big. I've been wearing them so much this Summer. I've had them for a few months, so it was nice to see them in the sale this year.
7 – I didn't end up buying a knee high boot this year, but if I did it would be these.
I am in love with the suede, the heel height and the color. They do come in a few other colors. So, if you need a knee high boot for the upcoming season, check these out.
8 – One of my favorites styles to style in my closet is this mule heel shoe.
It comes in tons of colors, is so comfortable and totally worth the splurge. I love the snake print and you can't go wrong with a neutral.
9 – An easy slip on mule is a must in ANY closet and I love the suede material of these.
Go up 1/2 a size for these for the perfect fit. These are sure to be your go to shoes for now and later.
10 – I love the cut outs of these peep toe booties.
They also come in several colors and so versatile for Fall and Spring. You will get a lot of wear out of these, that's for sure.
Loving these shoes from the Nordstrom Anniversary Sale? Click here now for more NSale favorites!
SCROLL THROUGH TO SHOP TOP 10 NORDSTROM ANNIVERSARY SALE SHOES: