RAINBOW SMOCKED TOP OUTFIT DETAILS:
Top – small | Jeans – 2 short | Sandals – tts | Sunglasses – sold out | Earrings | Watch | Spike Bracelet | Handbag
Easy casual and comfortable, does it really get any better than that. I love how simple but cute this outfit is. It's going on two years and these are still my favorite jeans. They are a mid rise and I love the distressing. If you haven't ordered a pair yet, they go with everything. I've dressed them up and down and I love them either way. I am 5'2″ and the short length is perfect on my height. I am wearing a size 2 short, so they run true to size.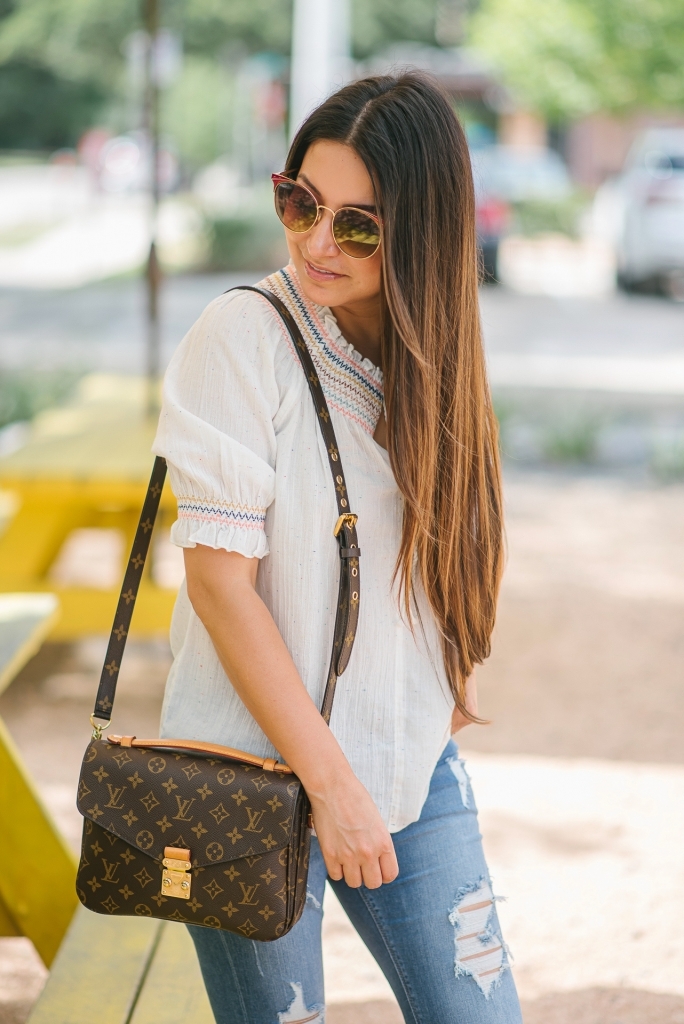 RAINBOW SMOCKED TOP OUTFIT DETAILS:
Top – small | Jeans – 2 short | Sandals – tts | Sunglasses – sold out | Earrings | Watch | Spike Bracelet | Handbag
So, how is Summer going for y'all? It's been so hot and humid but we are getting in a lot of QT. We hit the beach last weekend and are all burnt to a crisp…lol, but it was so much fun. We relaxed on the beach, played a little frisbee, built some sand castles and then went to a late lunch. The perfect day! The only thing that would have made it better is crystal blue water…lol,. wishful thinking. XO
SCROLL THROUGH TO SHOP OUTFIT DETAILS