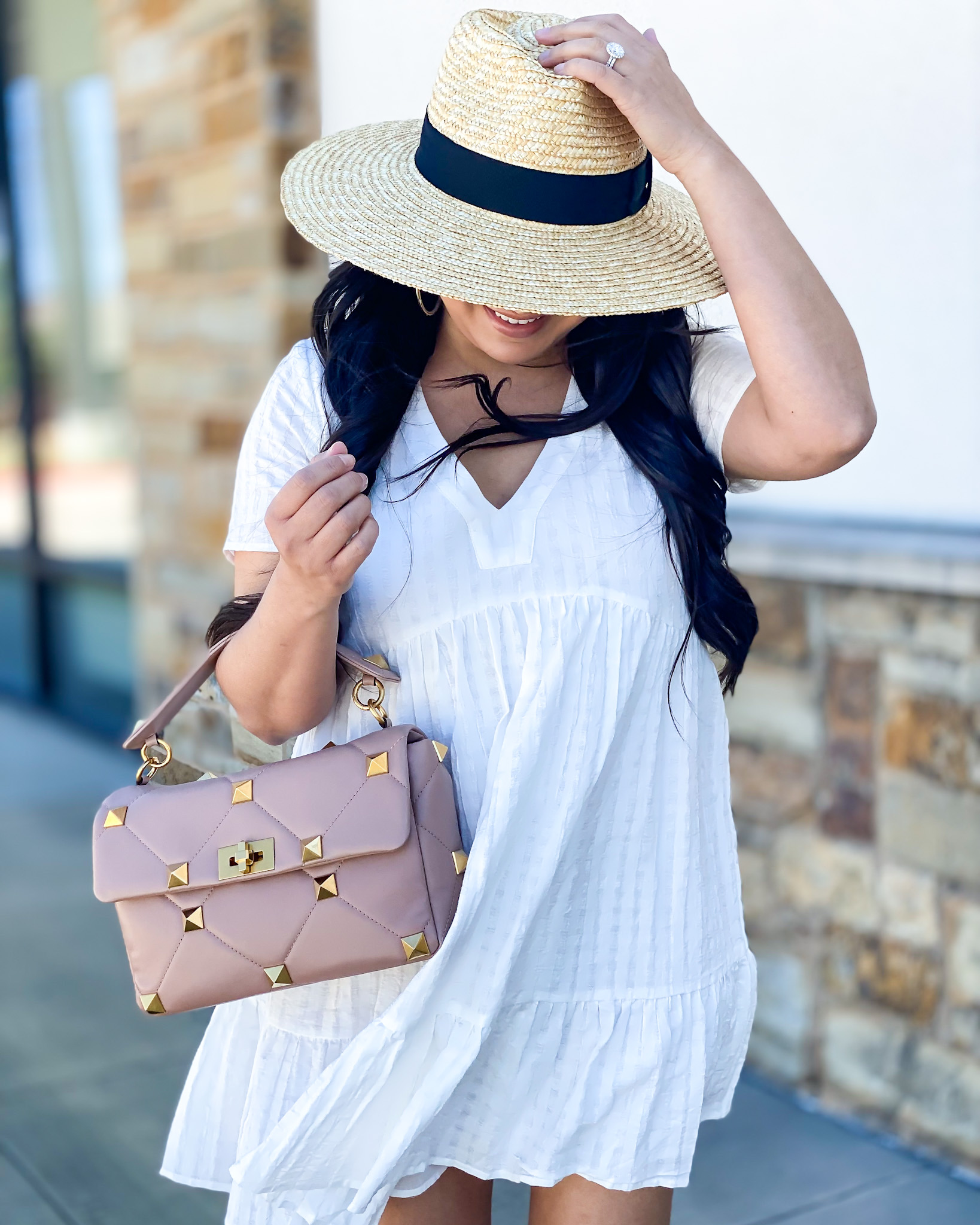 When it comes to adding summer clothes to your wardrobe I like to think of two categories….closet essentials and trendy pieces. I've talked about closest essentials a ton on the blog and on my YouTube channel. This is your capsule wardrobe, pieces you should always have on hand. We can touch on that in another post, my main goal for putting this blog post together was to share my top 10 summer closet essentials for anyone and everyone. No matter what your style is, these summer closet essentials are a must-have in any wardrobe.

How do you dress trendy in the summer?
When it comes to summer clothes and what's on-trend I like to stick to the classic trends. Think linen, straw, and texture. Just adding a few summer accessories to your wardrobe will instantly add the perfect style element you need to feel on-trend all summer long. I love this straw hat and this straw tote. They are both essentials when it comes to putting together the perfect summer outfit. Oversized sunnies are another way to add a trendy element to your summer style. I love this pair from Amazon.

How do you look put together in the summer?
Looking put together in the summer is easy if you remember not to go overboard with the trends. Keep it to a minimum with the summer staples. That's all you need to style up an outfit and instantly make it feel chic and put together. I know this post is focusing on summer closet essentials but I do want to mention a few summer clothes that I recommend you add, depending on your style.
Linen is a summer clothes must have for me. I also love adding rompers and dresses to my wardrobe. I love the whole one-and-done outfits. It makes it easy to dress for summer and pack the essential summer clothes when traveling. I also love a good utility romper and this one from Abercrombie is so cute. I also added this tank dress to my cart, it was only $34! Another summer clothes favorite is blue stripes and this short sleeve romper is another great find. Check out more summer clothes I recommend here.

My top 10 summer outfits
I put together a top 10 list of all my favorite summer closet essentials. When I put this list together I had everyone in mind. I didn't want it to be summer clothes specific, but instead, the must-have summer accessories that every girl needs. Check out the full list down below and let me know what you think.
Do we need a re-cap of year-round closet essentials, the capsule wardrobe? Let me know in the comments below and I can add that to my blog content calendar. I hope you enjoyed this blog post. It was fun putting this together. Make sure to let me know you stopped by and leave a comment below.
Don't miss the next blog post by subscribing here. Thanks for stopping by!