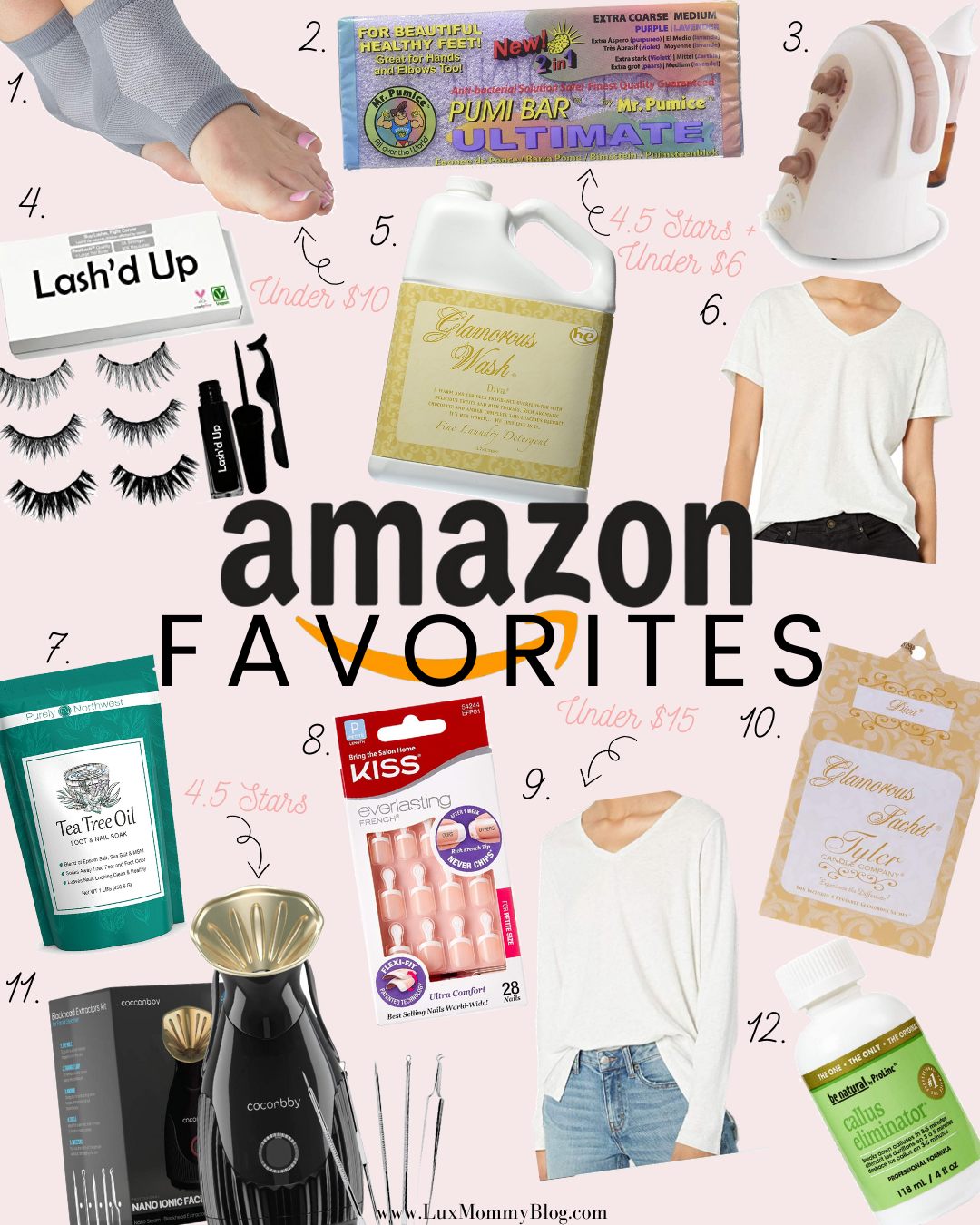 1. So, who else is major need of a pedicure…lol. Who am I kidding, we all are! I bought these gel heel covers to wear around the house or while I am watching a movie to soften my heels. They looked fun, so I figured why not?!?
2. Another DIY pedicure purchase. This pumice stone will help scrub the bottoms of your feet to get them soft and clean. Seems pretty essential for a pedicure, so I ordered it…lol.
3. Now this might be one of my ALL TIME FAVORITE AMAZON purchases ever. This diffuser runs 24 hours a day, 7 days a week and I love it. I have it set to run for 1 minute and then rest for 20 minutes on a low-medium output and I love it. It keeps the house fresh all day long and because there is the rest time my nose doesn't get used to the scent.
4. Speaking of DIY, I've been testing out magnetic lashes and these so far are my favs. They are the most comfortable to wear, though they still tug at my eyes by the end of the day. I will admit I am not a HUGE fan of magnetic lashes, but I think these are the best quick and easy option for lashes in the meantime.
5. I bought the big daddy…haha! Y'all I am in love with this detergent so I had to buy the big one. If you are wanting your bedding and blankets to smells amazing, you have to try this detergent. Even the hubby made a comment because I washes his clothes in this detergent, he LOVES it!
6. I shared on IG stories that I bought a few basics on Amazon and loved them, so naturally I ordered more. I bought the tee in white and a cream marble color. I love the fit and feel of these and at that price you can't beat it. They run tts!
7. I love a good tingle on the toes when getting a pedicure so I had to order this foot soak. It smells amazing y'all. Another must have essential for at home pedicures.
8. I've had a lot of requests to share the french tip press on nails that I shared on IG stories. These are them. I do actually like them in a lot of ways. The quality is good, the tone of the french and nude is good and they are very comfortable. I think I've just decided I don't think press on nails are worth the hassle. They aren't my thang and that's okay. If you do however like press on nails I do recommend these.
9. I decided to order two of the long sleeve versions of #6. I don't know why but I LOVE the look of rolled up long sleeves, even in the summer time. There is something about it so stylish to me. Luckily once indoors I am always cold so I never regret it..lol.
10. Now this I am SO EXCITED about! It hasn't arrived yet, I think they will be here today or tomorrow. They are the dryer sachets that match the detergent above. You can use them in the dryer or keep them in a drawer for the scent.
11. I finally caved and ordered a facial steamer and I love it! This one is so cute and works so well. I like to use it before I use my blackhead vacuum, which is also another Amazon favorite.
12. And the last at home pedicure must have is this callus eliminator gel, I use it with the scrub from above to get soft heels.
CLICK TO SHOP AMAZON FAVORITES