This is our first year celebrating Dia De Los Muertos. I was really excited to put this post together, not only because I really wanted to learn about this time honored tradition but I was also excited to celebrate this holiday with my boys. If you are new to following me, our boys are Mexican-American. We adopted them 6 years ago and I think this is such an amazing way to integrate their culture into our lives.
They are getting older and are more aware of death, especially after losing our English Bulldog last month. As difficult as it was to lose her, it was also a learning experience for the boys. We've lost 3 pets total since the boys joined our family, but this was the first time that they were able to really feel the loss. They asked a ton of questions, we cried together and we also remembered all the fun times. I talked to them about setting this up and they were really excited to do it together. We decorated as a family, set out the photos and talked about how much we missed them.
I still have a lot to learn about this holiday, but I am excited to learn as a family in honor of our loved ones as well as the boys birth culture. If you are unfamiliar with Dia De Los Muertos, check out some FAQs below and we can learn together.
Dia De Los Muertos

What is Dia De Los Muertos?
Dia De Los Muertos or Day of the Dead, is a celebration of life. This holiday originated in Mexico and Central America but is now more widely recognized. Not only is it dedicated to remembering and honoring loved ones that have passed but it also focuses on the artistic expression through ofrendas, costumes, cooking and other offerings. Dia De Los Muertos is celebrated from October 31st through November 2nd.
Can anyone celebrate Dia De Los Muertos?
Absolutely, but please keep in mind Dia De Los Muertos isn't another version of Halloween. It's a time honored Mexican tradition that is very sacred. It's deeply personal and is not to be taken lightly. Respect the tradition and what it stands for.
Is Dia de Los Muertos sad or depressing?
No, it's a celebration of life. It doesn't focus on the death of your loved ones but their life. That is why it is celebrated with bright colors, food and music through parties. It is far from somber. It's truly a celebration.
What is Ofrenda?
Ofrenda means offering in Spanish and that's exactly what it means here. It is your offerings to your loved ones. It can be a collection of objects or food.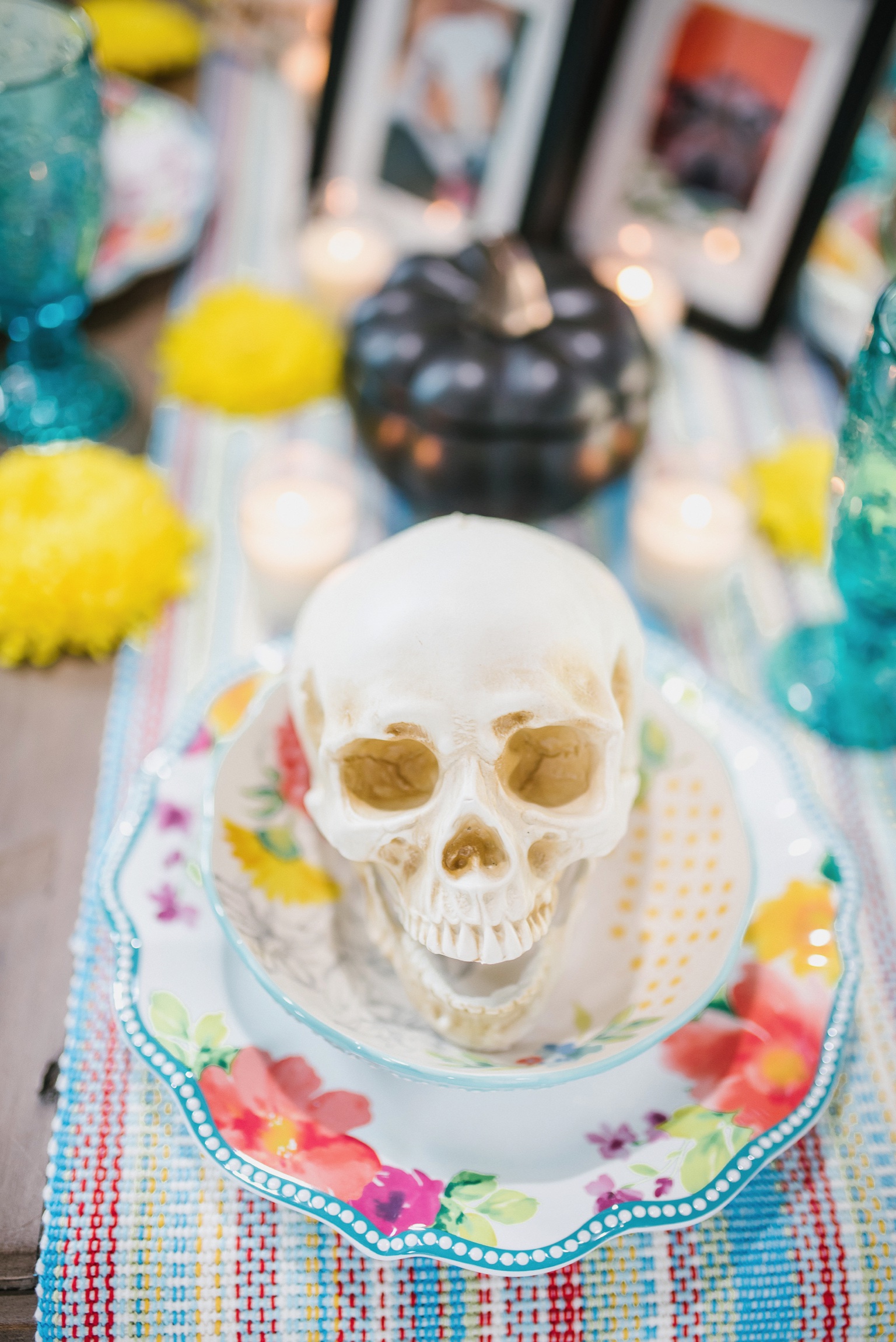 Want to learn more about Dia De Los Muertos, I recommend you watch COCO. It is a great movie for the whole family and really explains the holiday in a way that everyone can understand. Dia De Los Muertos is a beautiful way to honor the loved ones you've lost and a new tradition that we will be celebrating as a family.
Looking for Dia De Los Muertos decor, check out Walmart. Everything on my table is from Walmart. They have a great selection of Dia De Los Muertos items here. I loved these bowls and these cups from the Pioneer Women collection. I also got the coordinating table runner to finish it off. Our ofrenda turned out perfect.
Thank you to Walmart for sponsoring this blog post
SCROLL + CLICK TO SHOP DIA DE LOS MUERTOS