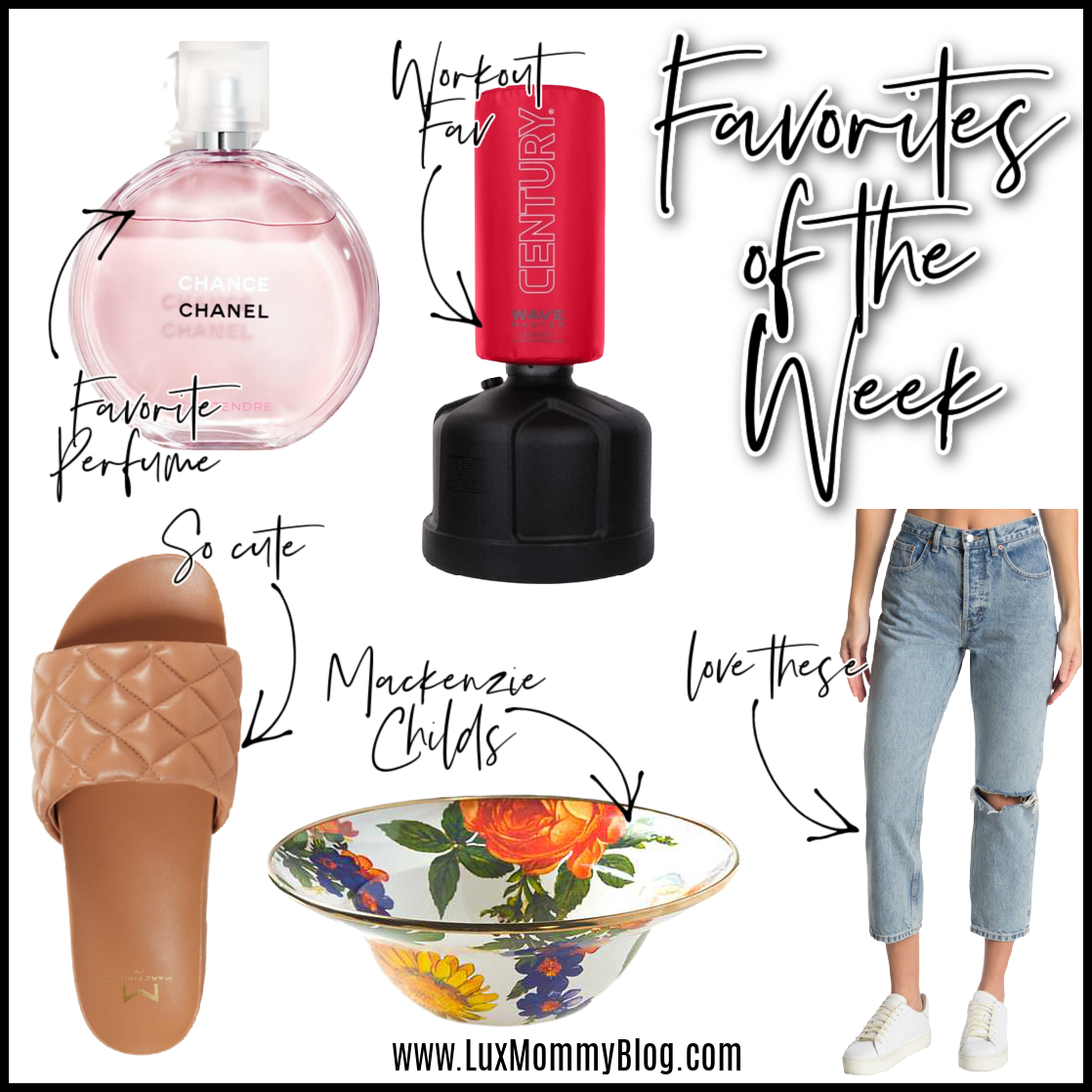 My head knows it's Friday but it feels like a Saturday over here. Matthew has another two day track meet, but it started today. He had his first even today and he placed 1st, which means he's moving on to regionals!! So not only did he get his 3rd gold medal of the season, we also get a break on Sunday! It's a win win all around…haha!
Check out this week's favorites below.
FRIDAY 5 FAVORITES

CLICK PINK TEXT TO SHOP
These quilted slides are so cute. I have something similar but I had to share this as an option with you. They run tts and do require a little breaking in. They aren't uncomfortable at all, but since the top strap is so thick it needs to stretch a little to move with your foot. They remind me of Chanel but such a great price.
I've been loving all things MacKenzie-Childs as you know and this breakfast bowl has been a favorite for sure. I am in love with this floral print. It's light and bright and the perfect pop to add to any tabletop.
It's been a long time since I've found a new pair of jeans that I liked. I don't know why but I feel like the jean selection lately hasn't been petite girl friendly. These are a vibe! Heads up, they run SMALL!!! Size up for sure. But, once you get your size they are so cute. I love the casual and totally on trend look.
The PERFECT summer scent, not even kidding. This is a new favorite of mine and it just so happens to be perfect for summer. It's light, bright, fresh and fruity but still super classy and chic. If you love Chanel Chance you will love this version. It's definitely different enough to have both.
I've been getting my workout on pretty consistently in the garage and this is a go to favorite exercise of mine. I've always loved kickboxing. I honestly don't even remember when I got this punching bag, but it's a must have for me in my home gym. It's the perfect size for adults but it's adjustable so kids can use it too. The boys love putting their boxing gloves and practicing on the bag too.
CLICK TO SHOP FRIDAY 5 FAVORITES