I am so excited about today's post. I've received an overwhelming response to share more easy recipes but I also get to share some of my new MacKenzie-Childs pieces with you. I have fallen so in love with the MacKenzie-Childs brand. Not just the actual pieces, they are pretty incredible but the brand itself. A couple of months ago I was able to attend a blogger event sponsored by MacKenzie-Childs and was able to dive deep into the culture of the brand. I was able to see first hand one of MacKenzie-Childs artists painting and sharing the techniques that they use to create these one of a kind pieces. To say that MacKenzie-Childs is just home decor and plates, would be unjust. It's a culture, it's a lifestyle and it's something that is not hard to fall in love with once you are introduced to the brand. I've already have several of you reach out to me once I started sharing MacKenzie-Childs to share your personal collection. I am excited to share some of my collection with you too.
I thought it would be fun to partner a what I eat in a day but also share how we've been using my new MacKenzie-Childs pieces in our home. They really make meal time that much more special and I love that I am create a memory that my boys will remember when they are older. Check out what I ate in a day and some of my new pieces below.
BREAKFAST
This is one of my go to breakfast, when I put together a meal. These bagel thins are in the freezer section. They are sprouted and so much healthier than traditional breads. I highly recommend you try to find them at your grocery store. I use them for breakfast or even sandwiches.

What you need:
For Sandwich: egg, 1/2 avocado, cream cheese of choice(I like jalapeño), seasoning of choice(I like everything bagel), bagel(I use a sprouted thin bagel).
For Yogurt: Yogurt(I did plain greek), fresh fruit of choice, pumpkin spice
Fry up the egg and season with everything bagel. While that is cooking toast the bagel. Once the bagel is toasted I will spread cream cheese on top. Layer egg, avocado and bagel top. That's it!!
For the yogurt, I just layer the fruit on top of the yogurt and add pumpkin spice. I love the pumpkin spice from trader joe's. Serve with your favorite tea and enjoy!
LUNCH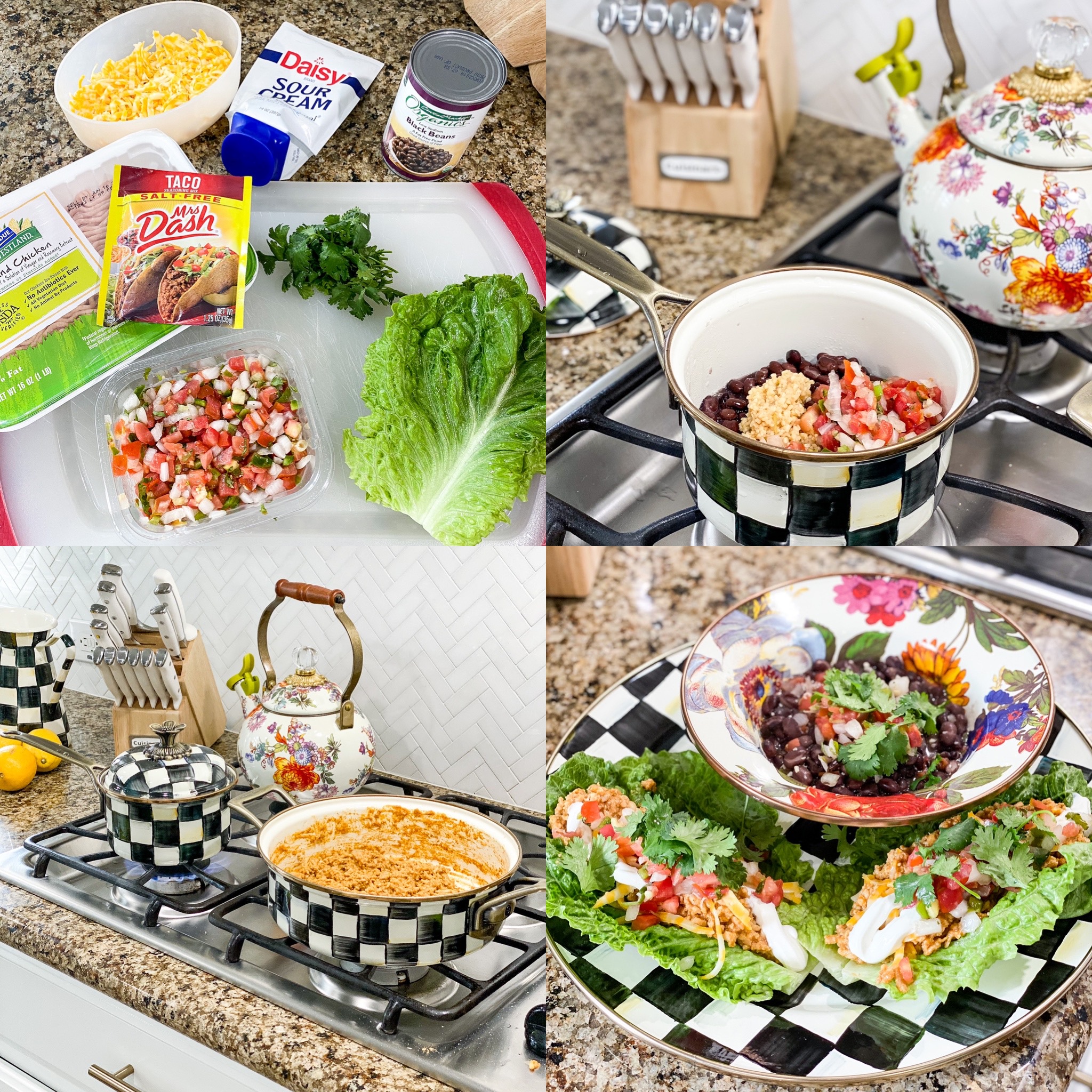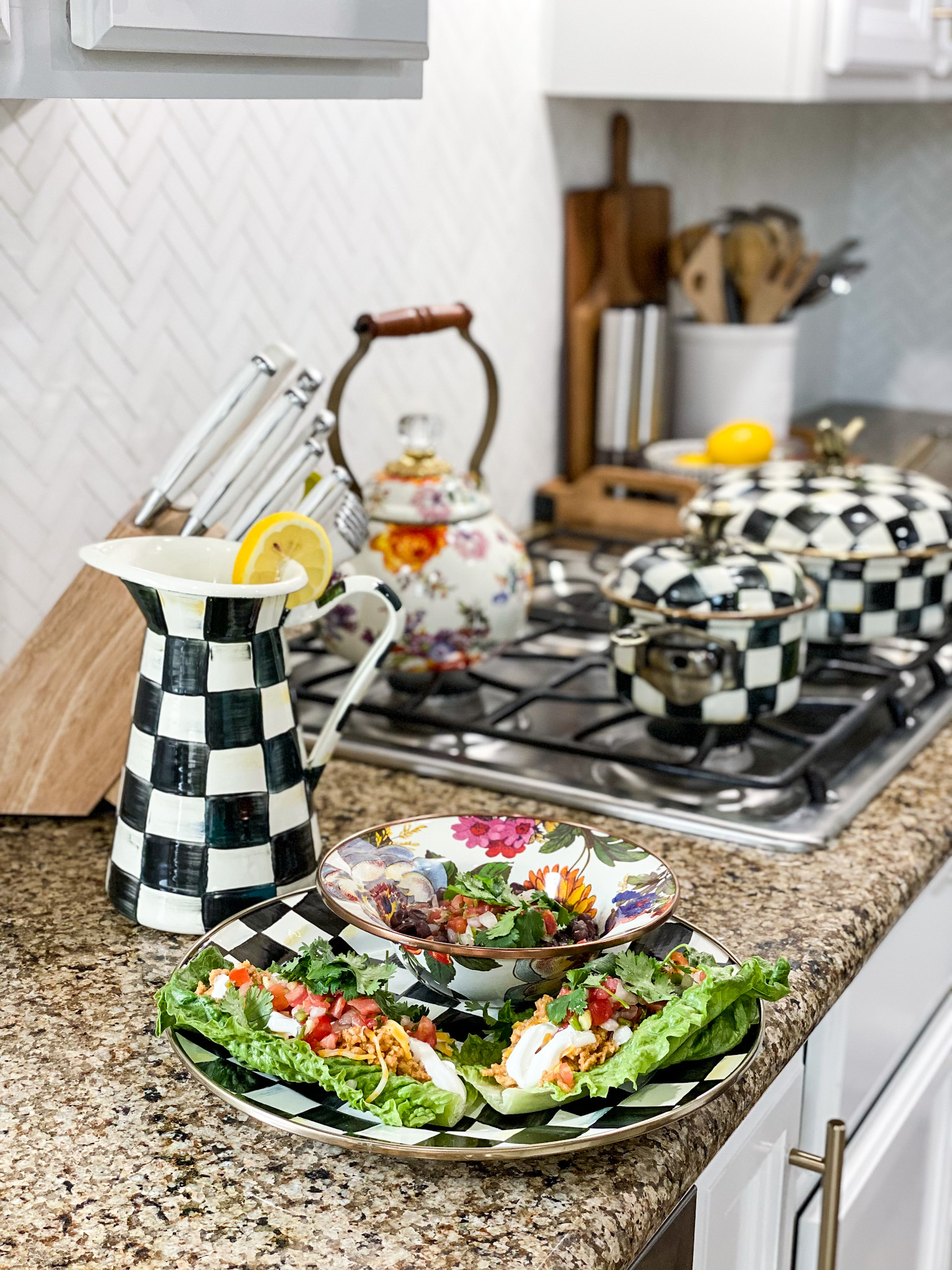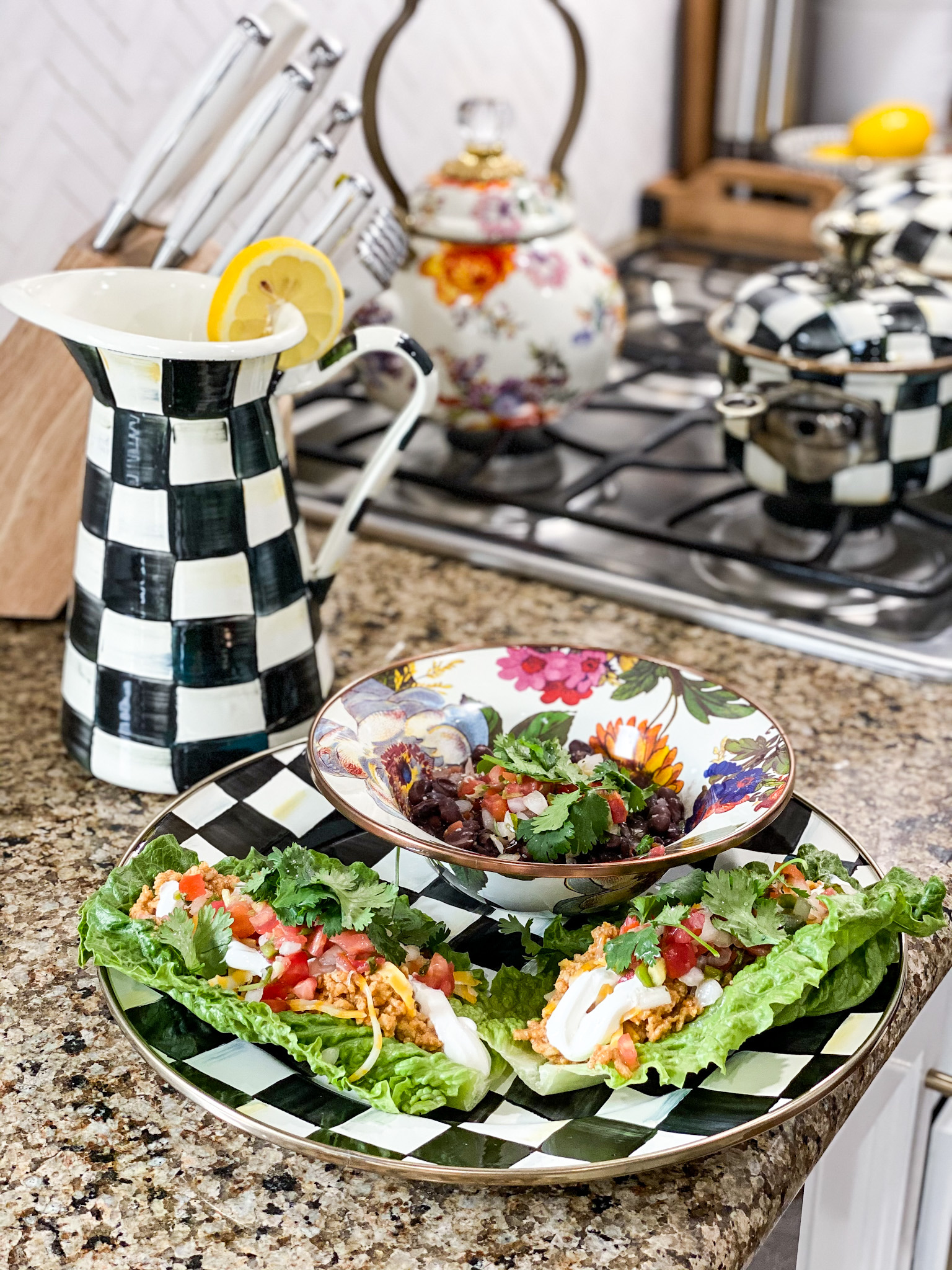 If you are trying to cut carbs or you just enjoy vegetables these lettuce tacos are a must try. The boys don't east chicken, so they didn't eat lunch with me today but this is a favorite meal of mine. I also love that I can make them as spicy as I want since the boys aren't eating them. I like to serve with black beans but I always have to spruce up canned beans a little. This is so easy and a great way to make canned beans better.

What you need:
For Tacos: ground chicken, taco seasoning, pico de gallo, sour cream, cilantro, limes, lettuce leaves, cheese, garlic, preferred seasonings. Optional: jalapeno and hot sauce.
For Beans: canned black beans, garlic, pico de gallo, seasoning.
Brown ground chicken in pan with seasoning of choice(I did pepper and garlic), then add taco seasoning according to packet. Once taco meat is prepared you can layer the meat and toppings of choice onto lettuce leaves. I like to add jalpenos and hot sauce for spice. All toppings are of course optional.
Warm up beans in small pot and add garlic, pico de gallo and seasoning of choice. Serve with fresh lemonade!! This is one of my favorite healthy easy meals. I made a little extra meat, so I was able to eat these two days in a row. They are yummy!!
DINNER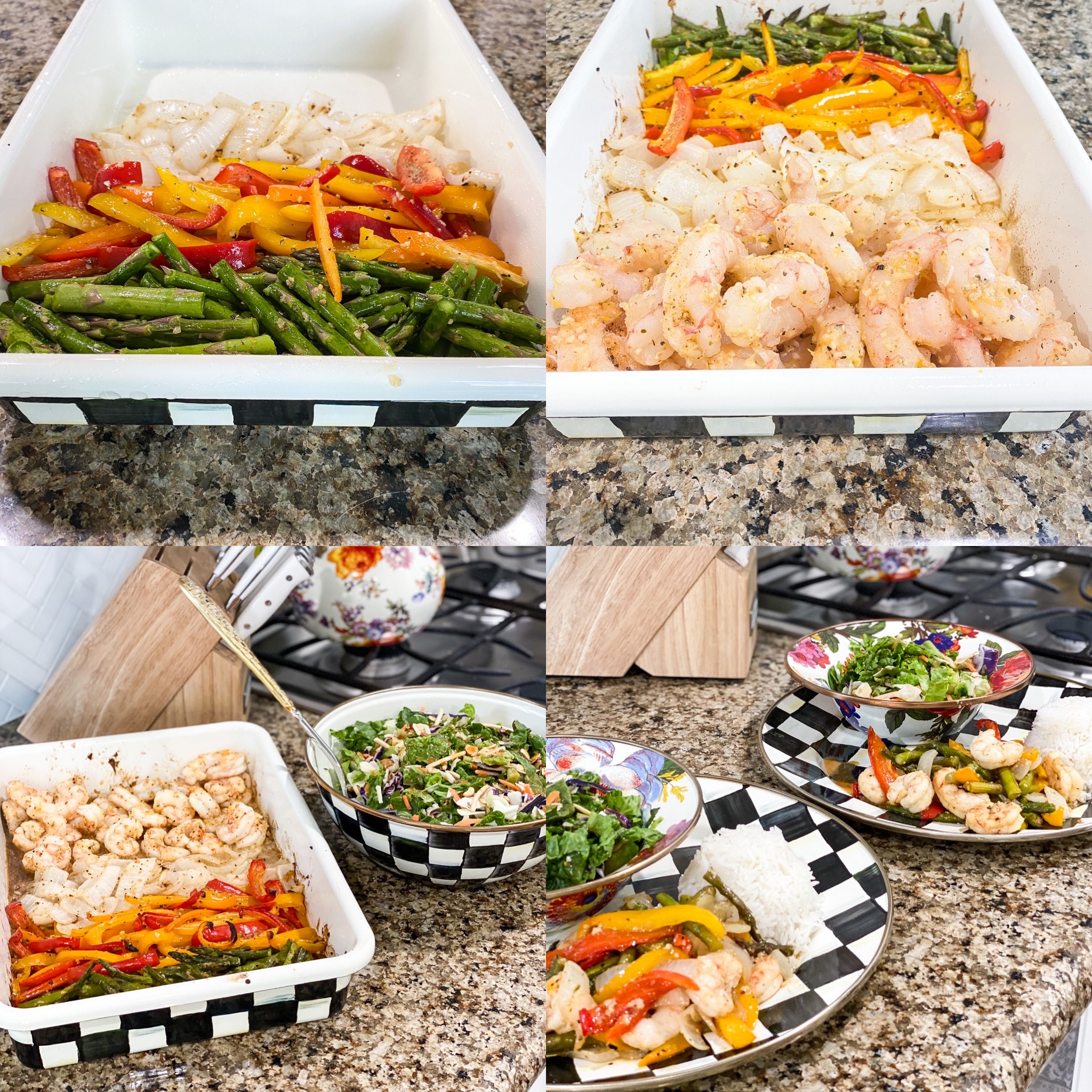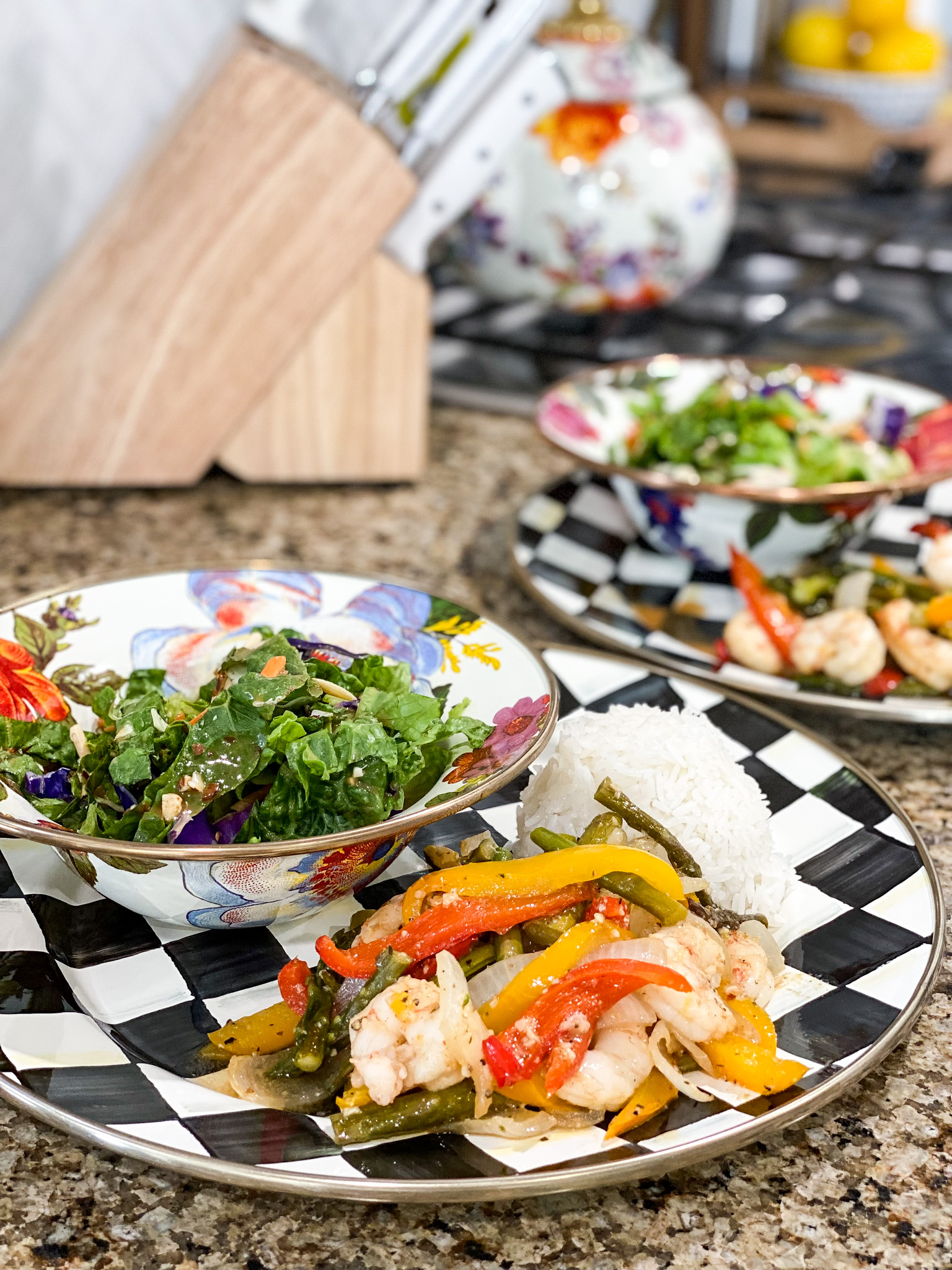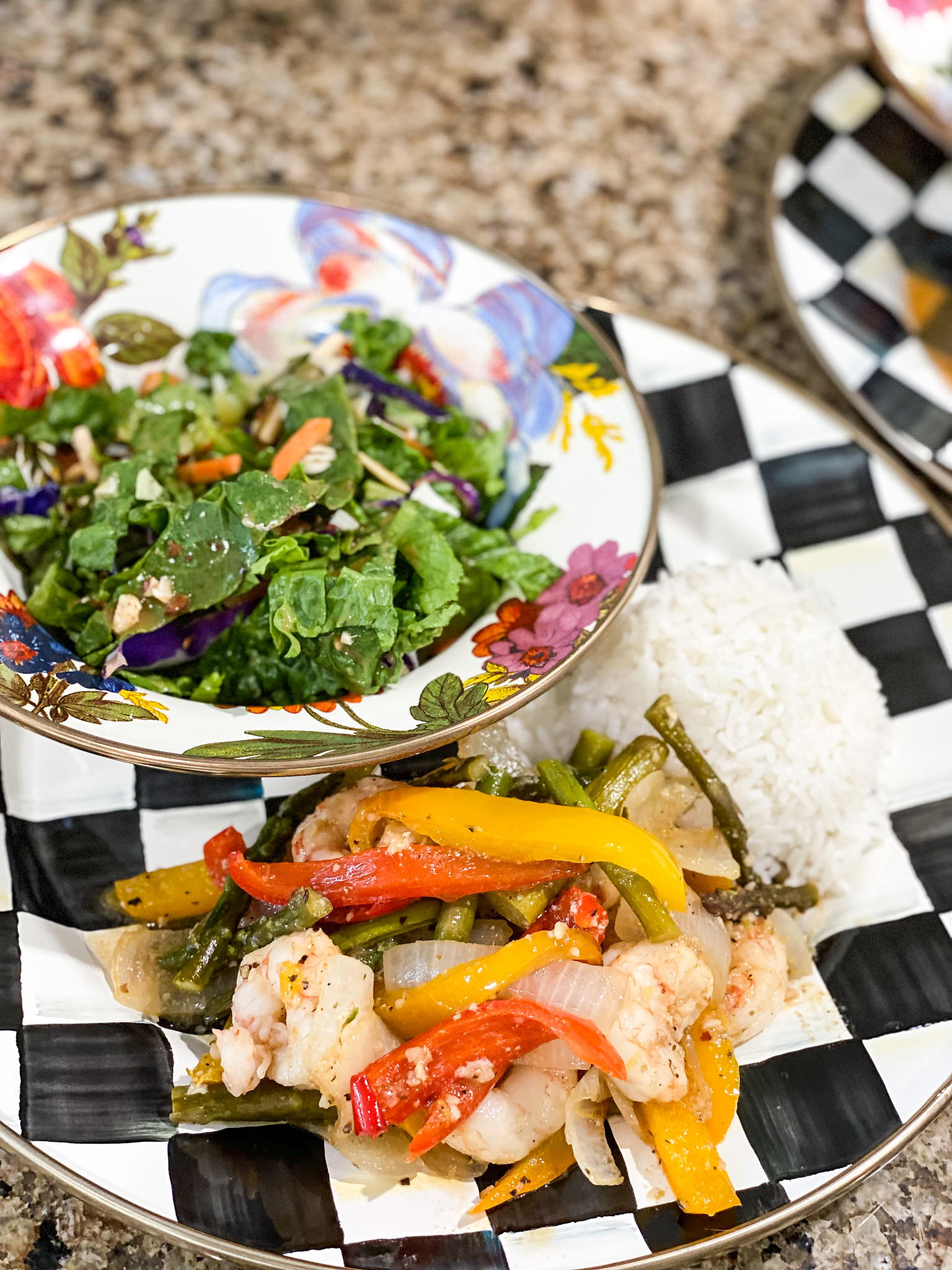 This is one of my favorite meal ideas for the whole family. It's quick, easy, healthy and can be adjusted for whatever you have on hand. Use your favorite vegetables and even swap out the meat for chicken if you'd prefer. Keep in mind the chicken takes longer to cook, so that can go in at the same time as the vegetables.

What you need:
For One Pan Meal: shrimp, peppers, onion, asparagus, garlic, oil, seasoning of choice.
Chop up all your vegetables separately and toss them in garlic, oil and seasoning(I used salt, pepper and Italian seasoning) before I place in the pan. I let them vegetables cook for about 15 minutes at 350º before I added the shrimp. I also tossed the shrimp in oil, garlic and seasoning….BUT, I also added lemon zest. Add the shrimp to the same pan and cook another 15 minutes or until shrimp is fully cooked. Remove from oven toss all together and squeeze lemon juice on top. Serve alone or over rice. Would make great tacos too!!
This time I served it with salad kit from the grocery store. I wanted another side option that was quick and easy.
I know the MacKenzie-Childs pieces stole the show, but hopefully you were able to find a quick and easy recipe that you can make at home for your family. Let me know if you'd like more of these blog posts. I enjoy putting these together for you so I'd love to do them more if you'd like. Make sure to check out MacKenzie-Childs here. They several collections to choose from. As you can see I love the Courtly Check and Flower Market best!! Thanks for stopping by!!
Thank you to MacKenzie-Childs for sponsoring this post.
SHOP MY MACKENZIE CHILDS FAVORITES HERE