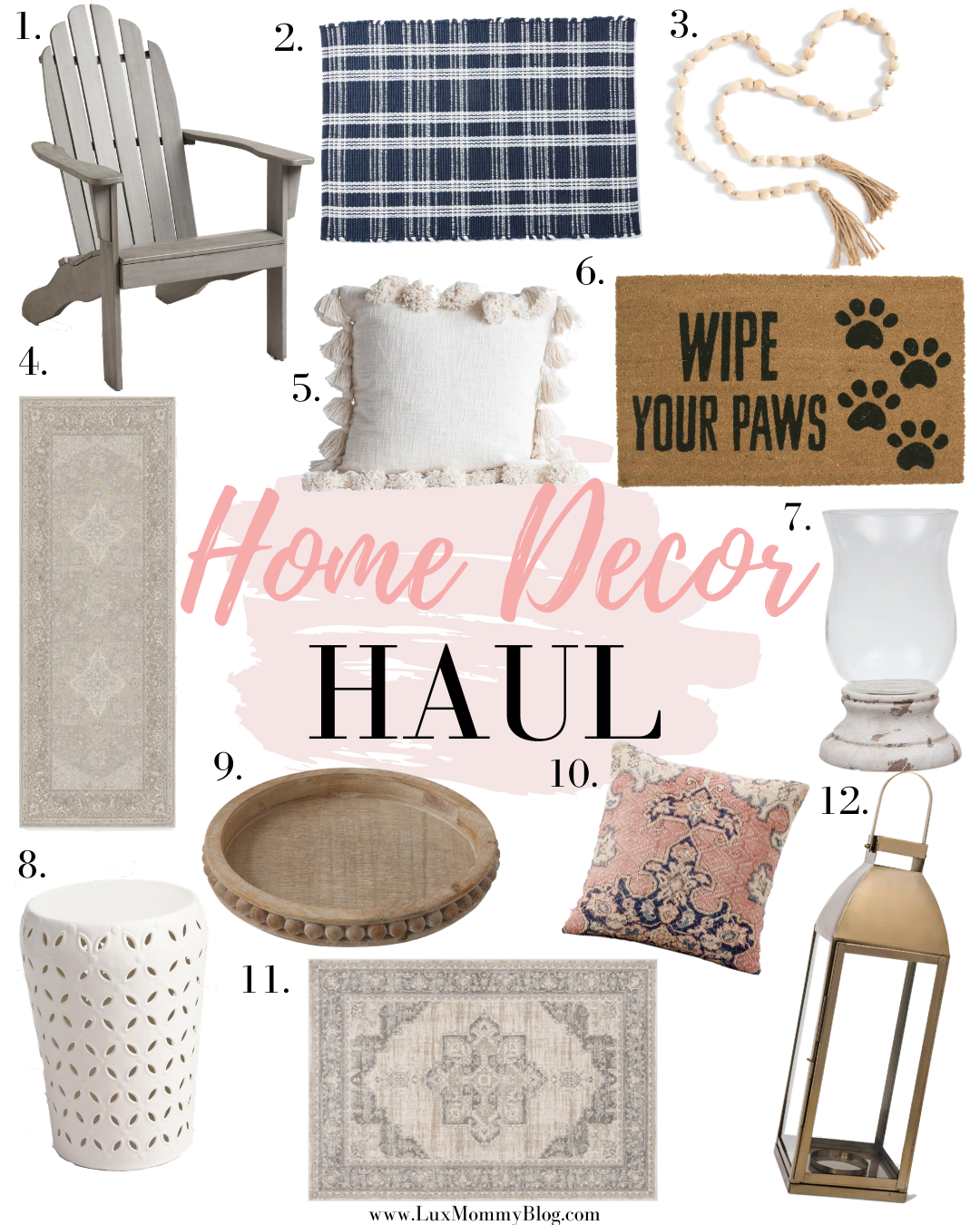 Who is ready for a little home decor haul sneak peak?! I have been ordering so many things for the house lately (this isn't everything) and y'all wanted to see a sneak peak, so here it is. First let me start by saying, I pride myself in finding home decor pieces that look amazing but won't break the bank. I am willing to splurge on main pieces of furniture but the accent pieces I change out often, so I like to find great prices without sacrificing quality. So, without further ado, here are some pieces that I ordered for the house. I will do a patio haul like this soon!
CLICK PINK TEXT TO SHOP
1. I ordered two of these chairs in grey for our back patio. We have this small curved section separate from the main patio area that is perfect for two chairs and a small table and fire-pit. It's my go to spot actually and I think these will be so comfy. They also come in wood tone if you prefer.
2. This door mat will be layered with #6 as our back door mat. I am loving the layered look for door mats so I thought I'd do it in the back too!
3. I am loving all the wood garland decor inspo lately so I had to order some too. This will be perfect honestly anywhere. If I like it I will order more!
4. Yes, I ordered another runner option for the kitchen. Since these rugs are washable I was that one often and I wanted to have a back up for when it's in the washing machine and drying. This one has a different color palette but will also work perfectly with my decor. It's my favorite pattern to be honest.
5. I fell in love with the detail and texture of these pillows. They actually arrived yesterday and I am so happy with them. They do come with their own inserts(I don't use those), but I used my own. *Decor tip – Also use larger pillows than the cover size bu 2″. It will look so much better, trust me.
6. Okay, now how perfect is this door mat for the back door. We do have 4 dogs after all…lol. It will be perfect layered with the little rug from above.
7. This oversized vase aka hurricane also arrived the other day and I love it. I shared it on stories yesterday. It will probably live in my kitchen with some faux flowers. I can't wait to get it filled.
8. This garden stool will go perfectly in between the two chairs for the patio. I love the white and grey contract for that area. Can't wait to put my patio together!
9. I am a little tray obsessed, I will admit so when I found this tray I had to order it. Right now it is living under #7 with a candle and I love it. The beaded detail is so pretty and I love the size.
10. These are the pillows I ordered for my sitting room. I've wanted to add a touch of pink to that room for a little while and the colors and texture in these pillows are exactly what that room needs. I can't wait for these to arrive.
11. I ordered a 4×6 of this area rug to layer over my jute entry rug. That area has needed more color and texture for a while and I am hoping it will help. Either way, I will find a spot for it, cause I love it.
12. I haven't decided if this lantern will be used on the patio or by the fireplace in the living room. I just knew I had to have it. I ordered one but I think I may need to get a second one!
SCROLL + CLICK TO SHOP HOME DECOR HAUL