I've said it 1000 times, I will forever be a Louis Vuitton girl at heart. It was my first love and will always be the brand I look to when it comes to luxury. Don't get me wrong, I LOVE other luxury brands, but if I could only pick one, I'd pick Louis!! And since I am such a die hard Louis Vuitton lover I get asked all the time which bags are my favorite and which bags I recommend so I thought I'd put together the top 5 Louis Vuitton handbags that I recommend in no particular order.

Top 5 Louis Vuitton Handbags
OUTFIT DETAILS
Cardigan – small | Leggings – small short | Sneakers | Sunglasses | Bracelet | Watch | Handbag
It should be no surprise that I had to include the pochette metis on this list. It's one if not my most used handbag. It's a great year round bag. It fits a lot for the size and it looks great with everything I wear. I've had mine for a few years now, so I bought during all the glazing issues. I experienced the same issue and had mine reglazed pretty soon after purchasing. I haven't had the same issue since. Even with that issue I still love this bag and would highly recommend it. I reach for it on days that I don't want to put a whole "look" together. It's easy but still functional and cute at the same time. Check out my YouTube channel to see what fits inside and more details on the pochette metis. Shop this handbag here.
I know the Louis Vuitton neverfull is labeled by some as basic, but if having a practical bag that you can use for everyday or travel is basic then count me in. The neverfull has been one of the most practical luxury purchases I've made. I have both the MM and GM and love them both. I find that I prefer the GM for travel and the MM for everyday. With that said, I do love the natural sag that the GM gives. Still not sure which to buy, check out this comparison video and shop the neverfull here. 
Outfit Details
Cami – small | Cardigan – small | Jeans – 2 short | Shoes – tts | Necklace | Earrings | Handbag
My very first Louis Vuitton love was the classic speedy. I feel in love with the history behind the bag and the overall style of it. I now have both the classic and bandouliere and love them both. The bandouliere is great is you need handsfree. I used to think I would always be a classic speedy girl and now I reach for my bandouliere way more than I reach for my classics. They are very different IMO and offer two completely different looks. Check out this comparison video to help you decide and shop the speedy here.
OUTFIT DETAILS
Sweater – small | Jeans – 2 short | Toggle Bracelet | Watch | Silver Bracelets | Boots – tts | Handbag
My newest Louis Vuitton of the bunch and I am already in love. I've loved this handbag since it launched but I wasn't super crazy about the color options until they released this caramel color. I knew I had to have it, watch the unboxing here. I love the old school vibe of a bucket bag. This one also happens to be very practical IMO. It's a great size, has an adjustable strap and opens up pretty easily. It's the perfect MOM bag. It's really comfortable to wear and I feel like is very different than most of the handbags that Louis Vuitton offers. Shop the neonoe here.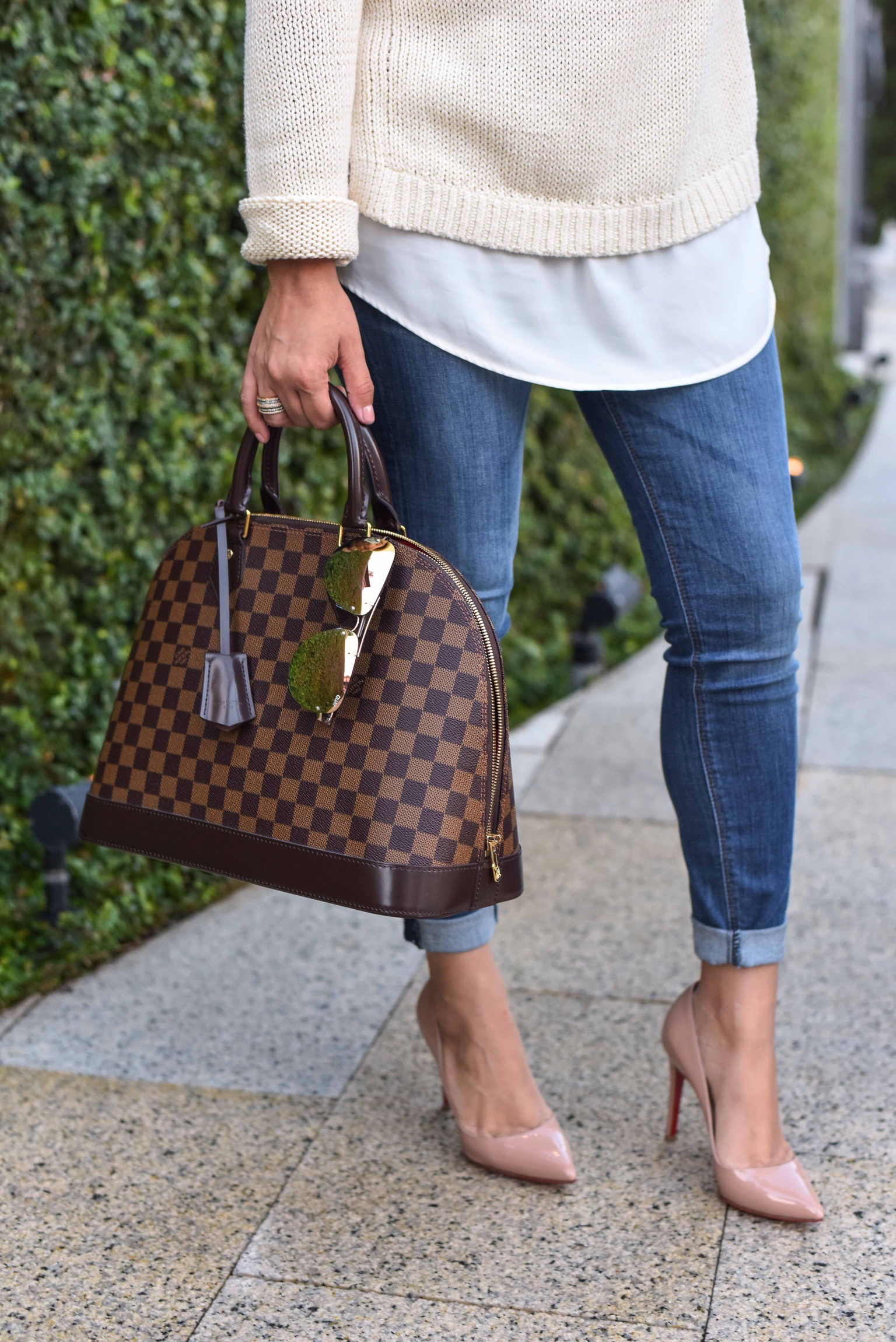 The Louis Vuitton alma has been a classic favorite of mine for years. The shape is timeless and will never go out of style. I have the MM size which I love but I honestly think every alma size is so chic. It's a little more polished making it perfect for a more professional style. It instantly dresses up a more casual look but perfect for those office outfits. Shop the alma here.
So, which Louis Vuitton handbags are your favorites? Let me know in the comments.
CLICK TO SHOP TOP 5 LOUIS VUITTON HANDBAGS