Yesterday I did a 5 Coat Styles You Need post, if you missed that one, check it out here. You guys seemed to really like it, so I thought it would be fun to do a 10 cute Cardigans you need now! You guys know I love me some cute cardigans. I put together my top 10 favorites and they are all under $100. Well, I did cheat on one but it's worth it, trust me!
TOP 10 CUTE CARDIGANS UNDER $50
1 – This cardigan seriously is scrumptious and is currently 50% off. Seriously snag this one up while it's under $50!
2 – I have this one in two colors and I love it. Every time I share it you guys always love it too. It's so soft and cozy and perfect for now and later!
3 – I am obsessed with this color and I love the length of this one. It comes in 8 colors, so if yellow isn't your thing you are sure to find one that is.
4 – The sleeve detail on this one is perfect. It only comes in two colors, but both colors are staples IMO. At that price, why not grab both.
5 – The waffle detail of this cardigan is perfect and it has pockets, yes please! Seriously, this one is a MUST!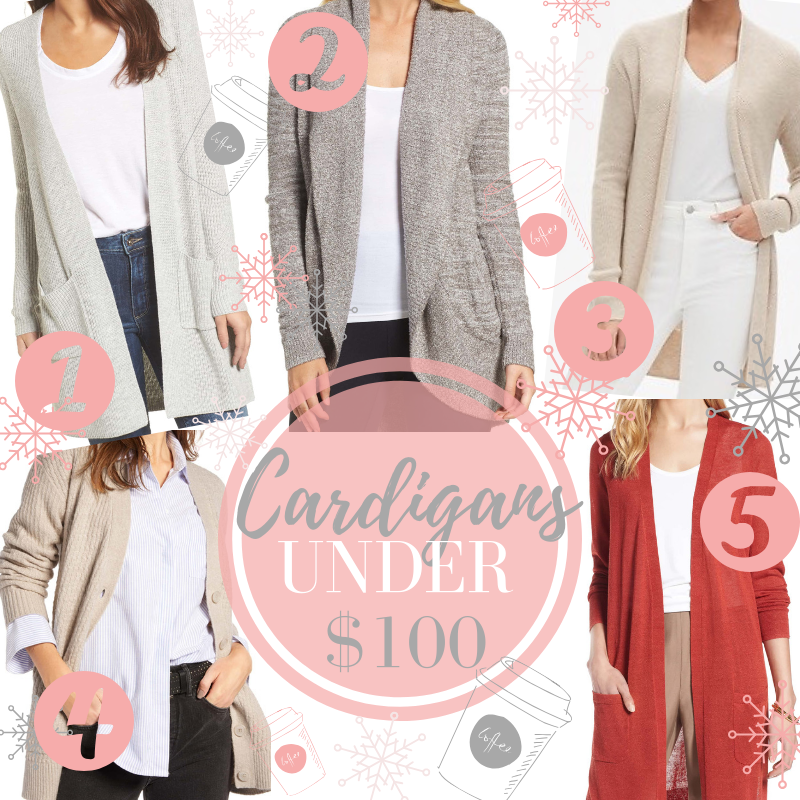 TOP 10 CUTE CARDIGANS UNDER $100
1 – This is one of my favorite styles of cardigans. It's so flattering on any body type. It also dresses up a very casual look. 
2 – Okay, I cheated a little on this one. I couldn't help it. It's literally my softest cardigan ever. It's worth the extra $16!! You NEED this one, trust or buy one for a bestie! They will love you forever!
3 – Here's that favorite silhouette again. I love the weight of this one too. I'd totally go for this oatmeal color!
4 – I can't get over the texture of this one. There is something a little unique about it. Bonus, it comes in PINK!
5 – Last but not least is another long and lean cardigan. I have this one in a soft pink color and I love it. It's perfect for now and even for spring time because the weight is so soft.
SHOP ALL THESE CUTE CARDIGANS HERE: