Happy almost Thanksgiving! Right now there are so many things that are uncertain, but one thing isn't and that's family. As a self admitted homebody I love being home for the holidays. I love to bake cookies with the boys, watch movies all day long and eat dessert until my tummy hurts. I thought it would be fun to put together some fun things to do at home for the holidays. This year may look different for so many families but one thing is certain, it still can be filled with traditions to celebrate year after year.

10 Things to do at Home for the Holidays
1. MOVIE MARATHON – This is one of our personal favorites. Watch a complete series as a family or binge watch all the holiday movies you can find. Don't forget the popcorn and snacks, it's a must you know!
2. GET DRESSED UP AND HAVE A FAMILY PARTY – Is one of your favorite things about the holidays getting dressed up in your best clothes?! Get dressed and treat your home like the hottest party spot. Set up just like you would for entertaining, play music, dance and party all night long.
3.  PUT TOGETHER A FAMILY PHOTO ALBUM – You know you've been putting this off all year long or maybe for years. All those photos that are sitting around, put them in an album and go through memory lane as a family.
4. HAVE A TALENT SHOW – Everyone performs and there is only ONE WINNER!! Who has the best talent in the house, let's find out!?
5. TEST OUT A NEW RECIPE – Have you ever seen a recipe online or in a magazine that you have always wanted to make? Make it as a family. Buy all the ingredients and make it a family cooking night. Everyone pitches in and you get to try something new.
6. FACETIME YOUR FAMILY – Just because we are home for the holidays, doesn't mean you shouldn't connect with other family members. Schedule dates with all your loved ones and spend the day catching up!
7. MAKE HAND WRITTEN HOLIDAY CARDS – Spend a little time writing a family card to your loved ones this year. There is nothing like a written note to feel special this time of year.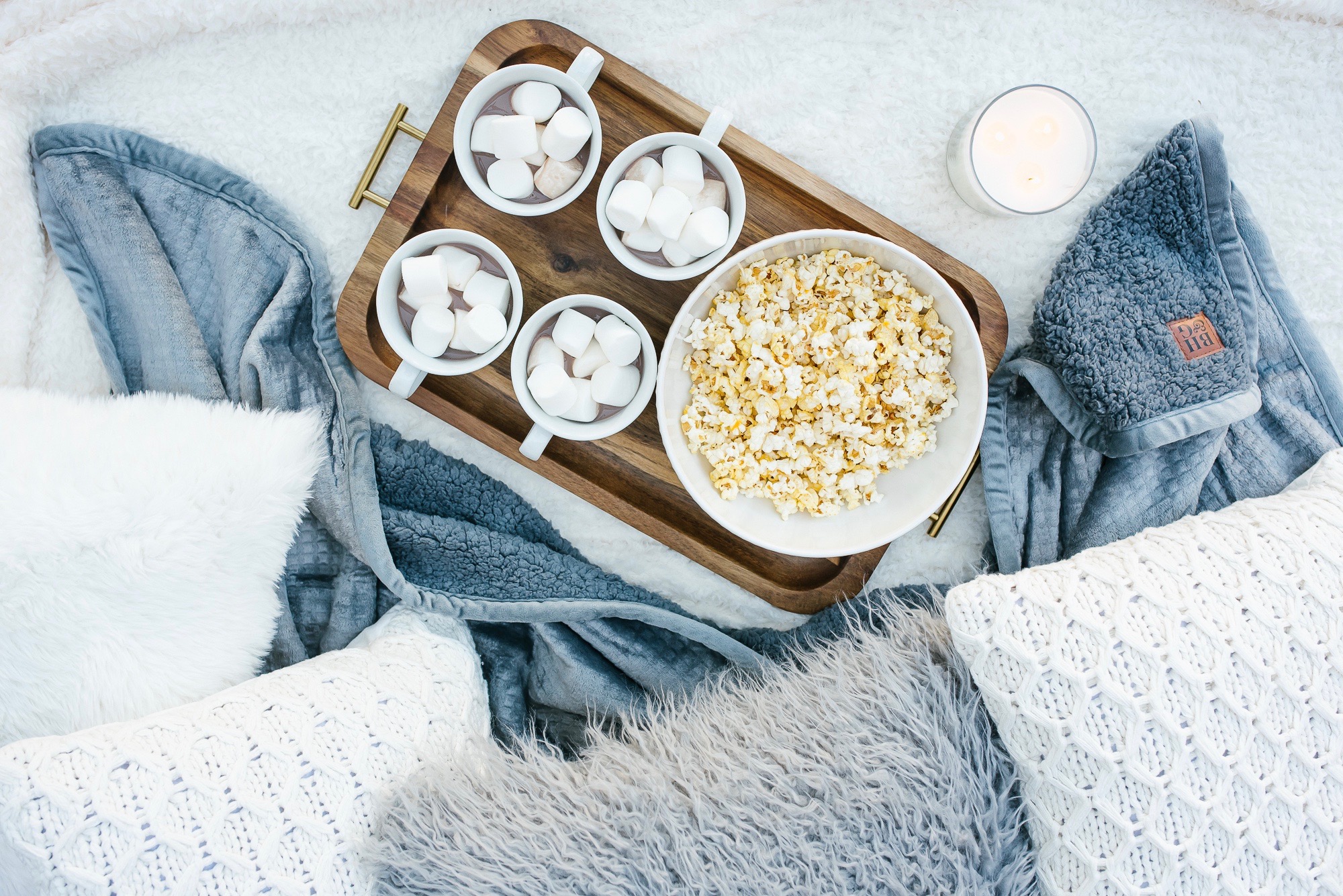 8. SLUMBER PARTY UNDER THE STARS – How fun would it be to have the whole camping experience right in your backyard. Build a fire, make s'mores and tell scary stories. They kids will love it.
9. HAVE A PHOTO SHOOT – Grab a camera and let everyone get a turn, make it fun. Whether you just take candid photos of each other or you set up a festive backdrop, take some fun family photos of each other.
10. OPPOSITE DAY – This could be so fun. The kids are in charge, all day long but they also have to do all the chores, cooking etc. Parents get a break, kids are in charge. Let's see how long this lasts.
No matter what you're doing this Thanksgiving at home with your family, make sure to check out Walmart's home selection to make your house feel like home. I found some of the coziest blankets and throw pillows in colors to match my home perfectly. This throw blanket is my favorite, it comes in other colors too. If you are looking for an affordable candle, this one smells amazing and had a really good throw. These mugs are the perfect size for hot chocolate or your morning coffee. I hope you have an amazing Thanksgiving. Happy Thanksgiving from my family, to yours.
Thank you to Walmart for sponsoring this post.
SCROLL + CLICK TO SHOP WALMART HOME