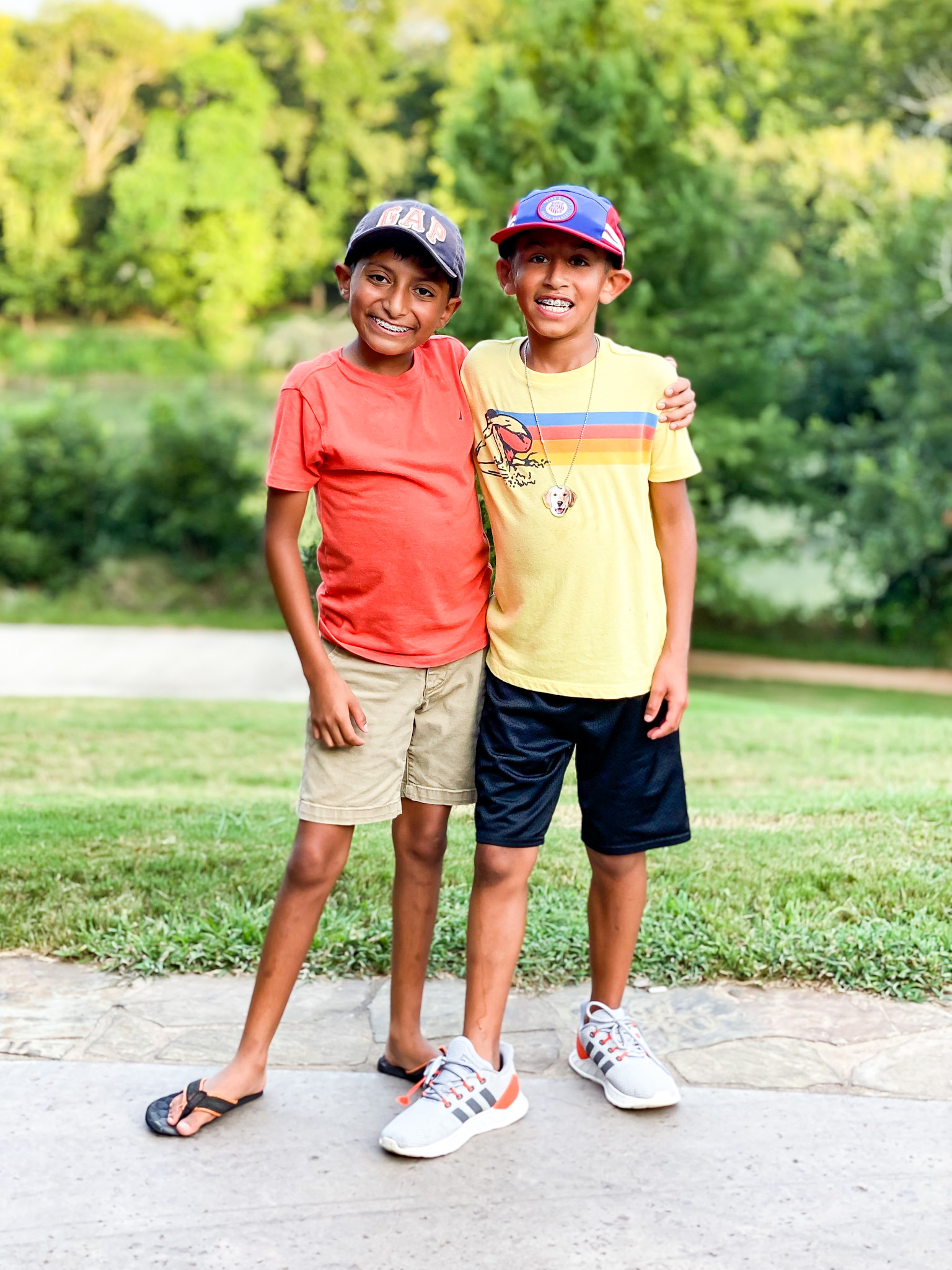 We decided to book a last minute vacation to end the Summer before the boys went back to school. I've received a ton of requests to share family friendly getaways and after we booked Lost Pines Resort I thought I'd share a review of what we thought.
PET FRIENDLY
One of the main reasons we booked at Lost Pines Resort was because it allowed dogs, so we were able to take Izzy and Minnie with us. They do have pet limits so make sure to check out the pet policy before booking. They charge an extra $150 pet fee for the entire stay and they provided bowls, poop bags and a bed(it wasn't a great bed, so still bring your own if you need one). We also brought our own bowls, but if you forget they have them there. There were poop stations and trash cans around the grounds so walking your dogs is easy.
We saw many other four legged family members being walked throughout the day so bringing dogs is pretty common. They do require you to have a pet friendly room, so keep that in mind when booking. It's just a patio room so you have easy access to the grass areas. This was a small upgrade but not much. We enjoyed having the patio access!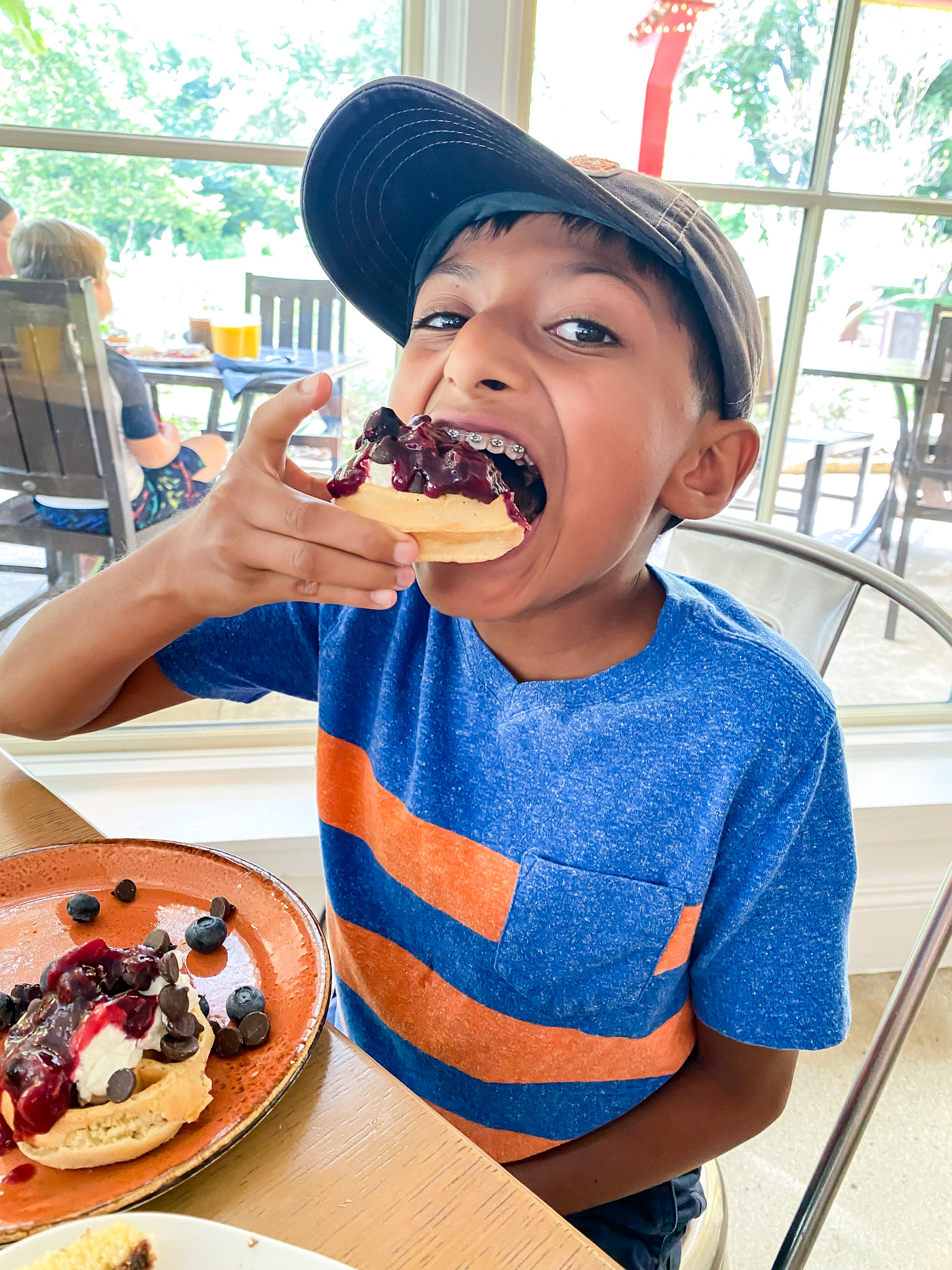 WHERE TO EAT
There are several restaurants on-site, there is also a coffee shop that "serves Starbucks" but it's not a full Starbucks. My chai tea latte wasn't a "real" Starbucks, but it was fine. My husband said the same about his iced white mocha…it was good, but not an official Starbucks. We ended up going off-site to eat for lunch and dinner most days.
The Good
When we booked the room we added the breakfast, which included a credit to eat at Firewheel Cafe. They had a great menu which included all your breakfast staples and a breakfast buffet. We all opted for buffet every morning and it did not disappoint. They had a omelette bar, which was delicious. The boys loved picking their own toppings and watching it being cooked. They also had the typical scrambled eggs, biscuits and gravy, pancakes, waffles, cereal, yogurt parfait, oatmeal and lots of fresh fruit and pastries. I am not huge on breakfast but there is something about breakfast on vacation that I love!
As I stated above we ended up eating off-site for most lunches and dinners and found a couple of really good restaurants. If you don't mind a hole in the wall, Marisco Lozanos Cafe had really good food. Please be prepared, it is a HOLE IN THE WALL, but the onion rings were BOMB!! The kids fish sticks and fried shrimp were fresh and so good and their steak fries were so yummy too. We were really impressed with the food.
Another recommendation is Jalisco's Mexican Restaurant. We noticed all the locals ordering trays of horchata, so if you love that drink you might want to try it while you are there. I ordered the mushroom enchilada's, the hubby ordered a torta and both boys got the cheese enchilada's and we were all satisfied. The food was fresh and authentic.
The Bad
When we arrived on the first day we were hungry and ate at Sheller's Barrelhouse on-site. We weren't impressed. The chicken club had a great flavor but the chicken was dry. My husband ordered the brisket tacos and he said the meat was very dry as well. The boys loved their food, but they love anything that comes with fries.
THINGS TO DO
We were so impressed with the activities available every day on-site at Lost Pines Resort. They had a weekly schedule that included daily crafts and activities starting in the morning and scheduled sporadically throughout the day. We played bingo and made slap bracelets. Every night ended with s'mores and a movie or two to choose from. Keep in mind most of the activities were for younger children but there were ton's of options for older kids too just not necessarily scheduled activities.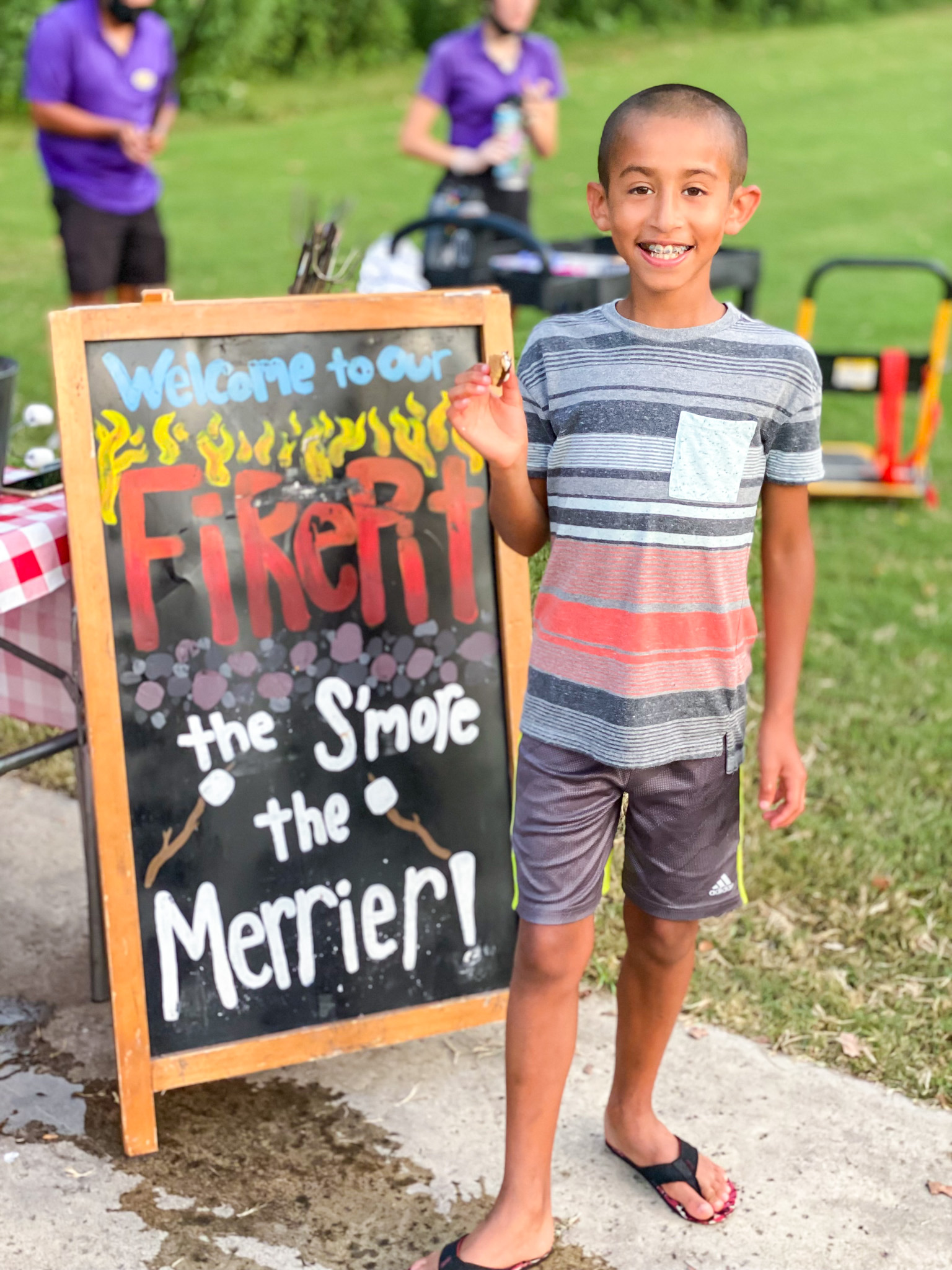 The highlight of the trip was the lazy river and pool area. It was the perfect size to feel like you had plenty to do but not so large that you were concerned about safety. The water depth ranged from about 3.5-4 ft on the lazy river so it wasn't too deep at all for the boys. They also had volleyball, a water slide, a sandy beach area and an 18+ section. If you are there during restaurant hours you will be waiting on as well. So, it makes it easy to stay and get comfortable for the day!
The boys loved the farm area, with pigs, longhorns and lots of other animals you can pet if you're lucky. They also had ping pong, horseshoes, corn hole, bikes, basketball, tennis and so much more available to you all day long. No need to schedule or request anything, all the equipment is there available for you to use as you wish.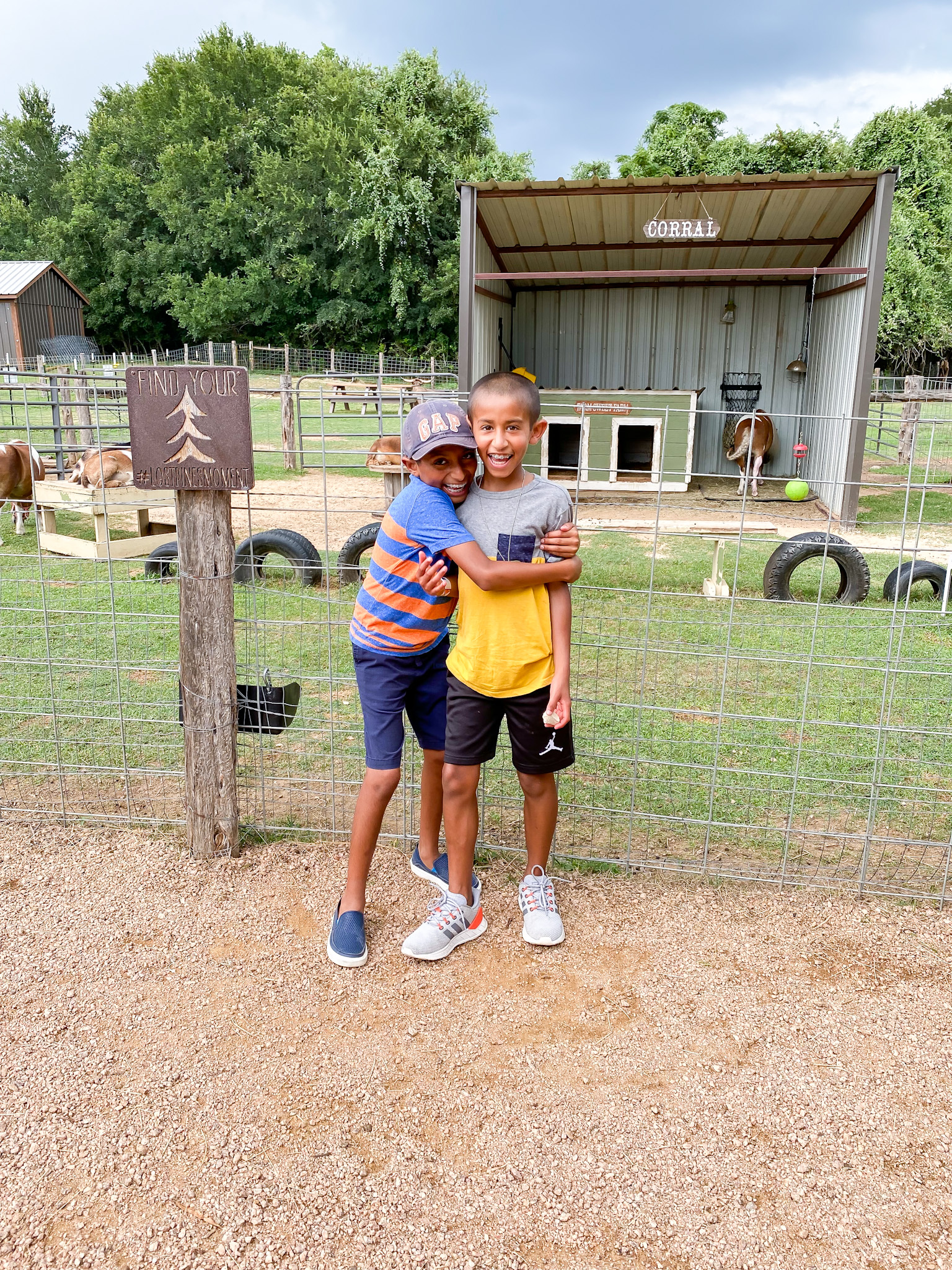 Lost Pines Resort also offer different excursions that you can add onto your trip. We booked a 3 hour zipline and unfortunately on the day we arrived it was raining and lightning so it was canceled. They had horseback riding, fishing and a lot of other extra activities if you want something more than just what the resort offers you. Some of the activities are on-site but most are from 3rd party partners that the resort gives you access too. You can book these prior to your arrival or once you arrive at Lost Pines, there is an excursion area in the lobby that they can walk you through your options based on your schedule and family needs.
 LOST PINES RESORT FINAL THOUGHTS
Overall we really enjoyed our time at Lost Pines Resort. It was extremely family and pet friendly. As much as we loved the breakfast buffet, we preferred going off-site for lunch and dinner. I loved the daily schedule with a ton of planned activities. You could do the activities as a family or you could just enjoy the amenities on your own. The grounds we very well kept up and the rooms were very clean.
We did have a little issue with the booking process but other than that the customer service was what you would expect from a 4 star resort. Even though we stayed longer than a weekend, it would be a great weekend getaway if you are in the general Texas area. If you've been to Lost Pines, please make sure to leave your feedback in the comments as well.