Sometimes the last minute trips end up being the best. We decided to join my husband on a business trip in Dallas, so we packed up the car and joined him for 4 days and had to the best time. We didn't have anything specific in mind but I wanted to put together a things to do in Dallas post because we ended up doing several things that I had to share with you.
For a little background, we live in Houston, which is about a 4 hour drive from Dallas. We've never visited Dallas for fun. I've been a few times for work, but haven't experienced Dallas like we did this trip. It was the whole family, minus the cats(they had a sitter) but the dogs joined us. Speaking of, I had several people ask how we travel with the dogs. We've always traveled with them in the kennel but every trip Izzy gets road sick. So, this trip I decided to try something different. I setup the dog bed, some towels and seat belted them in. They did so much better. No road sickness and they just slept the whole time. Check out the widget below, I will link some of my dog essentials when traveling.

VIP Tour AT&T Stadium
If you're looking for things to do in Dallas, you've got to check out At&T Stadium. Hubby booked us the guided VIP tour of AT&T Stadium. I am not much of a sports fan and the hubby is not at all a Cowboys fan, but he knew the boys would love it. And, he was right!!!
Growing up my family were HUGE Cowboys fans, so I'm familar but football isn't my thing. With that said, this tour was a really cool experience. If you love the Cowboys you have to make your way to Dallas to tour the stadium. The tour isn't too long, about an hour, and you can hangout on the field as long as you want. You get a nice mix of history and several exclusive areas of the stadium. The stadium is HUGE, it's 3 MILLION square feet!! In many areas it feels like a luxury hotel. It really was impressive. We got to tour the locker rooms, the VIP lounges and several other areas during the tour. The groups weren't too big and it wasn't too much walking. There were people of all ages, so I recommend it for any age. They also mentioned they offer private events if you're interested. You can book a VIP guided tour here, it's only $40 per person.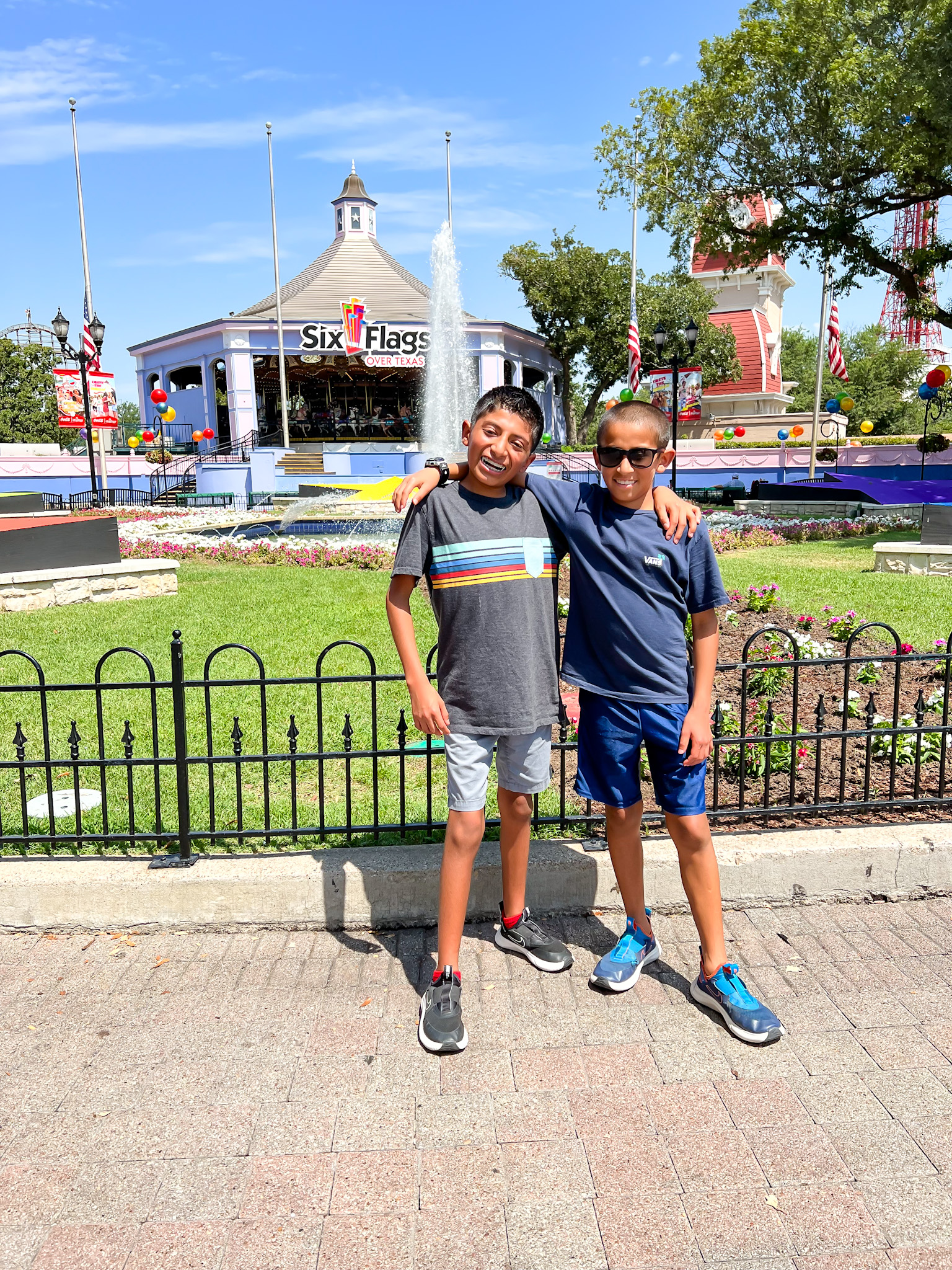 Six Flags over Texas
We decided to let the boys choose what we did on Saturday. It was unanimous, they wanted to go to Six flags! Six Flags is definitely high on the list for things to do in Dallas! Growing up we went to a theme park every summer but this would be our first time to Six Flags over Texas. We drove by it the day before and saw all the big roller coasters and the boys couldn't stop talking about them.
Six Flags Over Texas Ticket Prices
We decided to purchase our tickets online, early. That was a mistake. We upgraded to the gold flash pass, thinking it was going to be crazy busy….Saturday in the summer after-all, it was not. The general admission was $79.99/per person and we added the $100/per person gold pass. In total we paid $179.99/per person but the gold flash pass was pointless. So, we wasted $400. Tip, DO NOT UPGRADE to a flash pass until you get there to see the current wait times. Yes, they only sell a limited number of flash passes but if you upgrade and it's not needed that money is wasted. Of course, it's possible they will sell out but I think it's worth the risk.
Is Six Flags Over Texas worth it
Let's talk a few more cons. It was HOTTTT!!! I mean over 100º hot but we decided to make it work. Not to mention, lots of things were closed. None of the ride photos were open, several rides were down and several food/restaurants were closed too. There was ZERO entertainment. Not one single show or character to be seen. It was a little disappointing.
On the bright side, we did have fun! The boys had the best time. They rode every single ride and loved it. The Titan rollercoaster was a family favorite and we also loved Batman. We ended up being there a total of 5 hours, riding about 8-10 rides. We shared a cheese pizza at the All American Restaurant. I will say, the pizza wasn't that bad. It was fresh, which was impressive on its own. They offer free water at every food station and there are several areas to cool off. It was nice that it wasn't busy but if it was it might have changed the experience.
All in all, we had a great time. Do I think the $179.99/per person ticket price was worth it? NO! But, if we hadn't upgraded to the flash pass the $79.99/per person would have been. Even with all the rides/events/restaurants closed that price isn't too bad for 5+ hours of family fun. Just don't upgrade to flash pass, it wasn't worth it.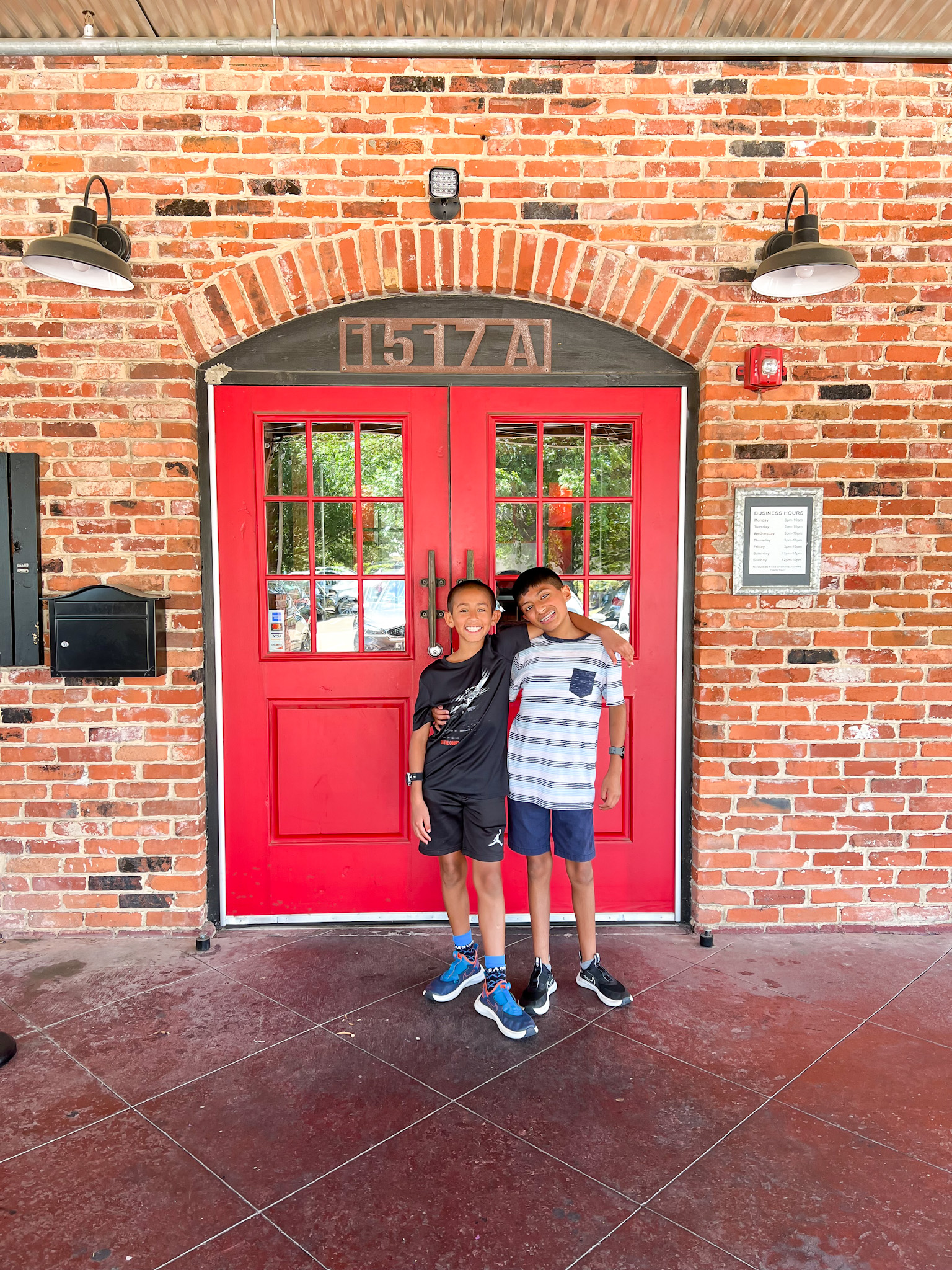 Places to Eat in Dallas
When it comes to things to do in Dallas I have one restaurant recommendation for you. The Boiling Crab in Plano. It was DELICIOUS!! We ordered the crawfish boil in the whole sha-bang sauce in medium heat. They were small but some of the best flavor-wise we've had in a while. We added potatoes and boiled eggs. If you haven't tried boiled eggs in your crawfish, you are missing out. The potatoes were HUGE, a little under cooked, but still very good. The boys both got fried catfish and cajun fries, the fries good with a little kick. We also shared the sha bang shrimp. They were so good and flavorful. Hubby and I both got a margarita, it was fine, nothing to write home about but I'd get one again. If you love a good seafood boil and are looking for things to do in Dallas, you have to try this place.
So, there you have it a few things to do in Dallas if you are in the area. Other than the crazy heat, we loved the area. It was clean and well manicured. Our hotel was nice and had several other families with dogs, which we love. The drive from Houston to Dallas was easy. We don't have any plans to be back but if we do, we will definitely be getting more seafood from The Boiling Crab!! If you're in the Texas area and looking for more places to visit, check out this blog post on our trip to Lost Pines.