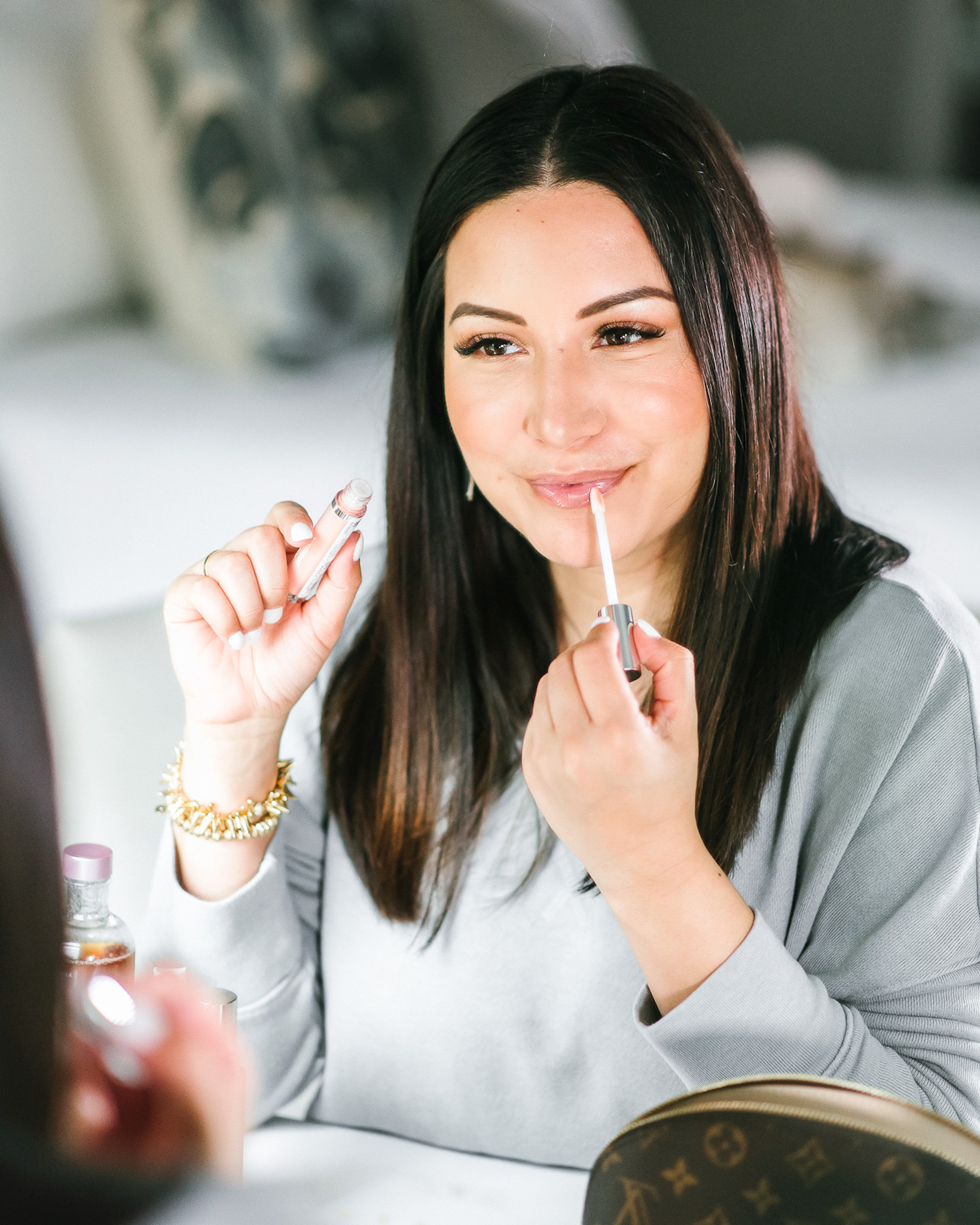 Today we are going to do a full round-up of my all-time favorite beauty products. This is some of my ultimate Holy Grail beauty products, so make sure to scroll all the way to the end, you don't want to miss a single product!! Now, let's dive in!!

This Nécessaire deodorant(use code 10LUXM to save 10%)is an all time favorite. Mine is the fragrance-free version but they have sandalwood and eucalyptus to choose from. I have gone through this all-natural aluminum-free deodorant journey for over 3 years now and this is my number one pic. Finding the right beauty products for sensitive can be difficult but I have been using this deodorant for just over a year now and always feel fresh and confident.
This Lancome body cream has a light and beautiful scent but the big sell is the hydration. I suffer from dry skin and this has been a life saver. It is a little pricey but it does feel luxurious and indulgent so it's worth it. It's super nourishing and feels great on the skin!
The anti-aging body balm from Osea is one of my favorite body beauty products. This is that perfect daytime hydrator that is also a two-in-one. It is a lotion and a serum so it is hydrating with added skin care ingredients that make your skin feel so silky smooth. I like to keep one in the shower and apply after I've towel dried. It leaves my skin feeling and looking amazing!
This Cle De Peau under-eye brightening concealer has been a go to for about two years now. I struggled to find an under-eye concealer for a long time that was not dry to my under eye area. It is a wand application which makes it easy to apply, but I still use my own beauty brushes to blend it in. This gives amazing buildable coverage and really brightens up the under eye area. It a little bit of a splurge but so worth it.
I wanted to go ahead and mention this concealer by Milk. It's the newest product I'm sharing today. I've been using it for about 4 months and fell in love. It is also an under-eye brightening concealer. The ball roller applicator is unique and feels very cooling under the eyes. I wanted to include it as a more affordable option to the Cle De Peau. It's just as brightening and smooth under the eyes. 
Another area that I struggled with for many years is powder, especially pressed powder. It just did not work for my skin type so I would avoid it until I found this one by Charlotte Tilbury. If you are looking for an airbrushed flawless finish from a lighter powder this is the beauty product for you. It really leaves the most beautiful finish. 

If you are looking for more of a setting powder with a little more coverage but you still want that airbrushed finish, this pressed powder by Kosas is highly recommended. I am so impressed with how this sets my makeup but can also be used for touchups without looking cakey. Try it, trust me!
The only hair care product to make today's list is the IGK charcoal detox dry shampoo. I have been using this product for a long time now. It's the only dry shampoo that can get me past day 3 hair. It's amazing!! Try putting it in your hair and let it sit overnight, it works!!
I have combination skin but tend to lean on the dehydrated side so I love using super-rich and hydrating beauty products like this intense hydrating mask from Colleen Rothschild. It can be used several different ways. I love it for spot treating dry areas. I keep one in the shower for a quick shower facial, it really works. It's one of my favorites to end my mask routine and it can even be used as an overnight mask. You wake up with super glowy skin!
The next beauty product on the list is this Glow recipe watermelon glow ultra-fine facial mist. This is another very versatile product. I use it right out of the shower to prep my skin for products. I love it in between layers of makeup to help it all blend in seamlessly. It is also an excellent refresher throughout the day. BUT, my favorite way to use it is in between skincare products. It just helps them soak into the skin so much better!
I struggle with under-eye dryness and this Charlotte Tilbury magic eye rescue eye cream has really helped a ton. I mention this all the time, but my under eye area has always been a struggle for me. This is one of my all time favorite eye creams. It keeps the under eye area hydrating all day long and layers perfectly under makeup. 
Face Creams
I have two favorite face creams and it is hard to say which one is better so I want to recommend both. The Tatcha dewy skin cream and the SkinCeuticals triple lipid restore are both favorites. They are both super hydrating and nourishing. The Tacha is a little bit thicker and a little more hydrating while the SkinCeuticals is a little more nourishing with more skincare ingredients. I love them both and rotate them throughout the week so I had to mention both!