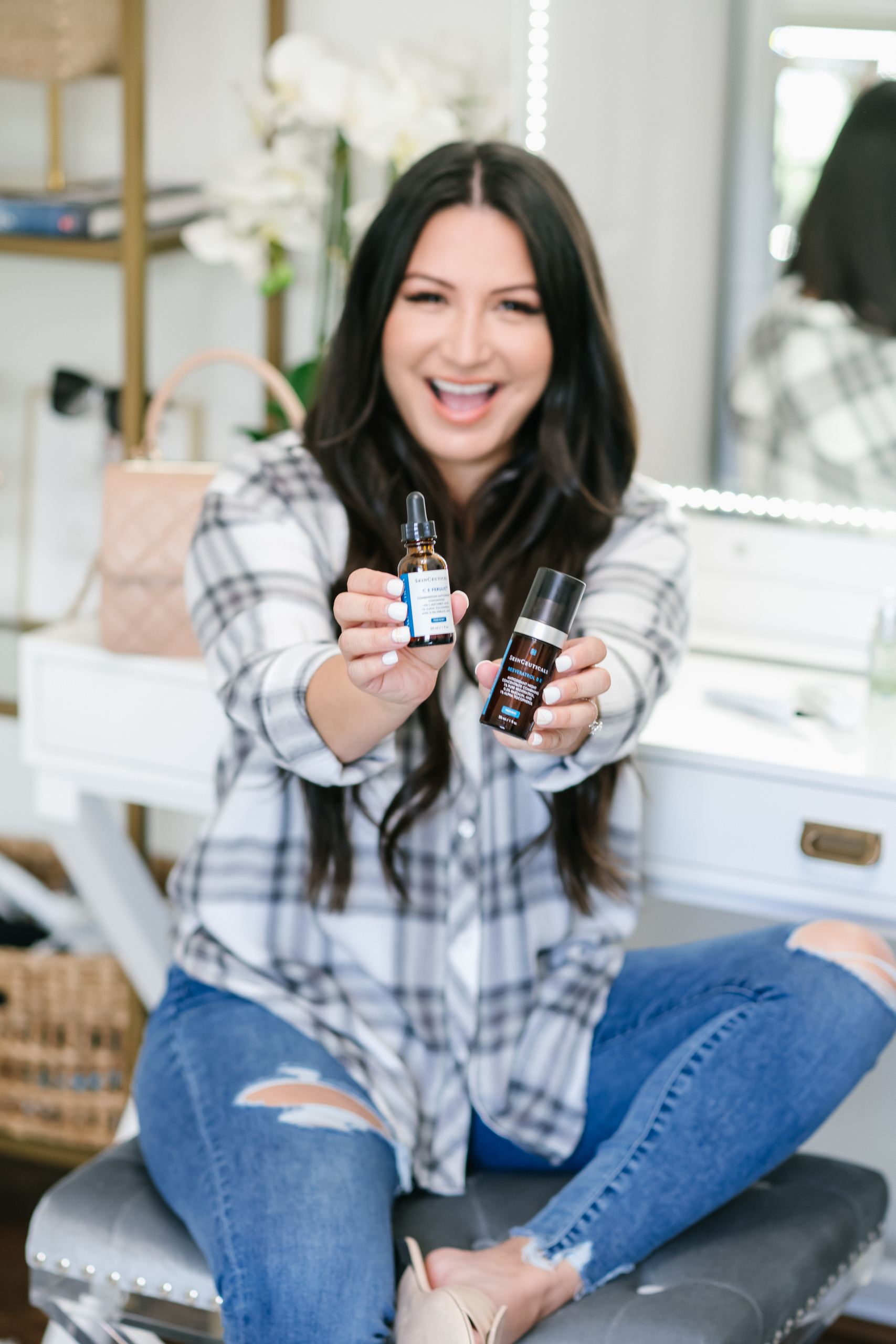 I've been a skincare product junkie for as long as I can remember. I've always enjoyed buying and testing out new products to find that perfect product that I can't live without. Today I want to focus on splurge-worthy skin care. Products that cost a little or a lot more than drugstore but that I truly recommend. If you love luxury skincare products you are going to love this post.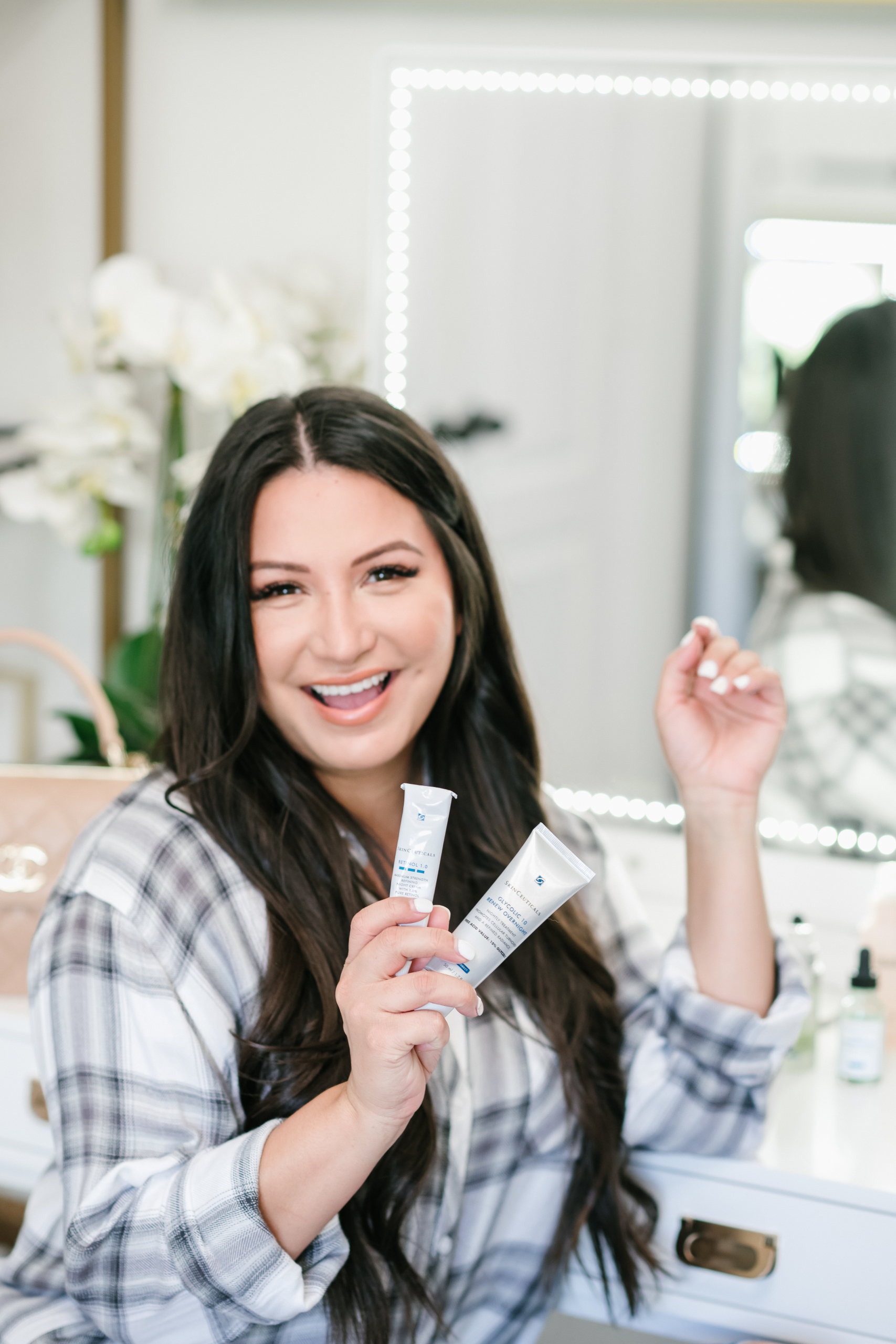 Skin Care Routine
If you don't have a lineup of luxury skincare products that you use on a regular basis that work for your skin type you really are missing out. A good but more important, consistent skincare routine is key to having the best skin you can. Everybody's skin is different. Some people have low maintenance skin and as long as they wash their face every night before bed they wake up with amazing skin and others need a full blown multi step routine. Either way, getting into a skincare routine with the right luxury skincare products is the only way you will have your best skin.

I am the latter of the two examples above, so my skin needs the full blown high maintenance routine. Luckily it's something I truly enjoy. I love skin care products and the whole process of taking care of my skin. Well, not everyday but it's still something I take serious and do. I have a 5 step routine….1. cleanse(double-cleanse if wearing makeup), 2. tone/essence, 3. treat(could be 1 or 3 treatment products/serums), 4. moisturize and 5. sunscreen(day only) or 5.retinol(night only). It's more than 5 products typically but it's basically 5 steps. Each step might have multiple products but it's all within the same category.
Luxury Skincare
When it comes to luxury skin care, not all products are created equally. I like to put my go to luxury skincare in two categories. The first category is all about better quality ingredients. These products justify the price because they truly have higher quality and higher priced ingredients. The second category is what I like to call "the spa experience". These products create a high end, luxurious feel. They may or may not have the same or slightly better quality ingredients than more affordable options but they offer another way to create that luxurious experience. It could be through packaging, texture, smell or something else. These products are the "chicken noodle" soup to your luxury skincare routine. The ingredients may be similar to more affordable options but the brand has stepped up in another category to create a different, more luxury experience.

I personally have both luxury skin care categories in my routine. I love products that create that spa or high end experience but it's also important to have products that include high quality ingredients. For me the mix of both of these categories give me a routine that I truly enjoy.
Best Skincare Products
The best luxury skincare products are going to be specific to each individual. We all have different skin types, skin needs and skin issues. With that said, there are some products that I swear by. Let's go through some of my current favorite luxury skincare products.

STEP 1(Cleanse) – I love a gentle gel cleanser and this one is my current favorite. It cleanses without striping my skin and isn't heavily scented. On days I wear makeup, I double cleanse and this is my current top pick for a cleansing balm. It does an amazing job taking all my makeup off! If you are looking for an exfoliating cleanser, I love this lemon scrub. It's gentle but makes my skin so soft!
STEP 2(Toner/Essence) – I always include either a toner or essence in my routine, sometimes both. My skin always needs more hydration, so this hydrating toner is a favorite plus it smells AMAZING!! When it comes to an essence, there are a few I like but this one from La Mer is my favorite. It just feels so good on my skin. I haven't found anything yet that compares. This is also the step that I use these facial pads about 3 times per week to exfoliate immediately after I cleanse. Then I layer with a toner and/or essence.
STEP 3(Treat/Repair) – This is my treatment step. Sometimes I cocktail, sometimes I layer. You can do both but it depends on what products you are using. I use this vitamin c serum every morning and this vitamin c serum every night. This corrective gel is also one of my favorites. I use this corrective treatment most days. This helps with texture and to brighten the skin.
STEP 4(Moisturize) – This is probably my favorite step. I love my current favorite moisturizers. This triple lipid moisturizer has been a go to for years now. It feels amazing and it has high quality ingredients. Another favorite is this dewy skin cream, it is extremely hydrating and just makes my skin feel so good. Don't forget your under eye area, this under eye cream is my current go to. It really hydrates my dry under eyes and it has brightening benefits.
STEP 5 DAY(SPF) – Sunscreen is a must in any routine, of course day time only. All the previous steps mean nothing if you aren't wearing a sunscreen everyday. This unseen sunscreen has been a current go to. I like that it doesn't make my faec oily. I also recommend this tinted sunscreen if you don't want to worry about the white cast.
STEP 5 NIGHT(Retinol) – If you are reading this, I'd be willing to bet you need a retinol in your routine. It doesn't have to be every night but at least a few nights per week this step is going to make a HUGE difference in your skin. I am currently using this retinol by Skinceuticals. They have 3 different levels to work your way up. I recommend starting with this one.
Hopefully you are still here, this was a long one but I could seriously talk about this all day long. I just love skincare! If you haven't already, make sure to subscribe to the blog here. I share 2-3 blog posts per week and you don't want to miss them!