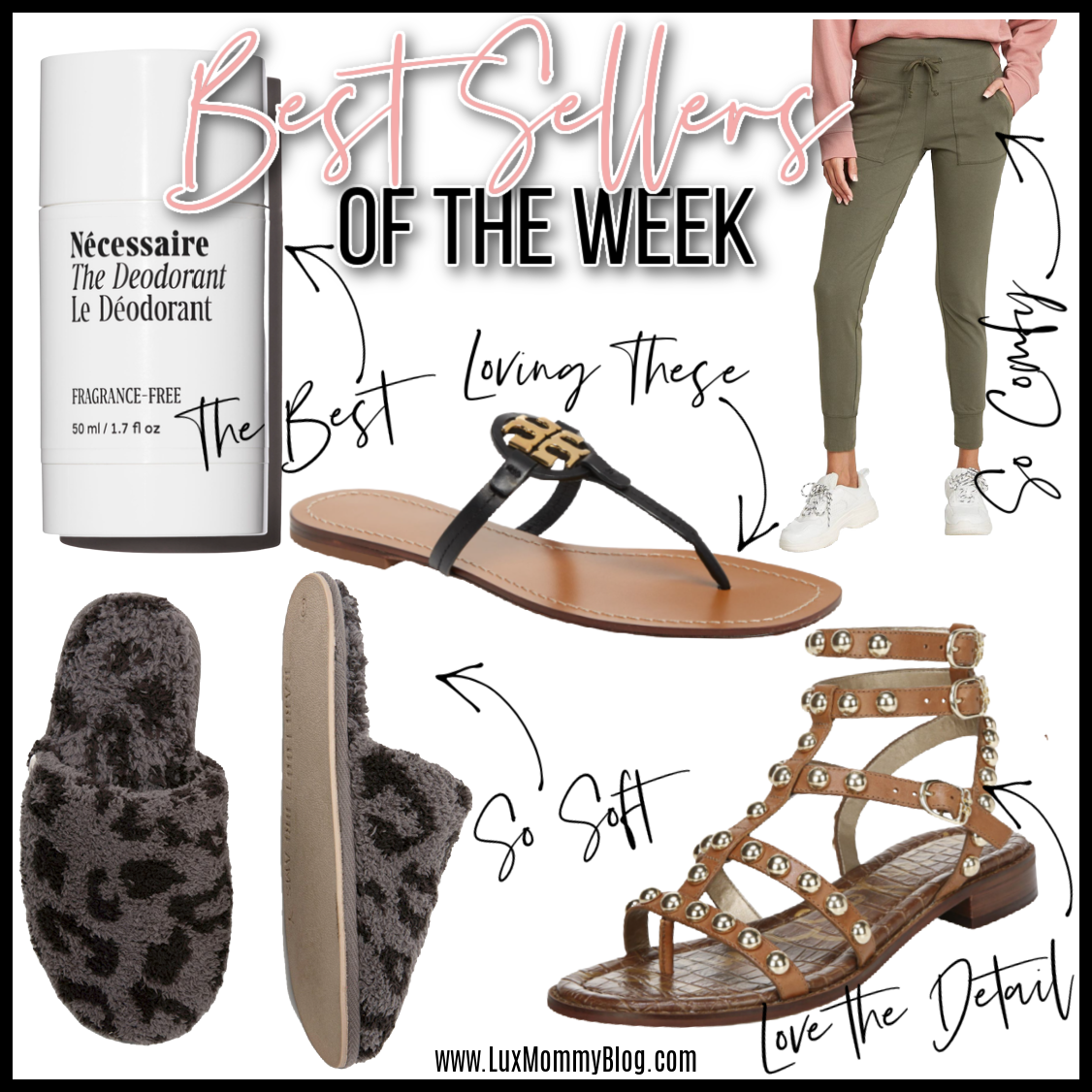 Happy Sunday Friends! I woke up cramping bad today. We had a whole day planned and I think I am going to take a rain check. I am currently eating a bowl of Toscana soupfrom Olive Garden and gonna wait this out. Did you know you can buy their soup by the half or full gallon?! You're welcome!!! Back to the cramps, they are seriously the worst and the last few months have been extra bad for some reason. I am thinking a heating pad and a movie will help!!
Okay, let's get into the best sellers of the week!
BEST SELLERS OF THE WEEK

CLICK PINK TEXT TO SHOP
If you're looking for super soft house slippers, these leopard slippers are perfect. They are Barefoot dreams so you know they are so soft and cozy. They are selling like hot cakes but the grey is still in stock. I actually prefer this color. I just think it will wear better over time. These would make a perfect Mother's Day gift too!
I am so glad so many of you are giving this deodorant a try. I am loving it do much. It's been my everyday deodorant for a while now and it's still working great. It comes in 3 options, but I prefer the fragrance free. The scented ones aren't overpowering at all but I think the essential oils irritate my skin.
I am so glad I decided to order these pocket leggings. They are so cute and super affordable. They do run tts as well. I actually ordered both small and medium and the small fit perfectly. They come in a ton of colors and are only $16!
I included these studded sandals in a daily deals recently and you loved them. They are so much fun and a Spring and Summer closet staple. They come in 6 different colors too.
Another daily deals find and these are still on sale. There is something about Tory Burch sandals, she just knows how to do them right. They are always so cute and flattering on the foot. These are so cute but sure to sell out fast. I'd grab them if you'd had a pair on your wishlist.
CLICK TO SHOP BEST SELLERS OF THE WEEK

---
POSTS OF THE WEEK:
CLICK PHOTO TO SHOP DETAILS
---
VIDEOS OF THE WEEK:
CLICK THUMBNAIL TO WATCH VIDEO
---
RECENT PURCHASES:
SCROLL THROUGH + CLICK TO SHOP RECENTLY PURCHASES

---
SALES YOU NEED TO KNOW ABOUT:
Express Extra 50% off Clearance 
Banana Republic 40% off plus extra 10% off
American Eagle 25% Select Shorts and Jeans
CLICK TO SHOP BEST SELLERS OF THE WEEK