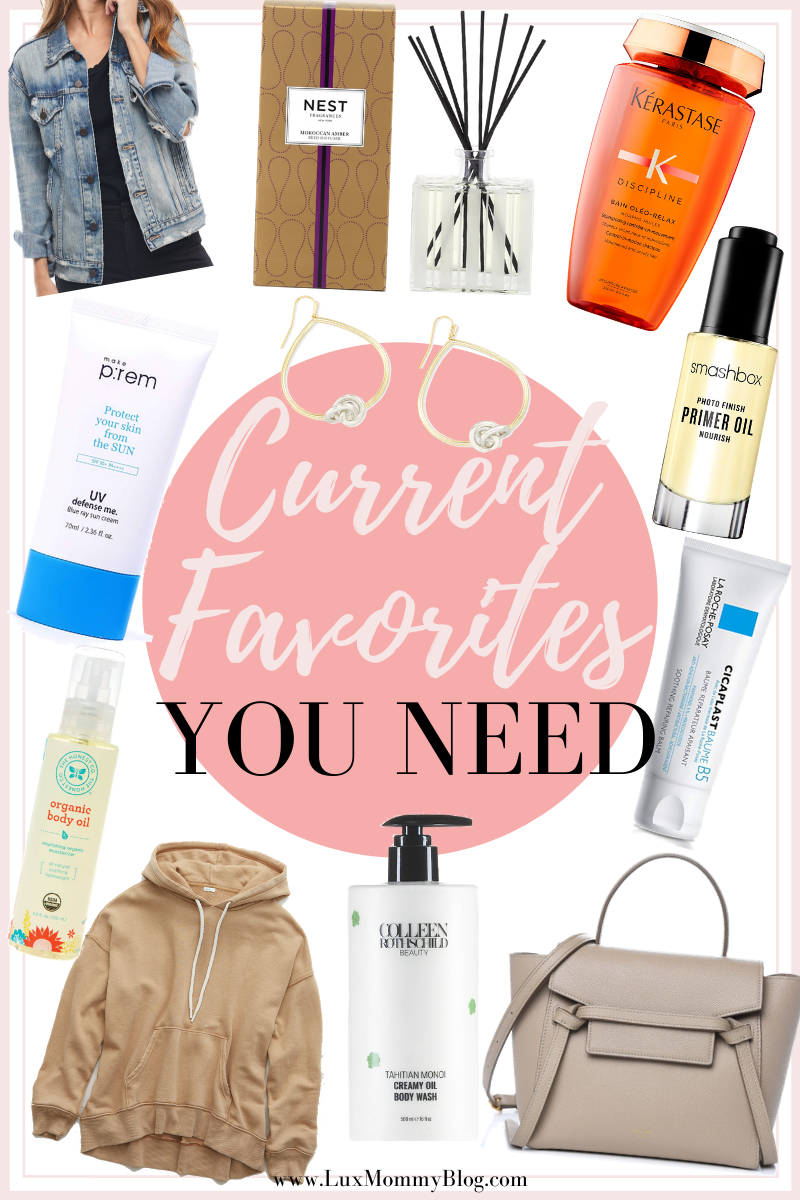 I feel like this month flew by which means it's time for another monthly favorites. Let's chat beauty, fashion and lifestyle must haves. Everything is linked below but you can also watch the YouTube video below for more! Let me know some of your favorites in the comments below.
Current Favorites You Need Now
I get asked about denim jackets all the time and this is my all time favorite. If you don't have a good on in your wardrobe it's a must have for Spring/Summer. This one fits great and runs tts. It's the perfect weight, fade and amount of distressing.
I added this reed diffuser to my closet because I don't like to burn a candle in there…clothes and all…lol. It smells amazing y'all. It's a great unisex scent too. I can already tell this is going to last about six months which is awesome.
I get asked about hair care products all the time and this is my current favorite shampoo. It makes my hair feel so smooth and helps with frizz too. I've noticed a different since using this shampoo, so I will be restocking this one for sure. Plus, it smells so good!
I've said for so long that sunscreen is a must EVERY DAY y'all. You shouldn't be going outside without sunscreen and this one protects from all the UV rays. It layers great underneath makeup too!
I've been loving these two tone knot earrings so much. They are a beautiful statement and still very lightweight. They come in solid gold, silver and rose gold but I love two tone.
I've been applying this AFTER I finish my makeup to seal in hydration. I find that my skin tends to get dry throughout the day and this one extra step has helped tremendously. It also leaves the perfect dewiness.
This has been my favorite body oil for a while now, but for some reason I stopped using it for a while and I fell back in love with it this month. It's so hydrating and affordable.
When my skin needs a some extra love I use this as a moisturizer. It's so thick and creamy and gives my skin the hydration it needs to feel comfortable again. If you are using any retin-a products this is a great cream will help with any irritation that you get. It helps calm the skin and reduce redness.
I coudl seriously live in hoodies y'all and I'd call this one my home. It's so good. I now have THREE, that's right…THREE!! Grab your tts if you want an oversized fit. It's so soft and cozy and if it was acceptable I'd wear this everyday with leggings and sneaks! HAHA!
When it comes to body wash I've always been a drugstore girl, but also always open to finding other options. Then I found this one. It's so good y'all. It's creamy, hydrating and smells AMAZING!! Oh, and it comes with a pump…winning!
Last, but certainly not least is my favorite handbag of the month. This beauty has stolen my heart. It's so beautiful and goes with EVERYTHING!! Seriously, casual…dressy…..everything!! I am so glad I was able to add it to my collection. Mine is the micro size and I think the size is perfect.
SCROLL + CLICK TO SHOP CURRENT FAVORITES