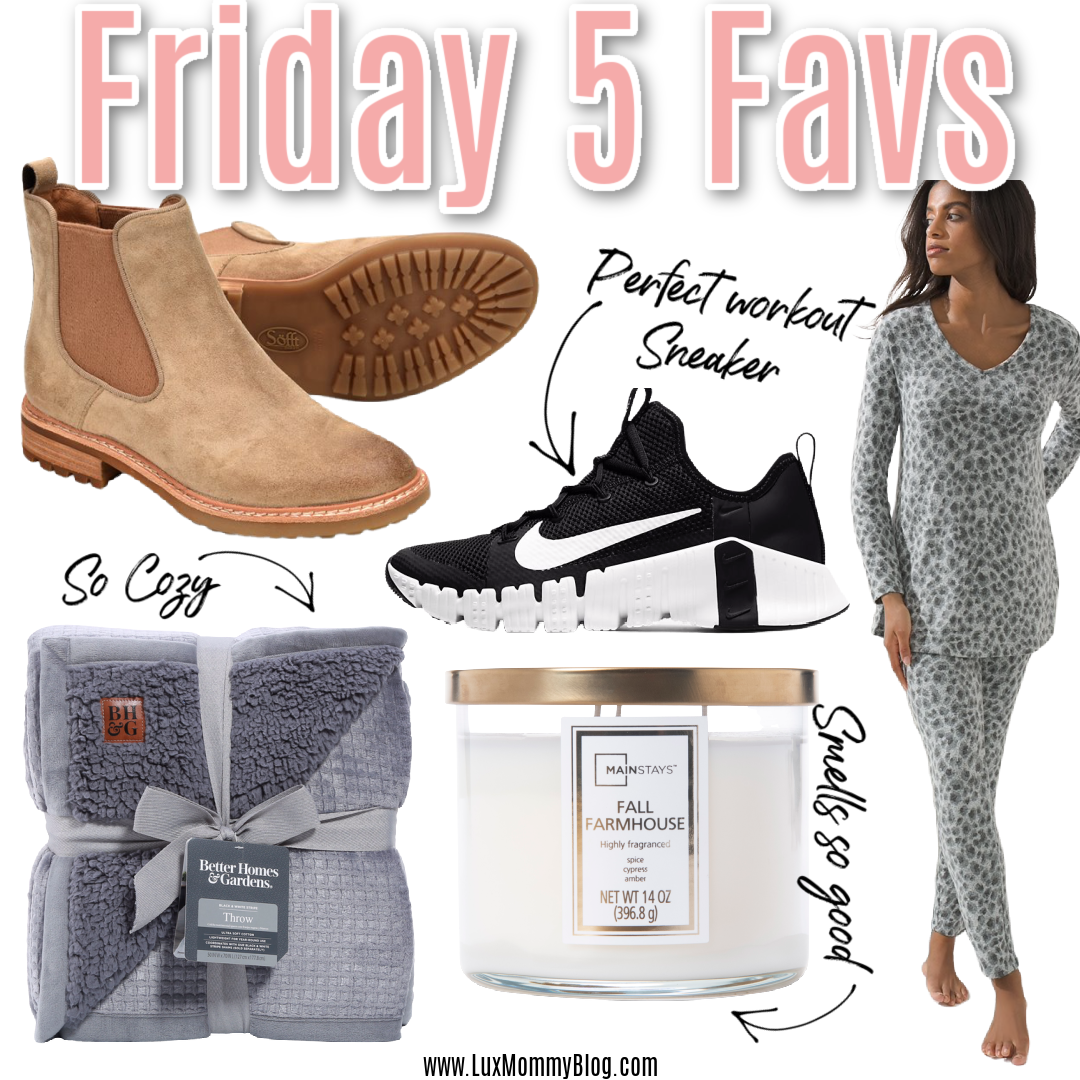 It's Friday and it's my Birthday, which means I can do whatever I want ALL WEEKEND LONG!!! Can I choose to do nothing? Is that an option?! Not even a little bit joking, I could do nothing all weekend long after the week I had. It's been crazy busy, but I am taking next week off to be with the boys so it will be worth it. Do you have any special plans for Thanksgiving? We are doing it low-key this year. I haven't even starting working on our menu. What's on your menu this year?
FRIDAY 5 FAVORITES

CLICK PINK TEXT TO SHOP
These new slip-on boots are so cute. I love the worn in suede texture but they do come in other colors. I ended up going up half and they fit great, especially for a slip-on boot. These slide on and off pretty easily and fit super comfortable. If you decide to buy, make sure to use code LUX20 to save $$!!
I am pretty sure these made the favorites list last week, but I couldn't help it I had to share these Nike sneakers again. They are so comfortable and made specifically for hiit style workouts. I highly recommend you go up at least half. I went up half and have to wear thinner socks with them, which is fine. So, if you are wide, go up a FULL size. I am enjoying my workouts a lot more with these on. They just feel so much better.
I know, I am a little PJ obsessed, but there is just something about getting cozy once you get home in a good pair of jammies. This 2 piece PJ set is so soft and cozy and perfect for those cooler nights. I love the fit of the bottoms and the longer length of the top. I got them in a small and they fit perfectly, so they run tts.
I love finding and sharing a good deal and this cozy throw blanket is one of them. I had to have it in grey but it does come in other colors. It's so soft and cozy and perfect for those movie nights with the fam. Can you ever have enough throw blankets?
I am pretty picky when it comes to candles and this one fall candle is impressive. It's like $6 but smells amazing and has a really nice throw too. I love the simple jar and gold lid too. It doesn't look cheap sitting out on your counter or table. If you love a good fall scent, give this one a try.
CLICK TO SHOP FRIDAY 5 FAVORITES