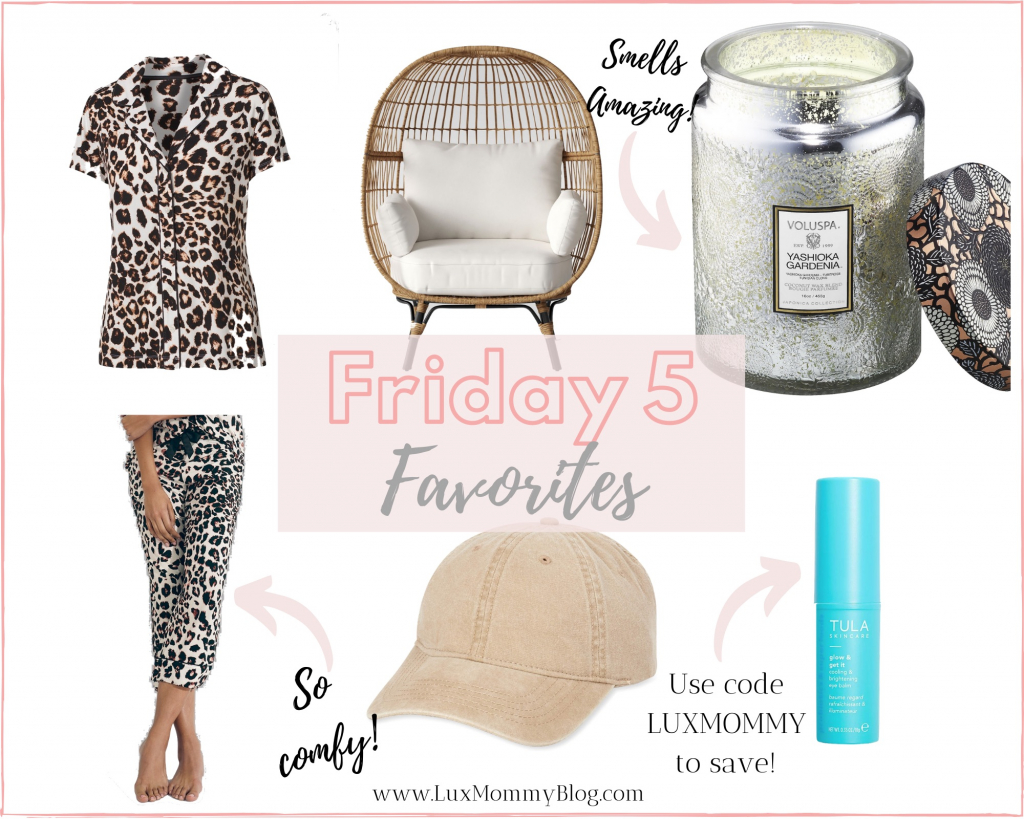 Happy 4th of July everybody! Do y'all have any fun plans this weekend? We will be spending the weekend at home as a family. I am sure we have bike rides, basketball and such on the agenda. It's been so hot lately but I like for the boys to get out and be active. Speaking of, Matthew is loving his new bike but he said that his rock tumbler was his favorite gift. Thank you for all the birthday wishes for him. It was an amazing day.
FRIDAY FIVE FAVORITES
Click the Pink Text to Shop
Leopard Pajama Set(top + bottom)
I think leopard might be my all time favorite pattern when it comes to jammies and this white leopard print is so much fun. They are also in the cool nights collection, which is seriously the best. Check out the set(top and bottom) here.
This egg chair is so much fun for a patio or sitting area. It can be used indoors or outdoors. It's huge and so comfortable to sit in. Make sure to order this cover to keep it protected from the weather if you keep it outside. It's definately the best seat on the patio.
Literally the best candle ever! It smells amazing, the throw is incredible and the jar lasts forever. I just stocked up and it's still in stock, so I highly recommend you order one to try if you haven't. Oh and the jar is so pretty you can use it after as decor if you want to.
The cutest $5 baseball hat y'all. It comes in several colors, but I love this faded khaki color because it goes with everything. Perfect for those messy hair days or when you are headed to the beach.
I've been using this under eye brightener almost daily whether I wear makeup or not. It adds a little something under the eye area and it feels amazing. You can use code LUXMOMMY to save if you want to try it out. I am loving it.
CLICK TO SHOP FRIDAY FIVE FAVORITES