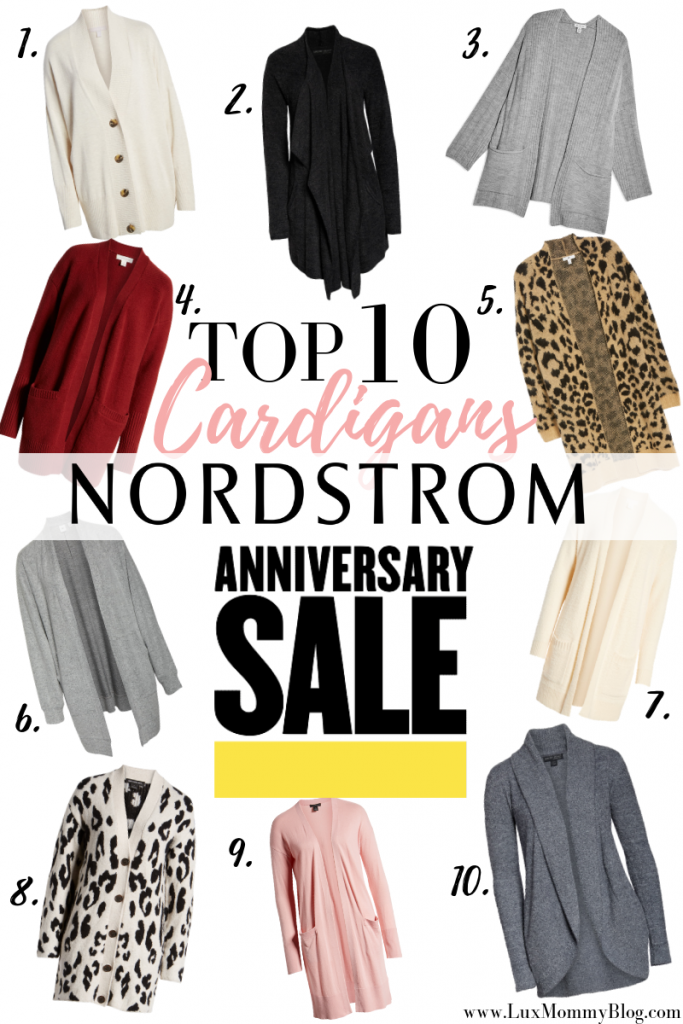 It's no secret that I love Cardigans and every year I ALWAYS find the best ones at the Nordstrom Anniversary Sale. So, I thoughts I'd share my top 10 cardigans from the NSale with y'all today. Seriously, there are some good ones in this year's sale, you are gonna want to stock up!
Top 10 Cardigans from the Nordstrom Anniversary Sale
1 – Okay y'all this lightweight grandpa cardigan is my favorite. It comes in FOUR colors, but I snagged this neutral cream color. It's going to get a ton of wear, especially in this climate. Oh, and the buttons are just too cute.
2 – The Nordstrom Anniversary sale isn't official unless you walk away with a BFD cardigan and this one had to be mine. I grabbed it in a cream color as well, but it comes in THREE colors. You can't go wrong with any of them. It's a little splurge, but worth EVERY SINGLE PENNY!
3 – This oversized pocket Cardigan is sooooooooo good y'all! It's oversized, cozy and just plain ole' perfection. It comes in FOUR colors, I grabbed it in grey, but I think I may need at least one more color.
4 – The PERFECT basic cardigan to get you through Fall and Winter. It comes in FOUR colors and is so soft and cozy.
5 – Give me ALL the leopard please!!! I mean seriously, could this be anymore perfect. It's the perfect length, weight and of course patter. Every girl needs a little leopard in their life.
6 – Another grab and go basic cardigan, plus it's UNDER $40! I mean come on, that's a steal. It comes in THREE colors, but I grey pearl.
7 – I didn't know something this soft existed in another other than BFD, but I was wrong. This one is the softest of the bunch and comes in FIVE colors. Trust me y'all, it's so soft and cozy.
8 – This one is going to SELL OUT FAST! Trust me, you want to get this before it's gone. It's the perfect weight but the white leopard makes it so fun but still a neutral.
9 – One of my must haves of the bunch. It's so flattering and can be dressed up or down. I love the slim lines of this one and since it comes in FIVE colors, you will find one you need too.
10 – Last, but certainly not least is one of my ALL TIME FAVORITE cardigans. Yep, another BFD in this classic silhouette. I have 3 already and am sure to keep adding more. You're going to want to snag one or two at this price.
Loving these cardigans? Click here now for all my Nordstrom Anniversary Sale coverage, you're bound to love something!!
---
Make sure to Enter to win a $250 Nordstrom Gift card to shop the sale on me!! There are bonus daily entries! 
a Rafflecopter giveaway
SCROLL THROUGH TO SHOP THESE CARDIGANS FROM THE NORDSTROM ANNIVERSARY SALE: