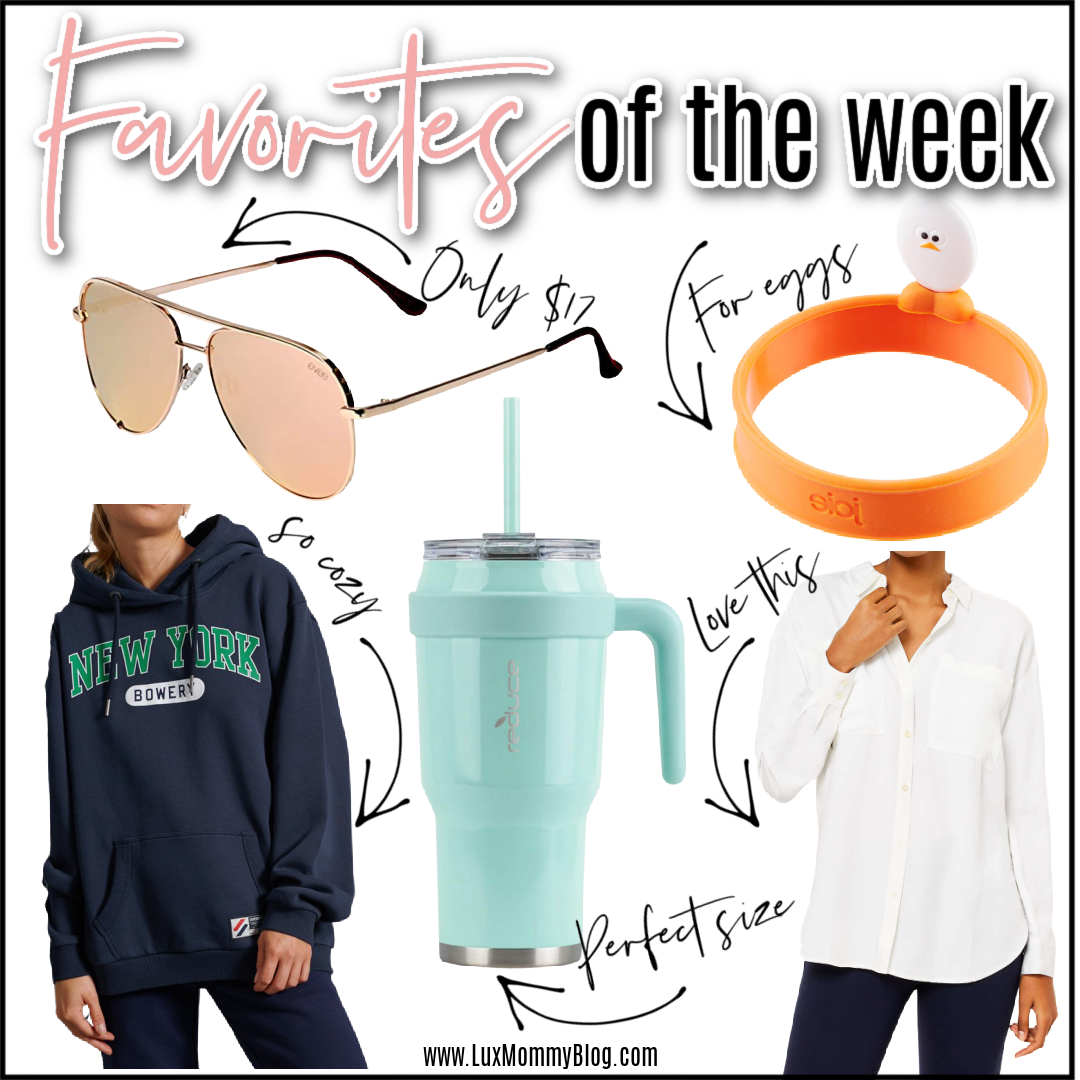 You know you're an adult when you have nothing to do on the weekend and you are excited!! Am I right?! I am going to work on a little organization at home but that's it, and that's something I love to do so I don't know if it counts. What's on your agenda this weekend? Anything fun and excited. The boys had a busy week this week too with activities so I think they are also looking forward to a little R&R.
FRIDAY 5 FAVORITES

CLICK PINK TEXT TO SHOP
I am so glad I received a request to find some more affordable oversized mirrored aviators. I found these mirrored sunglasses and I love them. I've been wearing them all weekend long. They are only $17 and the perfect dupe for my mirrored Quay sunnies. Even though those aren't expensive it's still nice to find a pair this affordable.
We are a little obsessed with eggs in my house. We cook them often so when I saw this egg ring I had to order two of them. They are perfect for making eggs for sandwiches or just when you want to fit more in a pan. It makes the perfect egg circle. I don't love having a ton of kitchen gadgets unless they are actually practical, this one makes sense.
You know how much I love my hoodies but every once in a while I find one I don't want to take off. This oversized hoodie one of them. It's oversized but such a good weight. The material is so soft as well. I have it in the size xs/s and it fits perfect but I also don't think you can go too big when it comes to hoodies.
I also happen to have a nice little collection of cups. BUT, when I saw this 40 oz tumbler one I had to have it. I love the size but also the handle option. It still fits in my cars cup holder too, which is a must have for me. It comes in a ton of colors which is always fun. I love this color!
I shared this long tunic in an outfit of the day earlier this week. The fit is great and I love the versatility. It's the perfect closet basic and something you can wear year round. It runs tts, I have it in a small and it fit's perfect.
CLICK TO SHOP FRIDAY 5 FAVORITES