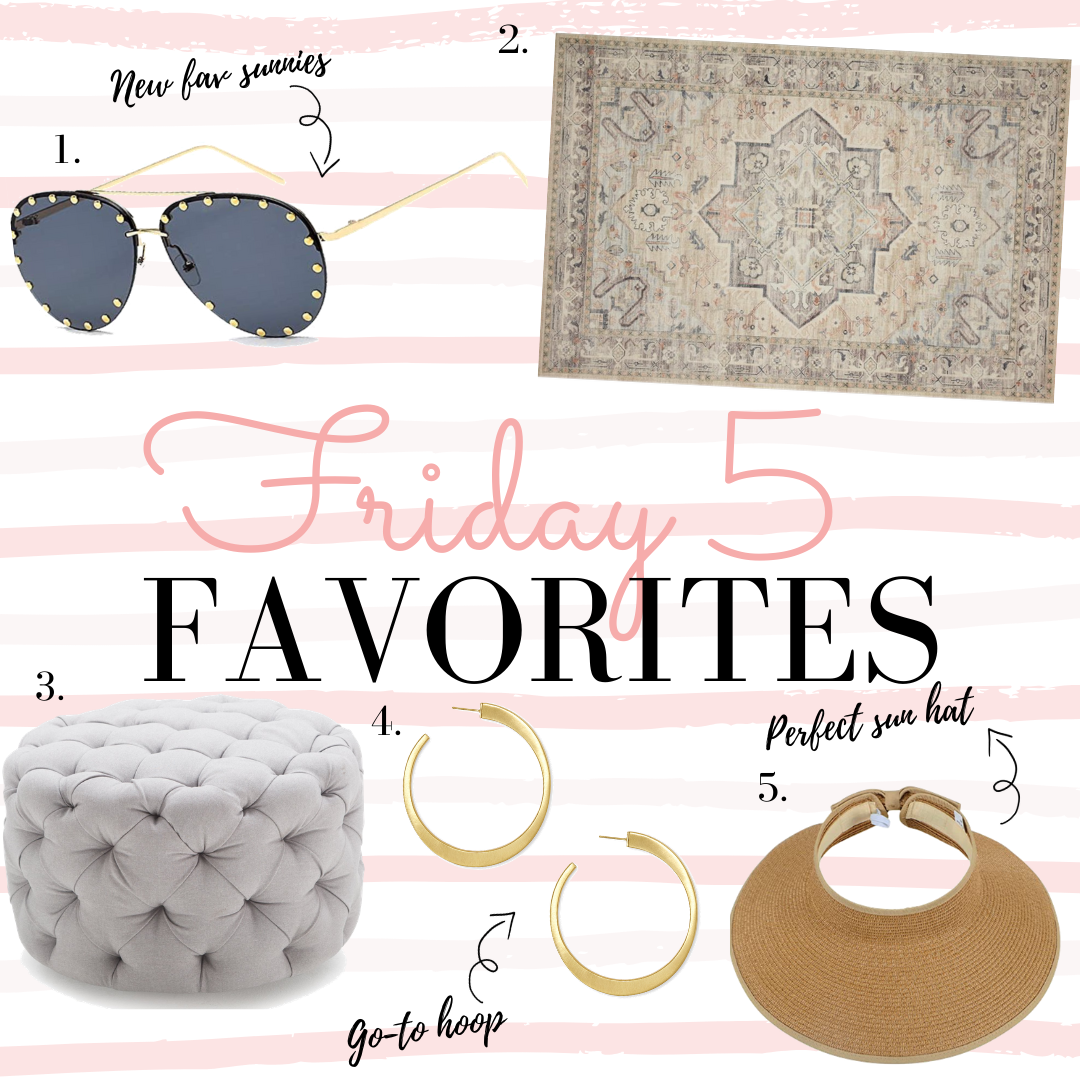 This might possibly be my favorite all time Friday Five Favorites! I don't know why but I am just super excited about all of these items. You're probably all tired of hearing me talk about them but I can't help it. I love them all!!
Friday 5 Favorites
CLICK PINK TEXT TO SHOP
1. First up are these studded sunglasses. I had a similar pair that were 4 x's the price and they broke and there is also a VERY expensive designer version but these are ONLY $14.99!! Yep!! They are so cute and very lightweight. If you want classic aviator with a little bling, you NEED these!
2. I added this area rug to my office recently y'all and I AM IN LOVE!! It's so beautiful and very pet friendly because it's basically no pile. I don't know how to explain it but it's a good one. I love all the colors and it comes in basically every rug size you could possibly need. If you are looking for a low maintenance rug, check this one out.
3. I've had my eye on a tufted ottoman for so long but they were always so expensive and when it comes to upholstered furniture I can't spend a lot because of all the pets. So, when I found this one I had to check it out. I was blown away when it arrived. It's so affordable and looks so expensive. I love it so much I want to buh another one to put somewhere else. The color is perfect too!
4. Okay, these earrings have made several favorites lists, I know but they are ON SALE so I had to share them again. They have become my daily pair of earrings. They are lightweight and comfortable to wear but make sure a JLo statement.
5. I shared this visor hat on my stories the other day and I received so many messages about it. I obviously haven't had a chance to wear it yet BUT it was one of my favorite finds this week so I had to include it in this list. It's so cute but I love that you can roll it up and put it in your bag! Oh and you can't beat that price.
CLICK TO SHOP FRIDAY 5 FAVORITES