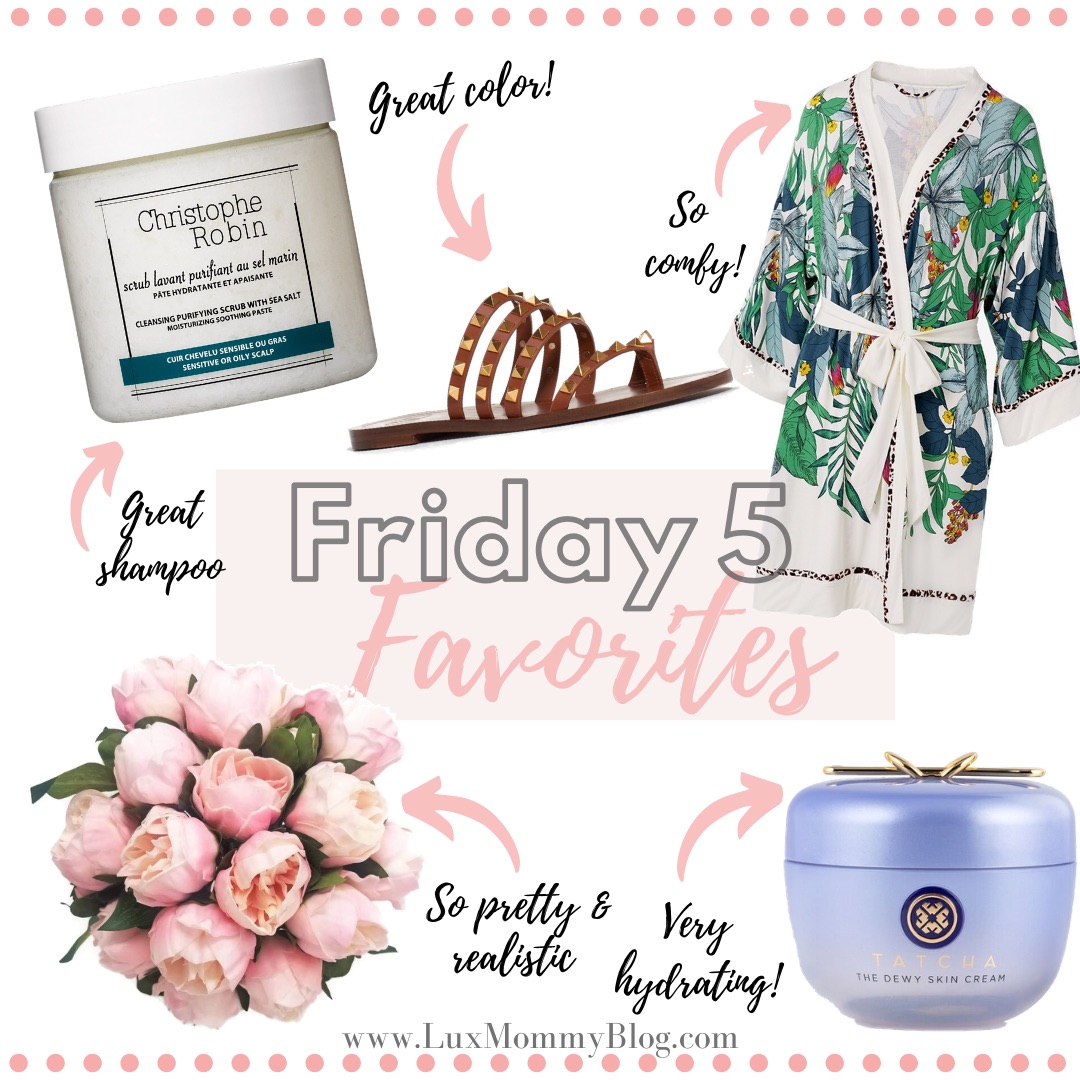 Happy Friday my loves!! Can you believe tomorrow is AUGUST!! WHAT??? Seriously, what is happening?! School starts soon, whatever that looks like and hopefully getting closer to a more normal day to day life. How are y'all doing out there? Still stressed, anxiety ridden or are you starting to get used to this new normal? I have good and bad days but I will be honest I am starting to get used to it. Not sure if that's a good thing or bad thing. I guess it just is what it is? Okay, enough rambling, let's get to this weeks Friday 5 favorites!
FRIDAY 5 FAVORITES
CLICK PINK TEXT TO SHOP

I recently added this sea salt shampoo to my hair routine once a week and y'all, I am obsessed. It smells amazing and cleans my scalp so well. My hair also feels so clean and light after using it. If you haven't tried a sea salt shampoo it may sound weird but trust me they are kind of amazing. This one is perfect for a weekly clarifying treatment.
New Sandal alert and they are so cute!! I shared these strappy rockstud sandals in a recent haul video and also on Instagram and had to include them in this weeks favorites. The color combo is perfection and I love that they are different than your typical strappy sandal. They run tts and I would say need a little breaking in around the tow area but they are comfortable now after 2-3 wears.
I love me some jammies and robes and I think I found my all time favorite print. This tropical print robe is so good. The material is amazing, soft and the perfect weight. Check out that leopard trim, it's perfection. Y'all know I love me some leopard. It's seriously the best summer robe!
When it comes to faux flower I am SO PICKY. This isn't an exaggeration, I used to not even be able to do flowers. I can now, but they need to be high quality and look real. So, when I find good faux flowers I get super excited and these faux peony flowers are one of the best I've found. They feel like real flowers, look like real flowers and come in a ton of different color options. I have a bouquet of white and pink and I love them mixed together. I will be buying more.
I've had this face cream sitting in my skincare drawer for a while now. I will be honest, I was hesitant to try it because I have several face creams that I currently use and love. Well, I tried it and y'all……I love it. The formula is rich and creamy but not too thick. It melts into your skin but not in a way that it feels like it gets lost. It's good y'all! It's definitely a new favorite and will be on regular rotation!
SCROLL THROUGH TO SHOP FRIDAY 5 FAVORITES