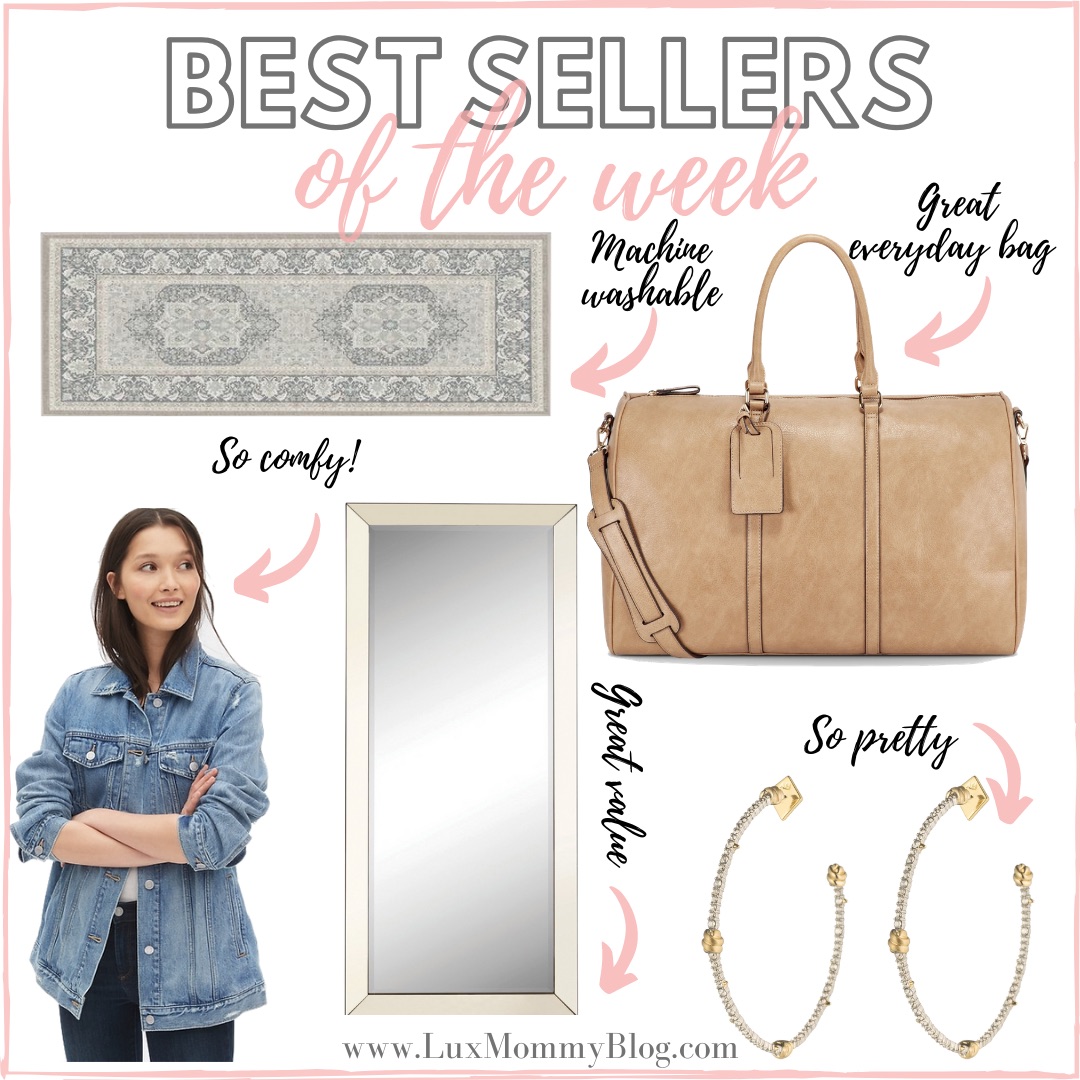 Currently avoiding the rain so we ordered Thai food and are binge watching movies all day long. The boys love watching movies it's one of their favorite things and I am slowing having them watch all my favorite childhood movies. Next on our list is….My Girl, Titanic and Edward Scissorhands. They don't make movies like they used to. Okay, I am going to get back to the movies just wanted to share the best sellers of the week with y'all.
BEST SELLERS OF THE WEEK
CLICK PINK TEXT TO SHOP
One of my all time favorite purchases for the house has been my washable rugs. Yes, you read that right….machine washable. I have 4 now all over and they've been a lifesaver with all the animals. We have 4 dogs and a cat. Many rugs have been destroyed over the years and these I can just pop in the washing machine. If you have little ones or pets you need to check these out. They gave a ton of prints and sizes to choose from.
This weekender is currently on sale for ONLY $59! It's the prefect size and comes in several colors. It's also super comfortable to carry since it has the adjustable shoulder strap too!
This oversized denim jacket has been a favorite of y'all since I shared it a week or so ago. It's a favorite of mine too. it's perfectly oversized and distressed and so comfortable to wear. I love to wear a denim jacket year round and this one is a favorite for sure.
For some reason I received a ton of questions about my mirrors this week. This floor mirror is the one I have in my sitting room. It's the best value of my mirrors IMO. It's a great size and looks way more expensive than it is. Mirrors can be pricey. It's a statement piece but also isn't so massive, like the mirror in my office.
These earrings are still a major favorite of mine. I am so glad they made the list this week. They are stunning in person and the perfect size and weight. I love mixing my metals and these have the perfect touch of gold and bling to make them different than anything I already own.
CLICK TO SHOP BEST SELLERS OF THE WEEK

---
POSTS OF THE WEEK:
CLICK PHOTO TO SHOP DETAILS
---
RECENT PURCHASES:
SCROLL THROUGH + CLICK TO SHOP RECENTLY PURCHASES

---
CLICK TO SHOP BEST SELLERS OF THE WEEK