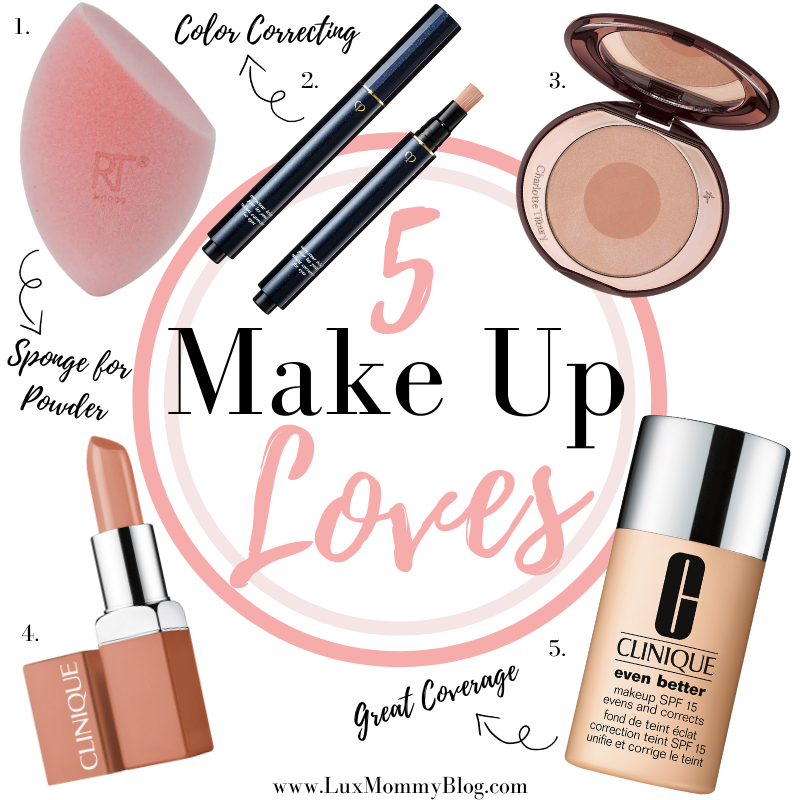 5 New Make Up Products I am Loving
Hey guys! I wanted to share 5 new make up products I have been loving! These are my current most used and I think y'all would love them too. 
1. This was such a great find! It is a blender sponge but for powders! Perfect for baking under your eyes and it can be used wet or dry. It is also under $5. You definitely need to add this to your make up routine.
2. I am LOVING this radiant correct from Clé de Peau. It comes in multiple shades and the formula is a good light to medium coverage. It definitely adds a nice under eye brightening effect!
3. So this isn't BRAND new, I have been using it for a little bit but I am still loving it! It is such a nice texture and the blush and bronzer combo gives your skin a beautiful glow!
4. Y'all know I love my Clinique products so I had to share this lipstick. It is actually pretty sheer and it is also very creamy! It is extremely moisturizing which is great for longer wear and for re-applying.
5. This has been my current go-to foundation! It has great light to medium coverage but still feels lightweight. It also has a very pretty natural finish. I recommend this for a natural every day make up look!
I hope y'all enjoyed this post and maybe found some new favs of your own! What are y'all loving make up wise right now? Let me know in the comments! 
CLICK TO SHOP 5 MAKEUP PRODUCTS HERE