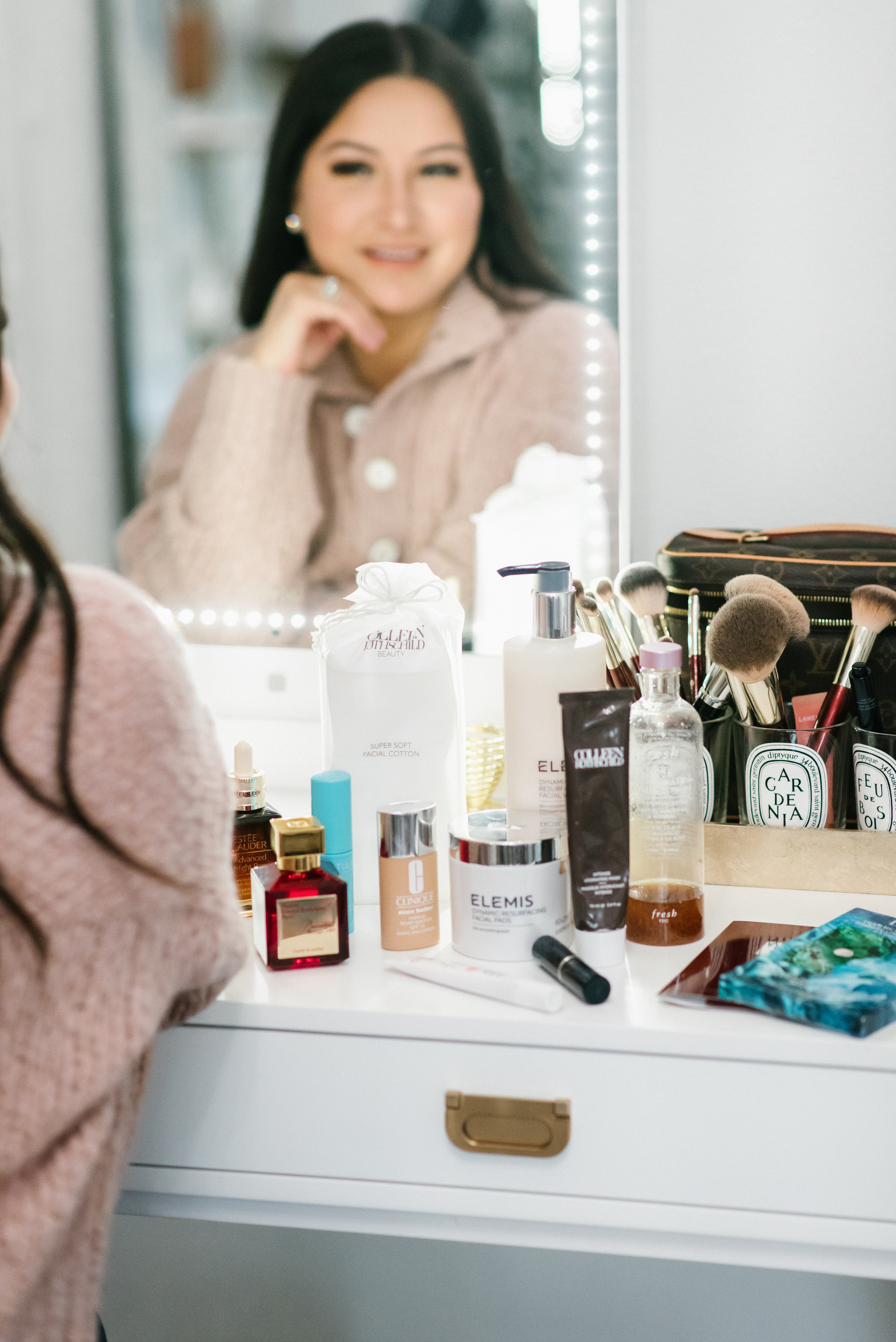 I always love putting together yearly favorite but the best of beauty is always my favorite! I've found so many AMAZING beauty products this year and of course a few oldies made the list again. I want to go by categories to make it easy, so let's get started.
BEST OF BEAUTY 2021
SKINCARE – Cleanse/Tone/Prep
This has been my go to cleanser all year long. It's gentle but cleanses without that tight feeling. It's a creamy gel formula which is my favorite. Need to remove makeup first, this cleansing balm is my #1 pick. It removes every last trace of makeup and leaves your skin feeling nourished. If you have dry or sensitive skin this toner is my absolute favorite. It's super gentle, smells amazing and leaves my skin feeling hydrated and balanced. If you are looking for a little resurfacing action, these pads are a must have. They exfoliate the skin leaving behind smooth and radiant skin. They are a must in my skincare routine. An essence is a total bonus step but I love it for my skin type. If I had to pick one essence, it would be this one. It's super hydrating and preps my skin for my serums and moisturizer. It's a splurge, but totally worth it.
SKINCARE – Serum
I have two serums that I want to talk about. One is an oldie that I fell back in love with this year. It's this one by Estee Lauder. I've used it for years but took a break a while back just to try other things and starting buying it again this year and I was reminded why I love it so much. I use it day and night. During the day it protects and at night it repairs, it's so good! And, the new serum I had to mention is this one by Lancome. It's filled with ceramides, hyaluronic acid and so many skin loving ingredients. I was actually gifted this and decided to look into it more and it has a cult favorite. So glad it's part of my routine now!
SKINCARE – Masks
Masks are one of my favorite things when it comes to skincare. I love so many so it was hard to narrow it down, but I did it!! My favorite for hydration is this one. It's like a tall glass of water for your face, it's AMAZING! You can leave it on as long as you want or even sleep in it. If I ever get dry patches I will spot treat with it too. It's a good one, trust me! My two favorite sheet masks are this one and this one. They are both a splurge, but worth it. I like to use them Sunday night or Monday morning to start my week. If you have an event they are great to use right before you get ready to leave your skin supple and smooth. If you just need a little pick me up under the eyes, these eye masks are my favorite. I love that they are individually packaged.
HAIR
I definitely discovered some new hair favorites this year. This flat iron became a new favorite the instant I tried it. My hair has never been smoother. It's been all I use to straighten my hair. It comes in black and white! I also have to mention this cleansing purifying scrub. It's a scrub shampoo, as my youngest would say…mind blown🤯! Yes, it's a salt scrub that you apply to your hair like a shampoo and scrub it into your scalp. I use it as a detox shampoo, so just 2-3 times per month to get any buildup and get a good clean on my scalp. I really worked on my hair this year and this was one step I added that I really love.
MAKEUP
This was definitely the standout foundation of the year. I used it almost daily. It's the perfect everyday formula and leaves the perfect finish. I've talked about it a ton because it's that good! This under eye brightener was another standout product. It's skincare but makeup, I don't know how to explain it but it works. I love it for no makeup days or under your concealer to give the under eye area a brightening effect. It's also a little cooling, which feels so nice. Speaking of under eye concealer, this one stole my heart. I hate that it's so expensive but I couldn't not mention it. In it's defense, it does have a good amount of product. So, it will last a long time. A little goes a long way, it's super pigmented. If you try it, let me know how you like it. If you need a face concealer for blemishes, this one is the best. It dries down to the perfect finish and blends in perfectly.
FRAGRANCE
I added a few new perfumes to my collection this year but this one might be my favorite. I can't stop wearing it now that I have a full sized bottle. It is seriously intoxicating. I've been wanting to try it for a while now but the price scared me off. I finally gave them a chance and now have 3 scents from the line. While we are on the topic of scents, I had to mention my all time favorite candle. This is a holiday scent but I stock up and burn it year round. They would make a great gift too!
If you looking to stock up on anything beauty or grab any last minute gift ideas, check out Neiman Marcus. They are currently offering FREE 2 DAY SHIPPING with code NMHURRY and you can earn up to a $300 GIFT CARD with purchase using code BONUS. Thank you to Neiman Marcus for sponsoring this post.