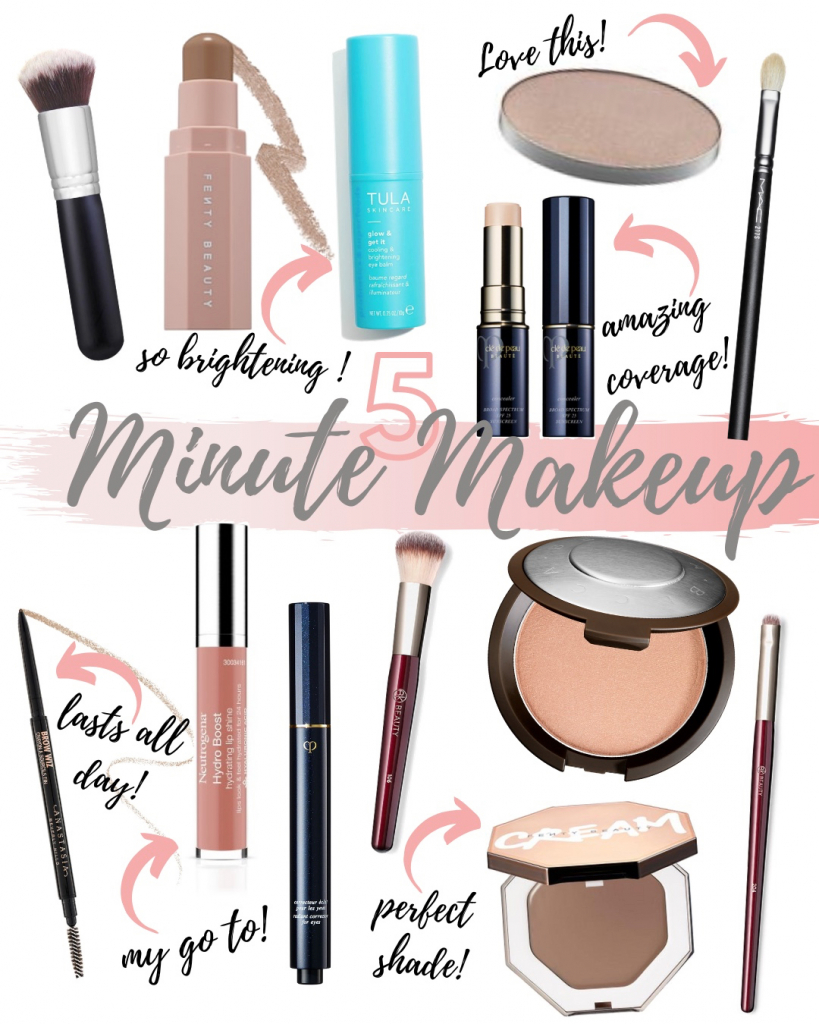 I get asked all the time to share my go to quick and easy makeup and I happen to think that's my speciality. I really don't wear makeup everyday and most of the time when I do put on makeup I want fast but still look pulled together. These are my go to products for quick and easy 5 minute makeup. If you want to see these steps in order, check out today's stories. Otherwise, here are my steps for easy everyday makeup.

5 MINUTE MAKEUP
CLICK PINK TEXT TO SHOP
I recently started using this under eye brightener and I love it so start with it. It adds the perfect glow underneath concealer.
This is one of my favorite under eye concealers. It's the perfect consistency and coverage and lasts all day long. It's a splurge but it's worth it.
This is one of the best concealers I've ever tried. It's perfect for blemishes and covering up redness but in the case just a little on the cheeks blended out is all you need to create the perfect foundation substitute.
This has been my go to foundation brush and it's perfect for blending out the concealers flawlessly.
When I am doing a full face of makeup I use the shades amber(contour) and mocha(bronzer) but for today's quick and easy look mocha is all you need. I add this to my forehead, contours of the cheek, nose and jawline and blend out with the same foundation brush.
This cream bronzer is the best y'all. The shade butta biscuit is so flattering. Apply this just like bronzer or cheek color to add additional warmth to the face. It blends perfectly.
This is my got to cream bronzer brush. It's dense and covers a lot of area making it perfect to blend the cream bronzer out on the forehead and cheeks.
I always like to fill in the brows just a touch even for quick easy makeup. I am loving the shade soft brown right now.
A little touch of highlight in a few strategic areas is all you need. The inner corner of the eyes, cupid bow and down the bridge of the nose is all you need to pull the glow all together.
This is the perfect brush to apply that highlighter in those area. It's dense and flat and packs it in those areas perfectly.
This next step is optional for me some days, but if you want to take it up a little notch add a touch of contour in the color taupe to the crease of the eye and blend it out. That is all you will add on the eyes, nothing else. It adds the perfect amount of depth to pull the full look together.
This has been my favorite blending brush for years. I've probably had it for 10 years, no joke. It's a go to staple for me and blends that crease color perfect.
Final touch is lipgloss, this one in berry brown has been a go-to for a while now. The formula is perfect when you don't want to mess with lip liner or lipstick underneath. It's also the perfect pinky nude color that will go with everything.
SCROLL + CLICK TO SHOP 5 MINUTE MAKEUP PRODUCTS